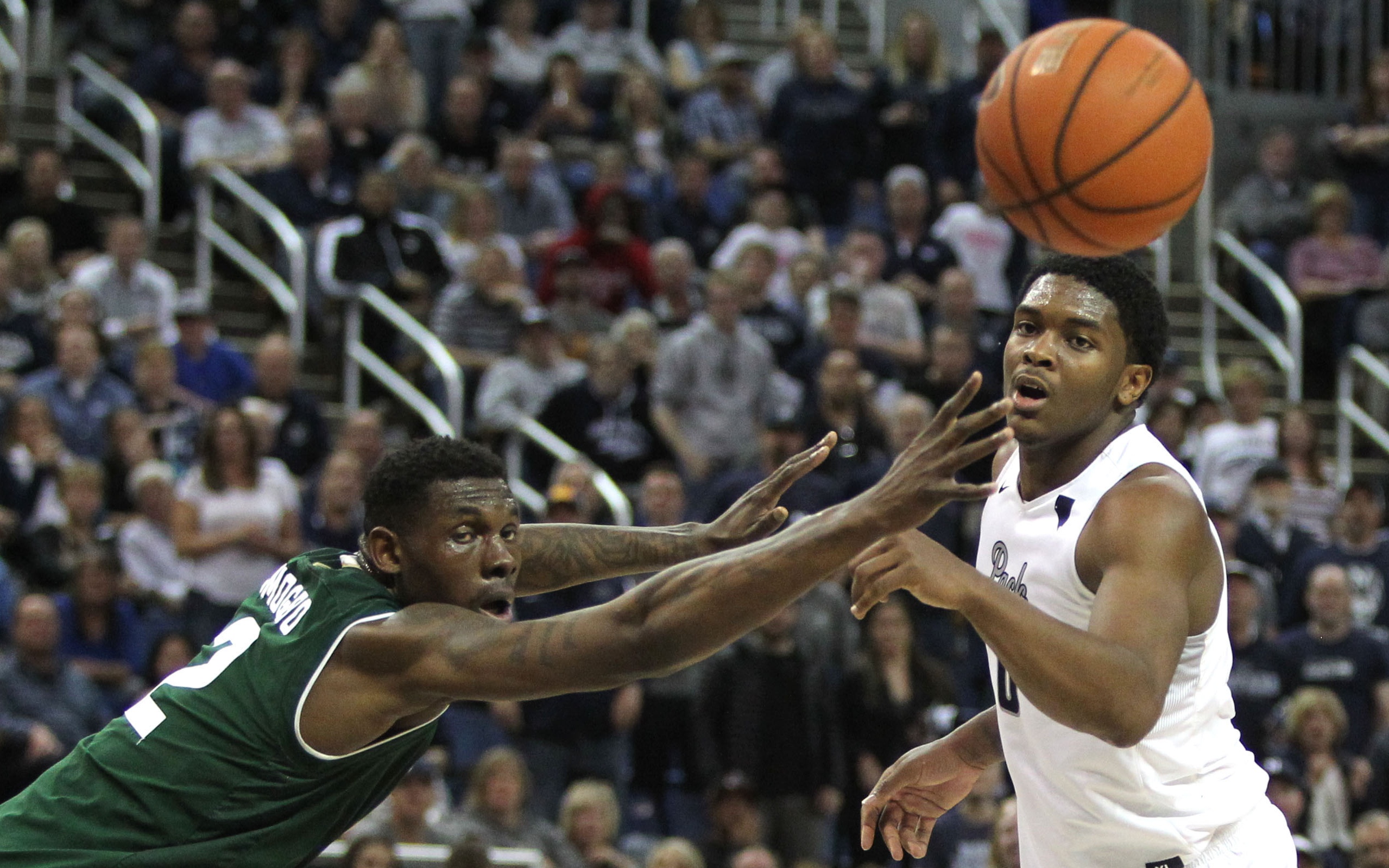 One week ago, Colorado State and Nevada battled for the regular season Mountain West Conference title, with the Wolf Pack winning in Reno 85-72.
But, after clawing and fighting their way through a smart and well-coached San Diego State Aztecs team last night, Larry Eustachy's Rams have a chance to earn revenge against Nevada in today's MW Championship tilt.
It's only the second time in Rams history they've played for the Mountain West Tournament title, winning it in 2003. If CSU and their "Magnificent Seven" want to continue this Cinderella story of a season, they must win today to make the NCAA Tournament. 2013 was the last time CSU found themselves in the Big Dance, in Eustachy's first season in Fort Collins.
Colorado State, the No. 2 seed in their conference tournament, lucked out when Air Force knocked off Wyoming, and then the Rams ran over their rival Falcons 81-55 on Thursday night. That blowout was just what CSU needed as Mountain West Player of the Year Gian Clavell was able to rest down the stretch.
Then came the waiting game. First, the Rams waited to see who their next opponent would be, and the No. 6 Aztecs defeated the No. 3 Broncos of Boise State to set up the semifinal matchup with an ungodly 10:30p.m. MT tip-off.
As CSU and SDSU waited, No. 1 seed Nevada came back from an 11-point deficit to beat No. 4 Fresno State and move onto the championship. That game went long, so the Rams and Aztecs didn't tip until nearly 11p.m. MT due to the conference's television deal with CBS.
Against San Diego State — a team the Rams had beaten twice in the season already in close contests — Colorado State started out looking nervous. Multiple turnovers by Emmanuel Omogbo and teammates led to a quick 15-2 Aztecs lead. Finally, the Rams settled in, as Clavell and Nixon willed their team back, tying the game at 30 with 2:26 until halftime. SDSU pushed their lead back to six at the break, but considering the poor shooting, nine turnovers and CSU being out-rebounded, it could have been much worse at that point.
In the second half, Nixon and Omogbo's early turnovers led to an eight-point SDSU lead, which is where the game hovered for the first seven minutes of the period. Then, the Rams came alive.
Reserve man Braden Koelliker scored back-to-back layups, and a few minutes later, J.D. Paige's killer 3-pointer tied the game at 52-52, with 7:15 to go.
One minute later, Emmanuel Omogbo drained a 3-pointer from nearly the identical spot he made the game-winner at Moby two weeks ago against SDSU and CSU took their first lead of the game. That's when it all changed, when the Rams knew they truly could beat the Aztecs for a third time in a year.
The Rams had worn down SDSU's stars Malik Pope, Dakarai Allen and Jeremy Hemsley, and when they were all pulled for rest, that's when Colorado State capitalized with their 10-2 run to steal the lead.
Down the stretch, Clavell's 3, followed by Paige's three, pushed CSU ahead by seven with under three minutes to go and the Rams salted away the win with clutch free throw makes by Nixon and Clavell.
Now, with only seven players, the Rams have somehow climbed up the steep mountain and are poised to be the last remaining ones at the top. But, they face a fierce Wolf Pack team with a true killer instinct.
In the two team's lone previous matchup of the year, Nevada's Cameron Oliver (17 rebounds) and Jordan Caroline (15) had nearly as many boards as CSU did as a team (32-36). The Rams are built around limiting opponents' opportunities by winning the rebounding battle, which CSU lost by eight last time these two played. Colorado State must win that battle tonight if they want to win.
Nevada not only out-rebounded CSU, they dominated in the paint on the scoring end, too, winning 34-16. Simply, rebounding machine Omogbo and x-factor forward Nico Carvacho need to have huge games today for the Rams to pull off this upset. Omogbo quietly enjoyed a 16-point, 11-board double-double last night in CSU's victory, but the Rams need more out of Carvacho, surely.
Of course, Colorado State must have another huge night from Clavell on the scoring end, as well. The conference's best scorer already has put up 51 points in two games, but he can't do it alone either. Koelliker has stepped up his game during this tournament, and Nixon's importance will be crucial today as well.
With a mere 15-hour turnaround time — due to CSU – SDSU ending at 1a.m. MT — the "Magnificent Seven" may come out in this championship game completely drained. Or, the adrenaline of playing for the title and the NCAA Tournament may push them through.
Today's title tilt tips off at 4p.m. MT and will be televised on CBS. It could be the last time Ram fans will see Clavell — one of the best scorers in school history — as well as fellow senior Omogbo — the emotional leader who set a league-record with 13 double-doubles. Or, it could be the cherry on top of an incredible, almost unbelievable season filled with wild ups and downs.
After CSU defeated SDSU last night, Clavell was heard yelling to his teammates, "One more! One More!"
Before the season, Clavell told Mile High Sports Magazine one of his goals was to win the Mountain West and make the NCAAs. Now, all he and his "Magnificent Seven" need is one more.
Notes: 
CSU and Nevada are 9-9 all-time. Today's game will break that tie as well as determine this year's Mountain West Champion.
In the previous seven matchups of No. 2 and No. 1 seeds, the No. 2 seed has won every time, in the Mountain West Tournament.
While Gian Clavell won MW Player of the Year, Nevada's Cameron Oliver was in the running, too. The 6-8 forward is dynamic, scoring 16.2 points with 8.6 rebounds per game. He'll be a player to watch today.
A win would be Larry Eustachy's 513th as a head coach, which would put him into 57th all-time ahead of Don DeVoe.
CSU started as 4.5 point underdogs but the line has moved to +4.