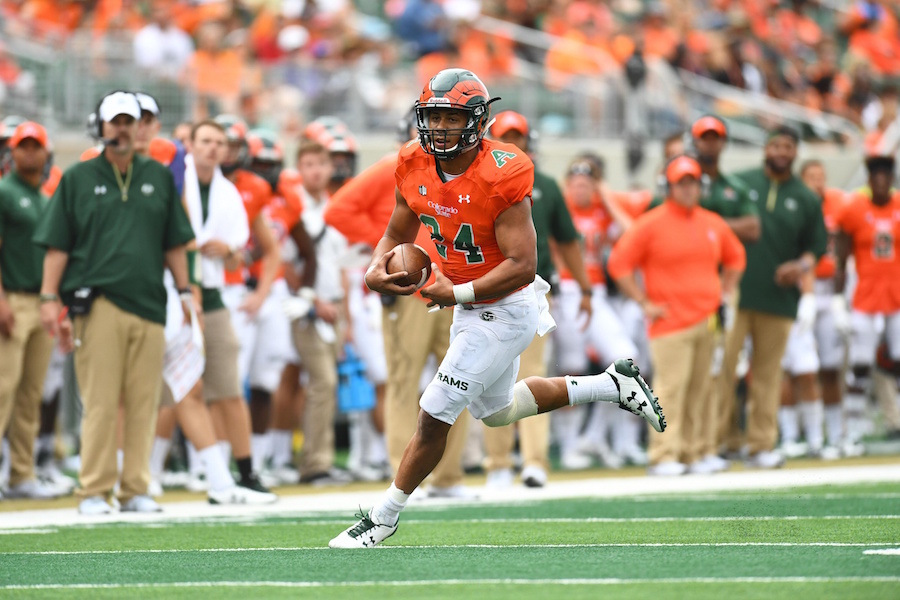 Read this story at CSURams.com
The Colorado State Rams improved to 2-1 on the season with a 38-10 victory over Abilene Christian (0-2) on Saturday at CSU Stadium. CSU honored its Aggie heritage on Saturday for the Orange Out, donning its traditional Colorado A&M colors of pumpkin and alfalfa. The "Aggies" are now 7-0 when wearing the orange alternate uniforms.
Senior quarterback Nick Stevens completed 25-of-40 passes (62.5 percent) for 337 yards and three touchdowns with one interception. Dating back to last season, it marks the fourth consecutive game the signal-caller has eclipsed the 300-yard mark and the ninth multi-touchdown performance in his last 10 games.
The Colorado State defense did not allow a touchdown, as Abilene Christian's lone trip to the end zone came ona blocked punt that was returned for a touchdown. Spanning back to the final 43:36 of last week's game against Colorado, the Rams defense has not allowed a touchdown in 103:36 of clock time.
Running backs Izzy Matthews and Dalyn Dawkins led the Rams on the ground, rushing for 89 and 73 yards, respectively. First-team All-Mountain West wide receiver Michael Gallup pulled in 10 catches for 103 yards and a touchdown, while Detrich Clark went for 67 yards and a touchdown on six catches. Matthews also pulled in three catches for 34 yards, including his first career receiving touchdown.
Linebacker Josh Watson has been the Rams' leading tackler in all three games this season, as the junior recorded seven total tackles, 1.5 tackles for loss and one pass breakup on Saturday. Sophomore safety Jamal Hicks recorded two interceptions and redshirt freshman Trey Sutton logged CSU's only sack.
The Rams scored the game's first 17 points on touchdowns from Dawkins and Gallup, as well as a 22-yard field goal from Wyatt Bryan. ACU would cut CSU's lead to 17-7 early in the third quarter after blocking Ryan Stonehouse's punt, but Colorado State answered by scoring the game's final 14 points.
Joctavis Phillips (offensive line), Livingston Paogofie (defensive line), Kavapele Maka (safety) and Brenden Fulton (wide receiver) all made their Division I debuts on Saturday. Including Phillips and Paogofie, the Rams have had 12 true freshmen suit up so far this season, and 25 total players make their Divison I debuts.
The Rams will travel to Tuscaloosa, Ala., next week to take on the No. 1-ranked Crimson Tide. In the teams' lone prior meeting, in 2013, No. 1 Alabama defeated CSU 31-6. Continue to check CSURams.com and follow @CSUFootball on Twitter for exclusive content from the Rams' 2017 season.