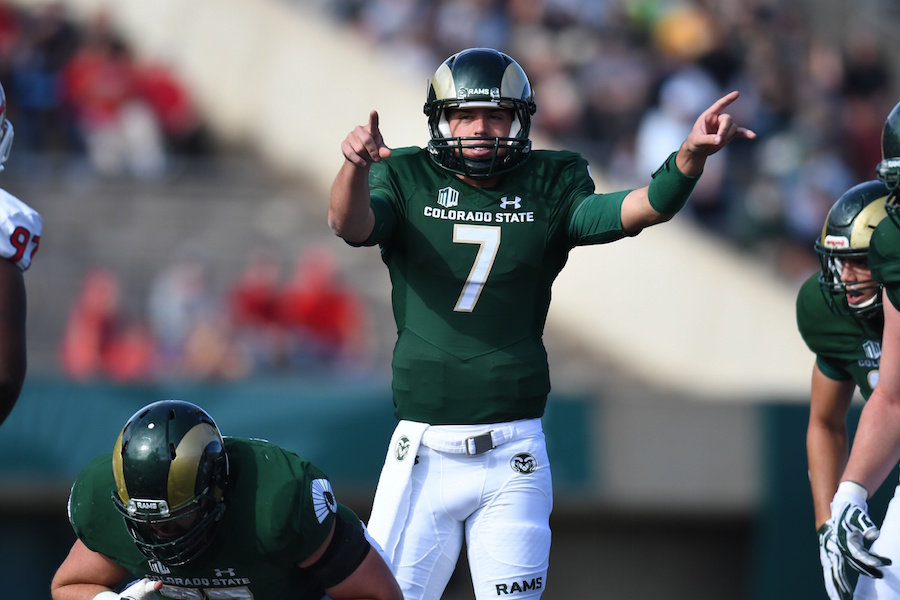 Read this story at CSURams.com
The Mountain West released its complete 2017 football schedule on Thursday, including dates for Colorado State's eight conference games. The announcement completes the Rams' highly anticipated 2017 schedule, the first to be played at CSU's new on-campus stadium.
The Rams begin Mountain West action with back-to-back road contests, traveling to Hawai`i (Sept. 30) and Utah State (Oct. 7). They will return to Fort Collins to play their first MW contest in the new stadium on Oct. 14, against Nevada.
From there, CSU will play four games in a row against Mountain Division foes, starting with New Mexico (Oct. 21) in Albuquerque. That will mark the Rams' final regular-season trip on an airplane. Three of CSU's final four contests are at home, with the other being at Wyoming, a short bus ride across the border.
CSU will host Air Force on Oct. 28, looking to continue a trend in which the home team has won the rivalry game each season dating back to 2012. One week later, the Rams will travel to Wyoming (Nov. 4), seeking to avenge last year's loss at home. CSU had won three consecutive Border Wars in a row before last fall's only home loss.
The Rams close the season with back-to-back home games, facing Boise State (Nov. 11) and San José State (Nov. 18). The Rams' only bye week will come during Week 13, before a potential Mountain West Championship or bowl game.
Prior to its MW slate, CSU will challenge itself with four non-conference dates against three schools from Power-5 conferences. The 2017 season begins with the annual Rocky Mountain Showdown against Colorado (Sept. 1 in Denver). A week later (Sept. 9), the Rams will officially open their new stadium – the first game to be played on campus in 50 years – with an historic date against Abilene Christian. On Sept. 16, CSU will travel to Tuscaloosa to face the Alabama Crimson Tide, a team that has won four of the past eight national championships and finished runner-up last year. The Rams close their non-conference schedule with a home game against Oregon State of the Pac-12. It marks the first time since 2007 (No. 10 California) that a Pac-12 school has played in Fort Collins.
Additional schedule notes:
CSU has a winning record against five of its eight conference opponents (Hawai`i, Nevada, New Mexico, Utah State and Wyoming) and is tied with San José State.
CSU's 11 FBS opponents went a combined 84-60 (.583) in 2016, with seven playing in bowl games and three competing in their conference title game (Alabama, Colorado, Wyoming).
The 2017 season marks the first time since 2004 that CSU has played three Power-5 teams in non-conference. That year, the Rams faced Colorado, No. 22 Minnesota and No. 1 USC.
With the Rams' bye week not occurring until Week 13, CSU will play 12 weeks in a row for the first time since doing so in 2010.
No opponent will have a bye week prior to playing CSU.
CSU will close the regular season with back-to-back home contests for the first time since 2011.
For the fifth time in the past six seasons, CSU will open the season against Colorado in the Rocky Mountain Showdown. The two teams have split the four most-recent season openers. Attendance for the annual rivalry game has increased each of the past five seasons, including the largest crowd since 2003 last fall.
CSU and Abilene Christian have never met on the gridiron. Ironically, the Wildcats will help open CSU's new stadium during Week 2, before debuting in their own new stadium one week later.
The Rams and Crimson Tide will play for the second time. In 2013, CSU trailed No. 1 Alabama by just 11 points in the fourth quarter.
CSU and Oregon State have met twice before, both in Corvallis. The Beavers won in 1962, with the Rams winning in 1975.
The Rams will travel to Hawai`i for the first time since 2013. CSU is 14-9 all-time against the Rainbow Warriors, winning six in a row.
CSU has won two of the last three meetings against Utah State – and is 37-33-2 overall – but is looking for its first win in Logan since a double-overtime thriller in 2011.
The Rams and Wolf Pack will play for the first time since the 2015 Arizona Bowl. CSU is 11-3 all-time against Nevada, including a perfect 7-0 in Fort Collins.
The Rams have beaten New Mexico seven consecutive times and hold a 40-25 advantage in the series.
After losing to Air Force seven years in a row from 2006-12, the Rams and Falcons have split the past four meetings, each won by the home team. Air Force leads the all-time series, 33-21-1.
The Rams have played Wyoming more than any other team, holding a 58-45-5 advantage. CSU has won three of the past four meetings, including back-to-back wins in Laramie.
CSU is looking for its first win over Boise State. The Broncos are 6-0 against the Rams, playing each of the past six seasons.
CSU is 4-4 all-time against San José State, winning in the most-recent meeting, in 2014 in San Jose.
Promotions and television selections have not been finalized and will be announced in the coming weeks. CSU is coming off four consecutive winning seasons and bowl-game appearances, including the past two under head coach Mike Bobo. Bobo is the only coach to lead the Rams to bowl berths in each of his first two seasons.
Returning from the 2016 squad are 15 starters, three of whom were All-Mountain West honorees. WR Michael Gallup (first team), C Jake Bennett (second team) and QB Nick Stevens (honorable mention) helped the Rams' offense average 47.8 points and 533.8 yards per game over the final six contests, figures which rank second and fourth, respectively, in all of FBS from Oct. 16 forward. In his debut season with the Rams, Gallup had 14 touchdowns (second-most in CSU history) and 1,272 receiving yards (third-most), while Stevens had the nation's best quarterback rating from Oct. 22 forward, after he regained the starting role.
New season ticket commitments for the 2017 season are now being accepted by contacting the Rams Sales Team at 800-491-RAMS (7267) or visiting www.CSURams.com/tickets. Current season-ticketholders will have first priority to select their seats during appointed times set to begin March 22.
In preparation for the inaugural season of the on-campus stadium, the Colorado State athletics department has launched a special football gameday website, which provides in-depth information on everything from tickets to parking, tailgating, gameday logistics and much more. The website can be found at www.CSURams.com/footballgameday.
2017 Colorado State Football Schedule
Friday, Sept. 1 vs. Colorado (Denver)
Saturday, Sept. 9 vs. Abilene Christian
Saturday, Sept. 16 at Alabama
Saturday, Sept. 23 vs. Oregon State
Saturday, Sept. 30 at Hawai`i
Saturday, Oct. 7 at Utah State
Saturday, Oct. 14 vs. Nevada
Saturday, Oct. 21 at New Mexico
Saturday, Oct. 28 vs. Air Force
Saturday, Nov. 4 at Wyoming
Saturday, Nov. 11 vs. Boise State
Saturday, Nov. 18 vs. San José State