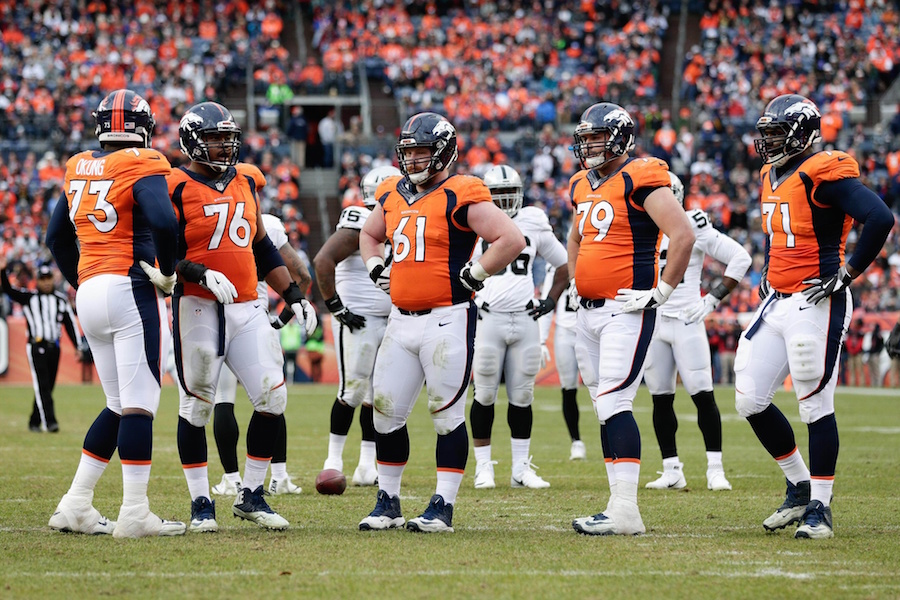 A Buff has turned to a Ram to help turn around the ailing offensive line. And the pair of them are hoping a former Bronco can lead the way.
Over the weekend new Broncos head coach Vance Joseph added two coaches to his staff who will be charged with fixing the only unit Broncos Country can universally agree needs repair. The debate will rage about the quarterbacks for what looks like at least another offseason, but there's no doubt Jeff Davidson and John Benton need to do something about the offensive line.
Benton has 30 years of coaching experience, much of it coming in his native Colorado, although this will be his first stint in the Centennial State at the pro ranks. Benton, a native of Durango, played four years at Colorado State before taking up coaching there as a graduate assistant. He eventually made his way back to Fort Collins as the o-line coach from 1995-2000 and then as co-offensive coordinator from 2000-03. From there he made the jump to the pros.
For his latest opportunity, a Buff came calling. Vance Joseph first made a name for himself with the Buffs as a player and as a coach before moving on to the pro ranks himself. On Sunday Joseph called in Benton as a reinforcement (see, assistant) to Davidson, who was announced as offensive line coach on Saturday.
Davidson has 22 years of coaching experience, including 15 with the offensive line. He most recently coached the o-line in San Diego in 2016 under new/old Broncos offensive coordinator Mike McCoy. Davidson played four years on the offensive line in Denver and one in New Orleans before moving into coaching.
His offensive lines have blocked for six running backs that have combined for nine 1,000-yard rushing campaigns, including a 2,000-yard season. Davidson's units have also protected five quarterbacks totaling nine different 3,000-yard passing seasons.
During Davidson's five seasons (2011-15) in Minnesota, running back Adrian Peterson topped 1,000 rushing yards in three different years, including 2012 in which he rushed for 2,097 yards, the second-highest single-season total in NFL history.
This will be a rebuild project, though, on a line that produced just 94.1 yards per game on the ground (27th in the league) and surrendered 40 sacks and 100 QB hits on the season.
Benton's offensive line in Jacksonville during the 2016 season was among the NFL's most improved, allowing 17 fewer sacks (34) than a year earlier for the third-best improvement in the league. His unit allowed a sack on only 5.4 percent of pass attempts for the 10th-best mark in the NFL.
Davidson and Benton do have some good tools to work with. They'll inherit Pro Bowl (alternate) center Matt Paradis, the cornerstone of the line. Max Garcia and Michael Schofield both made big strides this past season at guard.
But they will have some major fixes to do on the edges. Donald Stephenson and Ty Sambrailo couldn't keep one another on the field all season. Russell Okung wasn't terrible and he wasn't great, but he certainly wasn't worth the big payday he'd have coming if the Broncos take his option for 2017. Stephenson and Sambrailo will be back, but the thought of the pair of them on the edges might give Trevor Siemian and Paxton Lynch nightmares.
Now, that the coaching trio with Colorado ties is charged with giving them some peace of mind.