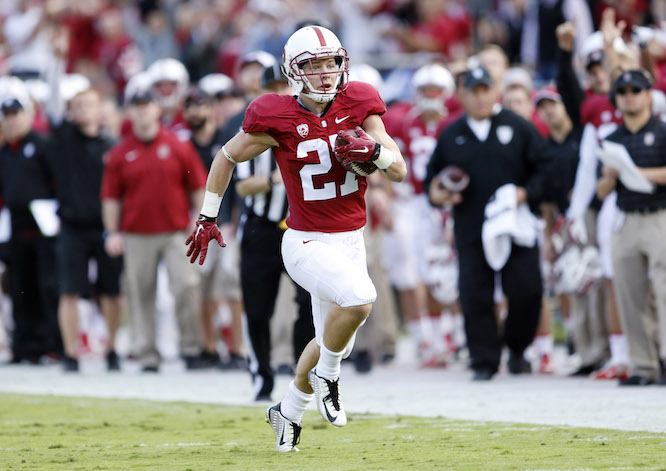 Football fans in Colorado are facing a tough choice this weekend: The hometown team or the hometown kid?
The University of Colorado enters Saturday's game against the Stanford Cardinal with an unassuming 4-5 record, but those two numbers don't do the Buffs' season justice. If not for an official's blunder in Hawaii during the first week of the season, they'd be well in the hunt for a bowl appearance, and just last week, the Buffs were minutes away from headlining SportsCenter with an upset victory over UCLA. There are positive things to look forward to from this team, but it may not be until next season that we see the fruits of their hard work.
However, on the opposite side of the ball, the people of Colorado actually do have something to root for.
The sophomore running back leads the nation in all-purpose yards, and, frankly, no one's even close. He's an easy Heisman favorite and a large reason for why the Stanford Cardinal are heavily in the mix for the College Football Playoff.
He's averaging 244 all-purpose yards — 132.5 rushing, 38.9 receiving and 29.4 kickoff — a game, doing just about everything for the Cardinal but play defense.
And CU head Coach Mike MacIntyre isn't ruling that out, either.
"For a minute there, I kind of got worried, because they had a No. 5 on defense," coach MacIntyre said. "He probably could"
But why should we be rooting for Christian McCaffrey, especially when he's playing the University of Colorado?  Well, because we rarely get the opportunity to watch a home-grown kid excel at the highest level. McCaffrey, a Valor Christian graduate, is one of the most successful athletes to come out of Colorado since Chauncey Billups. And, oh yeah, he's the son of Broncos legend Ed McCaffrey.
Really, it has the opportunity to be a no-lose situation.
If Colorado can somehow stick around, show signs of growth, compete with the ninth-ranked team and possibly even pull off an upset, fantastic! But if the Buffs get handled by one of the best programs in the nation, hey, at least we get to watch Colorado's own, Christian McCaffrey, solidify his Heisman canidacy.
At least you have multiple reasons to tune into the game.