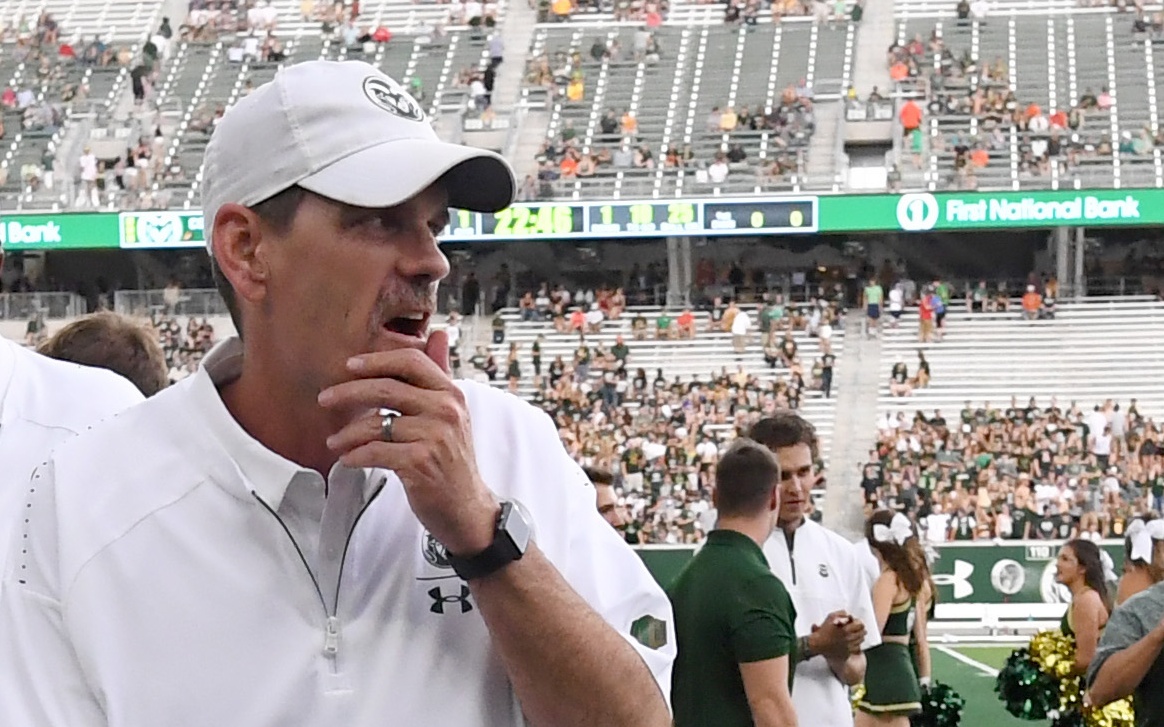 It's time to stop trying to be too cute and start going with your gut again, Mike Bobo.
Whether it's a matter of overthinking or not, Bobo truly needs to pump the breaks on the quarterback carousel and take a step back.  
"Round and round it goes, which quarterback plays, nobody knows."
Colorado State's head coach was hired in 2015 because of his accomplished offensive-minded coaching tactics. And in recent years, fans have witnessed Bobo's offensive brilliance come to life.
Colorado State's head coach successfully utilized players such as Rashard Higgins, Michael Gallup, and Dalyn Dawkins and assisted them in reaching their full collegiate potential while properly transitioning to the NFL. The Rams' scoring offense has ranked within the top 31 in the FBS for two consecutive seasons, and last year, their 492.5 yards per game were 11th-best in the FBS.
The head coach's pro-style offense and ability to develop quarterbacks has appropriately received significant praise as well. Former quarterback Nick Stevens wasn't able to make it in the pros. However, Stevens wouldn't have been able to throw nearly 9,000 yards and 70 touchdowns if he spent his career at most other programs.
But, the past is behind us. Players and fans are focused on the present. This season, many of Bobo's crucial in-game decisions have stirred controversy, coming as a result of over-analyzation.   
CSU's head coach is simply reading between the lines too extensively when it comes to who to put under center, specifically.
It's obvious to anyone who has watched the Rams this season that graduate transfer quarterback K.J. Carta-Samuels has done more than enough to play every single meaningful snap.
Carta-Samuels has thrown for over 1,600 yards this season and has tossed 15 touchdowns, the 10th most in the FBS. Sophomore quarterback Collin Hill, though filled with potential, has done nothing to earn the job in key situations. Hill has completed only 13-34 pass attempts this season for 153 yards, one touchdown and one interception.
Yet, Bobo is reluctant to fully trust Carta-Samuels. And no one knows why.
Bobo has unexpectedly pulled Carta-Samuels for Hill in almost every game this season and often in crucial circumstances. The most recent occurrence came last Saturday against San Jose State, and it nearly cost the Rams the game.
CSU's head coach put Hill in during the early stages of the third quarter, despite Carta-Samuels throwing four touchdowns and carrying the Rams to a 28-0 halftime lead.
The green and gold led 28-7 when Carta-Samuels surprisingly left. The Rams were forced to punt after a quick three-and-out on Hill's first possession. SJSU then trimmed the lead to 28-14 and gained momentum for the first time in the game.
On CSU's next drive, the result was the same: A quick punt for the offense because Hill failed to produce. The Spartans responded by rapidly putting up seven points again to get them back in the game.
Carta-Samuels then had to re-enter the game, ignore that he was pulled, and help the Rams hold on for a victory. If CSU ended up losing the game, Bobo would be taking much more heat than he is for his quarterback decisions. However, he still deserves that criticism.
When Carta-Samuels returned to the game, he immediately threw an interception. Why? Because his rhythm was disrupted by Bobo when he unnecessarily put Hill in the game.
Needlessly switching quarterbacks shatters Carta-Samuels' rhythm and ability to lead the offense, as we saw against SJSU. In turn, it obviously hurts the Rams' offense in general. It is also worth noting that doing so makes things more difficult on CSU's defense.
Rarely has Hill been able to keep the offense on the field for long this season. In fact, six of Hill's drives this year have gone three-and-out, and the team has gained only 11 first downs with him on the field.
That means the defense barely gets a breather when Hill is under center, because just like when Carta-Samuels is reinserted into contests, it's difficult for QBs to find their rhythm immediately. In turn, little rest due to short offensive possessions damages defensive productivity as well.
The Spartans somehow scored 30 points in the third quarter, their most in a quarter since 2008, after getting manhandled by CSU's defense in the first half. They were able to do this because consecutive three-and-outs from Hill left the defense gassed.
Carta-Samuels eventually put things together again once he came back into the game. He didn't do as well as he did when he was first in the game, and we know why; his confidence was likely dashed a bit. However, he was able to at least assemble a few productive drives which gave the Rams' defense a breather or two.
That included a drive to take the lead back at 35-30 when Izzy Matthews plowed over the goal line.
Not coincidentally, CSU's defense then shut SJSU out again in the final quarter.
It makes sense that Bobo wants to give Hill reps so he can be more seasoned come 2019, after graduate transfer Carta-Samuels departs. That doesn't mean Hill should be playing in impactful situations when he clearly isn't ready, though.
Bobo needs to keep it simple and focus on what he can control most, playing his top players at every position in order to win games in 2018.
As previously stated, Bobo's overthinking almost cost the Rams the game last Saturday. Additionally, doing the same exact thing against Illinois State a few weeks ago arguably handed the Rams a loss. Hill played for the entire fourth quarter, unable to mount a comeback down eight points, and eventually throwing the nail-in-the-coffin interception late.
Slow down, Mike, and go back to coaching like Fort Collins has seen you in the past, in a non-overly risky manner.
Of course, Bobo wants the best for his team. But, the Rams are 2-4 and Bobo's seat has only gotten hotter this season. It is not in Bobo's best interest to keep giving observers reason to believe he is a poor coach; sticking to Carta-Samuels is a good start.