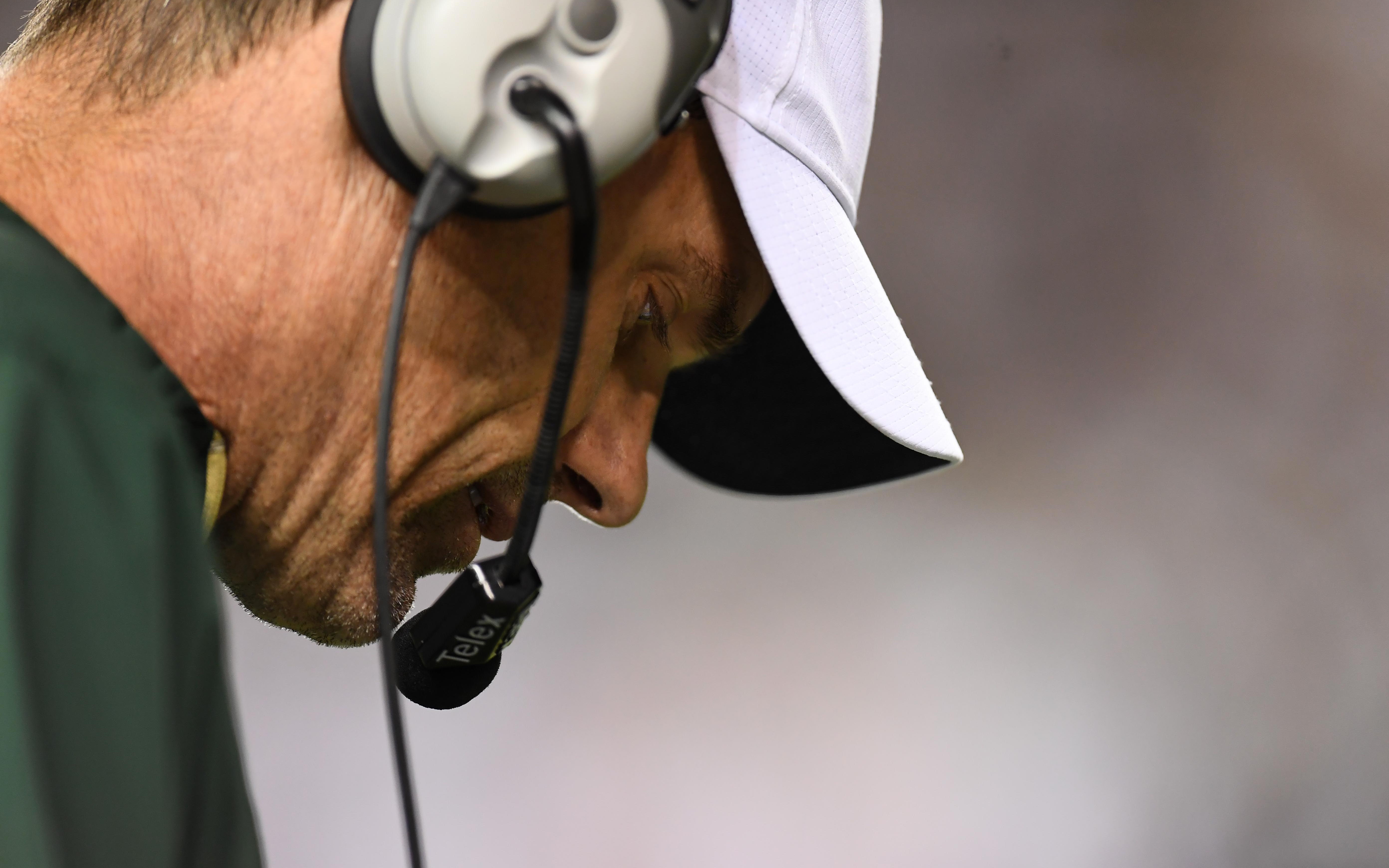 Rivalries are supposed to bring the best out of a team, the best out of a coach, of the individual players. But, with Mike Bobo as the head coach, that simply hasn't been the case.
With the trouncing at the hands of the rival Wyoming Cowboys, losing 34-21, Bobo's Rams have now lost eight straight rivalry games and have fallen to 2-9 against their three rival teams.
Were they ready to play on Friday night? "Hell yeah we were ready to play, we got our ass kicked," Bobo said after the loss.
Bobo's never beaten the University of Colorado in the Rocky Mountain Showdown, and the last three years he's lost all the rivalry games to CU, Air Force and Wyoming. Fans want more.
Less than 30 minutes until the 2018 #BorderWar kicks off. CSU fans know what they want. pic.twitter.com/trdJIqMXyI

— Eddie (@Eddie_Herz) October 27, 2018
Fans, who spend lots of their hard-earned money and most of their Saturday afternoons and evenings at Canvas Stadium want a winner, and especially in rivalry games. It's one thing to have a bad team to root on, but a completely incompetent product – in the biggest games that are supposed to mean the most – isn't going to cut it.
After being beaten handily by the Boise State Broncos last week – a team the Rams have never won against, falling to 0-8 all-time – fans as well as former players begged through social media, "Please beat Wyoming next week."
On Friday night, with the Cowboys in town, the Rams came out looking completely unprepared to play a game, especially against a hungry rival. CSU's offense punted the ball away five straight times in the first half before finally attempting a late, long field goal, which was pushed wide right. Through that first half, they ran the ball for a total of -12 yards; that's laughably bad. Bobo called his running game "inept" after the loss.
But, even after that disastrous start, CSU trailed by only three points, down 3-0 at the break. One thing we've learned over the year, though, is Colorado State isn't a second-half team. Sure, they came back to beat Arkansas, and that was a magical win. They even came back against bad New Mexico. But, the Rams have been out-scored 190-137 in second halves this year.
Halftime adjustments? Where? When? Not in FoCo.
And, it should be noted that some of that scoring for Colorado State has come in garbage time, when the game was already decided and won by the opposing team.
In the second half of Friday night's Border War loss – which wasn't even a skirmish – Wyoming went wild to score 31 points with ease. Why? This is possibly the worst tackling team the Rams have ever fielded. Definitely the worst during the Mike Bobo Era.
Defenders don't know how to set the edge, getting beat around the outside for big runs. Instead of wrapping up, they simply try to lay a big hit, often bouncing off and allowing ball-carriers to continue down field. Especially the safeties.
We saw that on Nico Evans' 48-yard touchdown trot, which basically cemented the win, pushing the Cowboys up 24-0 late in the third quarter.
3Q – 5:43 | WE WANT THE BOOT‼️@NextUp_Nico reverses field and scores from 48 yards out to extend the Wyoming lead!

🤠 24
🐏 0#BorderWar | #OneWyoming pic.twitter.com/1zl62cHlr8

— Wyoming Cowboy Football (@wyo_football) October 27, 2018
And, sometimes the defense even allows walk-in, untouched touchdowns like the one quarterback Sean Chambers ran in on Friday. Or, they give up wide open touchdown passes, as they did late in the loss to Wyoming.
Simply, the Rams defense is undisciplined and lost on the field this year, despite there being sufficient talent on that side of the ball to compete in every game. John Jancek is the team's new defensive coordinator to this season, so some growing pains were expected. But for Colorado State to play this disastrously bad on that side of the ball, even worse against the run than last year, is surprising, indeed. Appalling, even.
Offensively, the team's just as messy, which is concerning when the Mountain West's highest-paid coach is an offensive-minded coach, in Bobo.
The offense's woes this year all stem back to the offensive line, sure, but not all the blame can rest on their broad shoulders. Yes, Colby Meeks was forced to move from guard to the all-important center spot and the rest of the line lacked experience, but they're only the beginning of the problem.
Because they can't open holes well, the running game has been nonexistent this season. And while this is no slight to Izzy Matthews, the most explosive playmaker from the running back corps is clearly Marvin Kinsey, who enjoyed two exciting touchdowns late against Wyoming.
It seems clear that Kinsey should have played more this season, and another area of critique includes the play-calling, which has lacked creativity and has been far too conservative all season long.
In fact, before the season kicked off, I asked Bobo about running more misdirection type of calls to help the inexperienced line. He responded, "There's no question. Obviously, an option attack, we won't major in the option. But an ability to run some kind of option will cause defenses to be not as aggressive…And then always, quick getting the ball out, quick getting the ball to guys…And then the RPO game helps offensive linemen too."
But, while we've seen a bit of the run-pass option, it hasn't been much. Bobo hasn't utilized K.J. Carta-Samuels' mobility, nor have we seen the quick, outside passes like bubble screens very much at all.
Bobo knew, coming into the season, his O-line would be a weakness and he had the solutions, but didn't use them. And as far as calling a conservative offense, the Rams would benefit from attacking vertically more often, especially with otherworldly wideout Preston Williams. Even as "Presto" creeps up on 1,000 receiving yards, the Rams have underutilized him as well.
Over the last four years, Bobo's recruited well, both from the high school and JUCO levels, nabbing some talented DI transfers as well. He's got the talent, on both sides of the ball, to field a competitive team. Even this year, when the Rams lost so many leaders to graduation.
But, is he preparing them well enough throughout the week of practice? Is he calling a dynamic enough game in terms of play-calling? Has he put the right players in a position to succeed?
Bobo answered that himself on Friday night.
"We're not a very good football team, like I've been saying all year, and the ownership is on me."
Colorado State has one more rivalry game this year, at Air Force, on a short week, on Thanksgiving. One more shot to win a third rivalry game in 12 opportunities.
Will they play with fire or will the Rams just be thankful this long, arduous season is finally over?