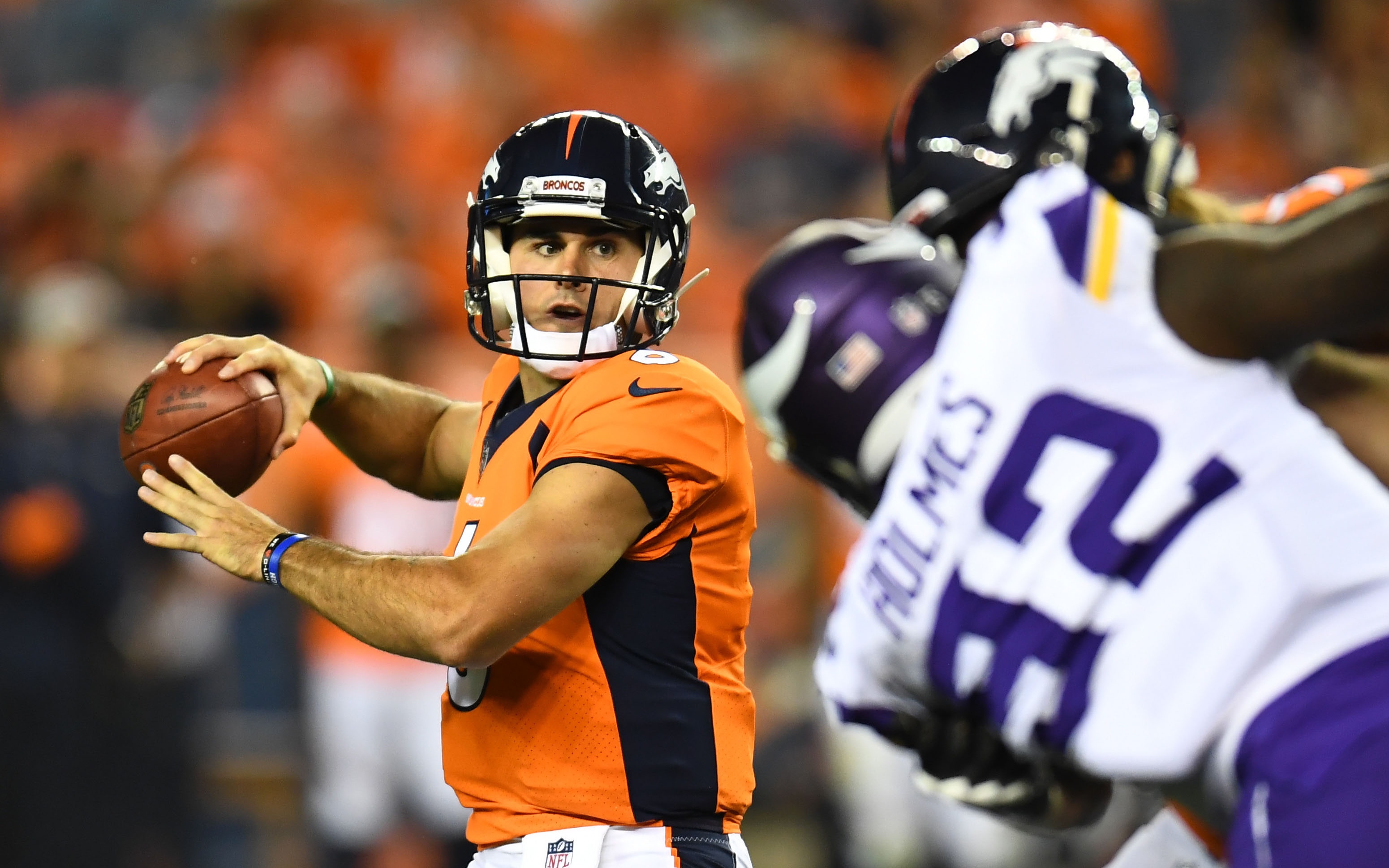 The Broncos don't have a quarterback controversy, but they do have a backup quarterback controversy.
Without a doubt, Case Keenum is Denver's starting QB; a team doesn't pay $36 million over two years for a guy to sit on the sidelines. But, what if Keenum is injured? The Broncos offense would be left in the hands of either Paxton Lynch or Chad Kelly, and at this point, it should be Kelly.
Let's be clear that neither would be ideal as the team's starting quarterback — and it seems Denver got rid of two capable backups in Trevor Siemian and Kyle Sloter, who each shredded the Broncos second and third-team defenses Saturday night — but, Kelly is clearly the better backup as of now.
For Kelly, all we can go on is his performance Saturday, going 14-21 for 177 yards with two touchdowns and one, ill-advised interception. Those numbers are solid, even though it must be noted he was playing against the Minnesota Vikings third-string defense.
Lynch, on the other hand, is now in his third year with the Broncos and isn't progressing, but regressing. Though the sample size is smallish, Lynch seemingly always looks lost on the field. He doesn't progress through reads fast enough, and sometimes not at all, quickly pulling the ball down to take off on the run. His arm is strong, but his inaccuracy has shown, just as it did on his first pass of the night Saturday.
While being pressured, Lynch fired a laser into tight coverage, high, sending the ball careening off the hands of DaeSean Hamilton and into the arms of a waiting defender for an interception. It was a poor decision to throw the ball at all, and then the toss itself was terrible, giving Minnesota the ball at Denver's 30 yard line and the Vikings scored on the next play.
Against Minnesota's second-team defense, Lynch went 6-11 for 24 yards and the one interception, good for a shockingly-low 22.2 QB rating.
Even if the Broncos were to forget the last two years of Lynch's laughingly-bad play in the regular season and started fresh for 2018, not promoting Kelly after last night would mean terrible leadership from the top-down.
Now, we know John Elway loves Lynch, the 6'7″ quarterback whom the "Duke of Denver" traded up for in 2016 to take at No. 26 overall. And the pressure may be put on head coach Vance Joseph from Denver's General Manager to keep playing Lynch.
If that's the case, it puts Joseph in a difficult position. But, at some point, Joseph is either going to have to lead or get out of the way.
Simply, Chad Kelly should be Denver's No. 2 quarterback now, today, going into their second week of preseason. But, Joseph wasn't quick to make a decision following his team's 42-28 loss to the Vikings Saturday night.
"We'll see," Joseph said when asked if Kelly would see some reps with the second-team this week. Wait, we're not even sure he will take any reps in practice with the "twos?" That seems silly at the least; did Joseph watch the game?
With the Broncos trailing by 10, Kelly led not one but two straight touchdown drives to bring Denver back and take the 28-27 lead in the fourth quarter. The second-year "Mr. Irrelevant" in Kelly was more confident and composed last night than we've ever seen Lynch in two-plus years.
Specifically, Kelly did well to lead his receivers, as accuracy can mean the difference between gaining five yards or allowing the pass-catcher to continue running for 15-20, or even a touchdown.
On his first touchdown toss, No. 6 found a wide open Matt LaCosse down the left sideline, dropping the ball in nicely. Hey, LaCosse was uncovered, so anyone should be able to make that throw.
On Kelly's second score, though, he led running back Phillip Lindsay to the inside of the field and away from the defender, allowing Lindsay to turn on the jets and go north-south into the end zone. And Kelly even used his legs well, running three times for 38 yards in the contest.
Again, he wasn't perfect — the interception came when Kelly held onto the ball too long and then decided to try and force it into a covered receiver anyway — and it must, again be noted he was playing against the "threes."
But, as some have pointed out, what could Kelly do if he was given the talent of the No. 2 receivers for the Broncos? His great throw near the end of the game was dropped by John Diarse and should have been another touchdown.
Simply, no one knows how well Kelly could do with the second-team because he hasn't been given a shot.
Some have reported that Lynch has out-performed Kelly in training camp so far this year, leading to their respective positions on the depth chart. But, practice is one thing, a game is another.
While Lynch melted under the bright lights at Mile High Saturday night, succumbing to the pressure as he always has, Kelly stepped up and played like a man possessed.
When the Broncos host the Bears on Saturday, Aug. 18, Kelly should take over when Keenum's night is done.
If Joseph ignores Kelly's much better play than Lynch and doesn't make the move, it's yet another indictment on his lack of ability to lead the Broncos as their head coach.