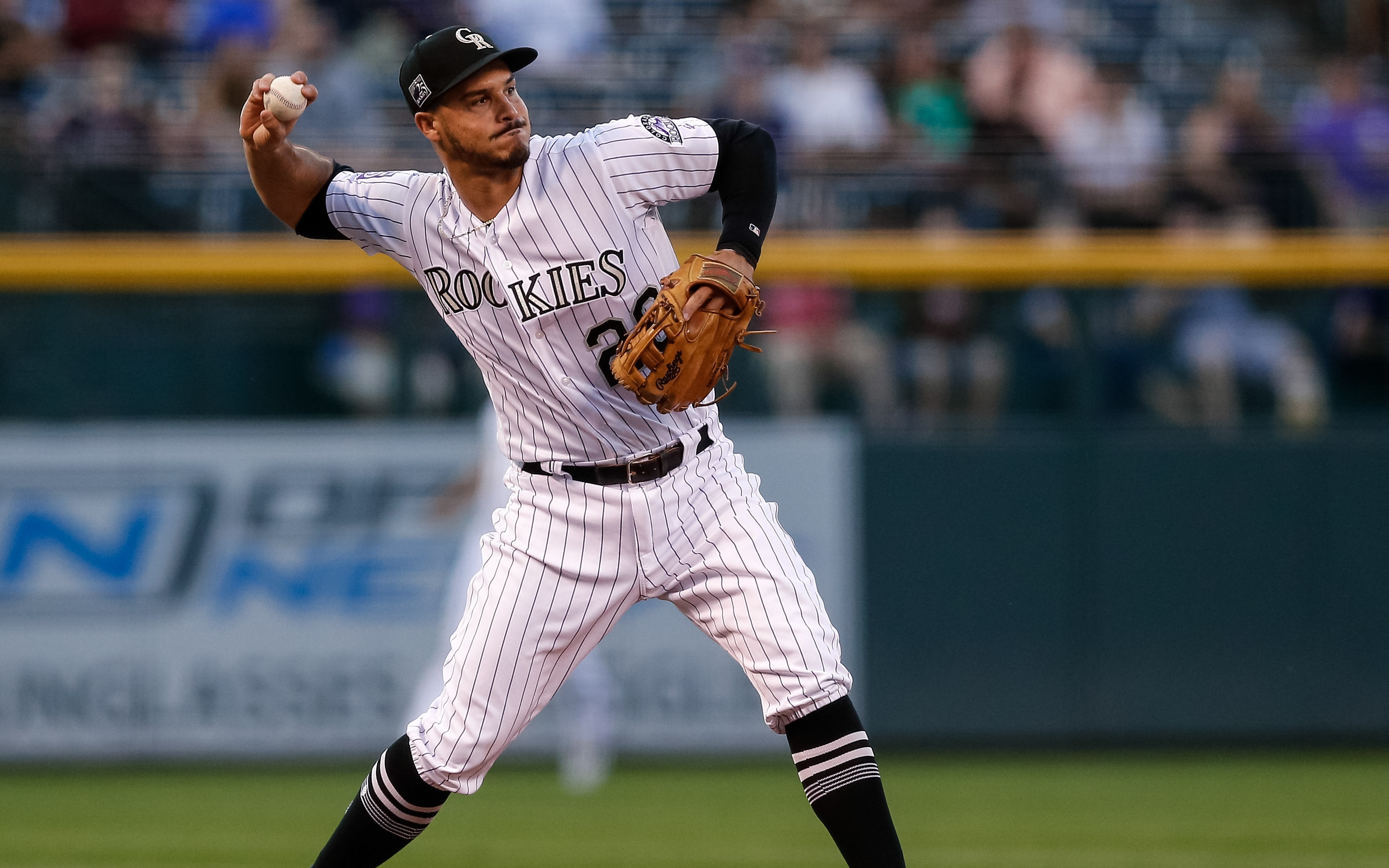 In the last week, a pair of deals have rocked the Major League Baseball landscape. With Bryce Harper signing with the Philadelphia Phillies and Nolan Arenado re-signing with the Colorado Rockies, two of the game's predominant superstars have a home for the foreseeable future.
The two deals, worth roughly $590 million and spanning over two decades combined, have reset the superstar market in the league.
Once an anomaly, former National League Most Valuable Player, Giancarlo Stanton's 13-year, $325 million deal now has counterparts.
When you add in Manny Machado's 10-year, $300 million deal with the San Diego Padres, the league's lackadaisical offseason has turned historic.
With the aforementioned Harper and Arenado deals being the most recent large-sum acquisitions, how do they compare?
Bryce Harper (13 years, $330 million)
Contract structure:
As it has been rumored, Harper passed up bigger yearly sums to garner a deal that will take him through the remainder of his career.
In Bryce Harper talks, I am told #Dodgers were willing to offer a four-year deal worth approximately $45 million per season. That would have allowed Harper to shatter the all-time AAV record and become a free agent at age 30. @MLB @MLBNetwork

— Jon Morosi (@jonmorosi) February 28, 2019
The contract he chose instead is structured to be a lifelong deal.
Within the 13 years he accepted, Harper didn't ask for a single opt out, with a full no-trade clause intertwined. With the added years of security, the Phillies attained a lower yearly salary than many of the game's elite players.
Though many sites have yet to update their tables to include the three largest deals of the offseason, Harper's deal puts him at 15th in the majors when adding them in.
With the deal falling so low on the per-year totem pole, the Phillies, known for their high payroll in the past, have left themselves room for further acquisitions.
It has been rumored the team is looking for a Mike Trout homecoming deal when he reaches free agency following the 2020 season. If they are able to sign Trout, in a deal that will likely top any amount given to a player in league history, along with the re-signing of J.T. Realmuto, the team could have one of the best 3-4-5 combinations in the league for a decade.
If not, having Aaron Nola and Harper locked up long-term is a solid consolation prize.
Long-term security (both club and player):
With the aforementioned lack of opt-outs and a no-trade clause, Harper has assured both himself and the Phillies his presence is far from temporary.
As salaries continue to rise, the Phillies have guaranteed themselves a star player for the next 13 years, with the fourth-largest TV market size set to further aid their efforts.
It was a win-win deal for each side regarding long-term assurances.
Player value:
In his career to this point, the myth that has followed Harper in his high school days has yet to subside. In actuality, the guise has hidden problems in his game.
For starters, in his six-year stint with the Washington Nationals (excluding his rookie year where he was called up after the club had played 20 games already), Harper has only two years with single-digit missed games.
Due to his injury woes, Harper has only accrued north of 140 hits in two respective seasons. For comparison, Arenado has done it the past four seasons in a row.
Harper was also one of the league's worst outfielders in defensive runs saved last year by a considerable margin, a factor that is unlikely to improve as he ages. 
On the bright side, Harper's healthy seasons have flashed dominance.
In 2015, Harper's healthiest year prior to 2018, he won NL MVP behind a .330/.460/.1.109 slash line and an NL-leading 42 home runs. He also led the league in wins above replacement (10) and OPS by over 100 percentage points.
The potential to enter his name into the league's best player conversation is there, health being the leading blemish.
Nolan Arenado (8 years, $260 million)
Contract structure:
Due to his already-existing contract with the Rockies, the competition to sign Arenado prior to his final year was muted.
Despite the lack of other suitors, the Rockies still rewarded one of their best players in franchise history with likely the best deal in American sports.
Along with his league-leading annual salary of $32.5 million, Arenado was given the ability to control his fate after the contract's first three years.
Following the third year of his newly-minted deal, Arenado will have an opt-out clause in each subsequent year, effectively making him a one-year rental for a five-year period.
If Arenado exceeds the value of his deal, he can opt out and receive a larger deal from either the Rockies or a host of other clubs. Due to a full no-trade clause, if he falters, the club's options of moving on are limited.
Long-term security (both club and player):
For Arenado, the deal has two paths. Either he can once again enter free agency at age 30 or stay put and garner paychecks that rival any player currently in the league.
As far as long-term security, Arenado secured it, giving himself a deal through his age-35 season if he chooses.
Where Jeff Bridich and company are concerned, their long-term security is foggy at best.
With their star able to leave each year after the 2021 season, the franchise will be forced to walk on eggshells, seeking to avoid disgruntling their homegrown cornerstone. If things go awry in the clubhouse, Arenado can depart, leaving the club with more questions than answers.
For the next three years, the club can make a push behind Arenado, Charlie Blackmon and Trevor Story with youngsters German Marquez and Kyle Freeland toeing the rubber.
The Rockies were looking to lock up their star before the year, avoiding the bidding war that was sure to take place following the 2019 season. Instead, they merely delayed it for a handful of seasons.
Player value:
While one can argue that the contract given to Arenado was so-so, the production that the third baseman has provided the club is his six years at Coors Field is a far cry from mediocre.
Along with a Gold Glove award in each of his first six years, a first in league history, Arenado has led at the plate too.
En route to four consecutive top-10 NL MVP finishes, Arenado has slashed .291/.346/.886 with 37 or more home runs in four respective seasons with an average of 114 RBI per year. Excluding his first two years, that number balloons to 125.8. While the value of driving runners in is subdued with team dynamic playing a large role, he has carried the team's run-scoring load for the past four seasons. The ability to play 158 games per year has been a catalyst for the club's success as well.
Combining the two areas, both elite, Arenado can be argued as a top-10 player any given year, with his stock reaching No. 3 on the MLB Network top 100 after his efforts last year, a campaign that was merely average in comparison to past years.
Off the field, Arenado has yet to stumble, proving to be a shimmering example of a franchise building block.
Verdict:
As a member of the minority, I have long argued that long-term, nine-figure contracts rarely work out. Names like Albert Pujols, Alex Rodriguez, Robinson Cano, Prince Fielder and Jason Heyward are just a portion of examples of the huge risk associated with large deals.
When comparing Harper and Arenado's deals though, there are two sides.
For the next three years, Arenado likely outplays Harper, much the way he has for the majority of his career. For that span, the Rockies likely captured the better deal, the larger allocation each year notwithstanding.
Once the opt-outs come into play, Harper's deal begins to pull ahead.
As a big market club, the Phillies were willing to swallow a handful of years at the back end where Harper will likely deteriorate for a lower per-year average in his prime.
With the long-term certainty and lower per year average, allowing the Phillies to build a dynasty in his career with the franchise, Harper's deal will prove to be greater at both deals' conclusions.
Arenado has proven to be a team player in nearly every instance in the Mile High City. The Rockies are relying on that facet of his game going unchanged, otherwise, they are looking at a bleak future if he opts out.