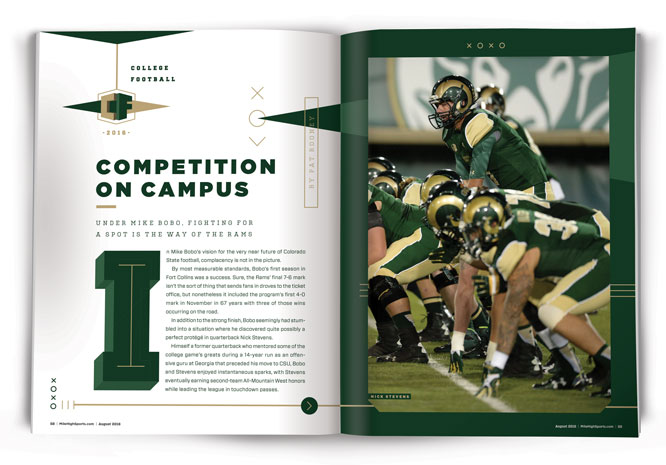 This story originally appeared in Mile High Sports Magazine. Read the full digital edition here.
In Mike Bobo's vision for the very near future of Colorado State football, complacency is not in the picture.
By most measurable standards, Bobo's first season in Fort Collins was a success. Sure, the Rams' final 7-6 mark isn't the sort of thing that sends fans in droves to the ticket office, but nonetheless it included the program's first 4-0 mark in November in 67 years with three of those wins occurring on the road.
In addition to the strong finish, Bobo seemingly had stumbled into a situation where he discovered quite possibly a perfect protégé in quarterback Nick Stevens.
Himself a former quarterback who mentored some of the college game's greats during a 14-year run as an offensive guru at Georgia that preceded his move to CSU, Bobo and Stevens enjoyed instantaneous sparks, with Stevens eventually earning second team All-Mountain West honors while leading the league in touchdown passes.
With two years of eligibility remaining, it's easy for Rams fans to envision what sweet music the duo might be making together once CSU's long-coveted on-campus stadium is ready for play in 2017.
Those fantasies, however, might be premature. Under Bobo, that complacency factor looms large over every position on the field for the Rams. That means even a guy who threw for more yards than any sophomore quarterback in the history of CSU's program is going to have to earn his job all over again.
On paper, Stevens was the second-best quarterback in the MW last year. This season, Stevens could eventually be deemed the second-best quarterback on his own roster.
"It's definitely something I've embraced," Stevens said. "I think sometimes when something like that happens, there's situations like that where it can be a lot tougher. I think it's going to force me to take more of a leadership role and be more vocal and focus more on the details. When there's more of an even competition you really have to focus on not turning the ball over in practice, or not making stupid errors.
"I've done a good job of embracing that and making sure it didn't overwhelm me. It's a healthy competition, and it's ultimately going to make it the offense better and the team better."
The source of the challenge to Stevens' place under center is Faton Bauta, a graduate transfer from Georgia with one year of eligibility remaining. While Bauta didn't exactly light the world on fire in a spot start for the Bulldogs last year – he went 15-for-33 for 154 yards with four interceptions in a 24-point loss to Florida – he has a longstanding relationship with Bobo and offensive coordinator Will Friend from their time running Georgia's offense. Moreover, graduate transfers with one year of college football remaining typically choose schools where they believe there is a reasonable chance to play.
Bobo declared it an open competition throughout the spring, and if anything it was Bauta who rose ahead of the pack at CSU's spring game, going 16-for-29 for 203 yards with three touchdowns and one interception. By contrast, Stevens finished 8-for-20 for 90 yards with one touchdown and a pair of interceptions – including one on the first offensive series of the game.
It is exactly that sort of penchant for untimely giveaways that is keeping Stevens from taking command of the quarterback situation.
"I'm making sure I'm going through my reads and not forcing anything," Stevens said. "I think I'm getting better at taking the check-down when there's nothing else there. Now that I have the offense down a little more I can focus on my eye-placement, how to move a safety or a linebacker away from where I want to throw the ball. Those are the things I've been working on over the summer."
Stevens' overall total of 12 interceptions in 347 attempts averages out to just one per 28.9 attempts, a number any coach would take in a heartbeat. Yet Stevens' three games with multiple interceptions accounted for more than half of his entire season total. All three games ended with CSU losses, including back-to-back overtime defeats early in the season against Minnesota and the Rams' archrivals from the University of Colorado.
The end scene of the annual Rocky Mountain Showdown against CU at Sports Authority Field at Mile High was particularly wrenching for CSU, as a Stevens interception in a tied game midway in the fourth quarter turned into a 60-yard touchdown return by the Buffaloes' Kenneth Olugbode.
Stevens did a masterful job of commanding an offense he learned on the fly, completing 60.8 percent of his passes for 2,679 yards and 21 touchdowns. But to hold off Bauta, he will have to take that game to another level.
"I think Nick has to continue to work his feet and improve his athletic ability, improving his accuracy," Friend said. "He has to continue to develop. He did a good job of getting in there and understanding everything last year, but you've got to go to another level if he wants to be the guy this year. Faton, he's hard-working and he's probably a little better athlete than Nick."
With the Rams having acclimated to Bobo's fresh approach on both sides of the ball, that spirit of competition is being pushed across CSU's entire lineup.
"The level of competition in our group is really good, not only on the field but also off the field in continuing to learn what to do," Friend said. "It's been nothing but good things because of that competition. I wish we had more of that at more positions, to be honest. That's what we're trying to recruit to get to."
With Stevens or Bauta the Rams' offense will feature either an experienced signal-caller eager to build on a solid first season as the starter, or an exemplary athlete who earned the nod with a performance that forced the issue. Regardless of who ultimately earns the starting assignment, both Stevens and Bauta will be challenged with finding a dependable target among a receiving corps that took a significant hit following the 2015 season.
Gone are Rashard Higgins, a fifth-round draft choice of the Cleveland Browns, and Joe Hansley, who signed with the Oakland Raiders as an undrafted free agent. Add to the equation the graduation of Kivon Cartwright and Steven Walker alongside Deionte Gaines' decision to transfer to Southern Illinois, and CSU has lost a group of players that accounted for approximately 63.5 percent of the Rams' receptions in 2015. They also accounted for about 71 percent of CSU's total receiving yards and three-quarters of the team's touchdown receptions.
"We lost a couple really good football players in Rashard and Joe," Friend said. "Those guys made a lot of big plays over the last couple of years. They'll be missed. But we feel like we signed some guys that, ability-wise, have the physical attributes to be as good if not better … but are they going to be the same type players in terms of production? We don't know, because those two guys were very productive players. So that's going to be a challenge."
Among the standouts during spring practice, Friend cited the work of Xavier Williams, whose 2015 totals of 19 receptions for 231 yards and two touchdowns count as the best returning marks for any of CSU's wideouts. Friend also likened the skill-set of sophomore Olabisi Johnson to Hansley's ability as an interior possession-type receiver. Johnson recorded two receptions for 15 yards and a touchdown as a true freshman last year and "has a chance to be a really good football player for us," according to Friend.
Friend also expressed optimism regarding redshirt juniors Sammie Long and Elroy Masters. Masters posted three catches for 35 yards in the first four games last year before suffering a season-ending broken collarbone. Masters remained sidelined during spring practice but is expected to be 100 percent by the time the Rams kick off their season on Sept. 2 in primetime against the rival Buffs.
"Xavier Williams is a guy that the talent and the physical attributes are there. It's whether he can turn the corner and get it done," Friend said. "We'll wait and see, but he has the ability to make plays and be a pretty good player. And a guy we're glad to get back is Elroy Masters. Right now, he's running and moving around well and he's someone we feel good about."
The hope is that either Stevens or Bauta will accelerate the learning curve for the new receivers. Stevens will be in his second season running an offense he mastered fairly well at an early juncture. Bauta already ran the system for Bobo and Friend for years at Georgia, and his athleticism would give the Rams an added threat in the backfield lacking somewhat in recent seasons.
Regardless, it will be a key season in Fort Collins as Bobo continues to establish his regime. Last year's strong finish, dulled only slightly by a loss against Nevada in an unfortunate all-MW matchup in the Arizona Bowl, established a level of momentum that carried through the offseason.
Any coach expects to see a significant step in year No. 2 after a new staff comes aboard. Bobo is no different in his quest for the Rams to compete for a MW crown. Never mind how an increased win total and a more-inviting bowl berth will continue to heighten enthusiasm and expectations heading into the 2017 kickoff in the new stadium.
"I definitely feel like the momentum has carried over," Stevens said. "We have a different mindset this year. The seniors and some of our team leaders this year are setting a different standard and expecting more from guys this year. You're definitely going to see a hard-working group that capitalizes on the mistakes of others and reduces our own. We're going to be a lot better in the fourth quarter than we were last year. We're focusing on finishing this year, and we've taken that from Day 1.
"I'm excited because our o-line is more experienced now. We've got some guys up there that can move guys. They're going to be more sound than last year and I think we have playmakers all across the board when it comes to the pass and run games."
In year two of the Mike Bobo era, the Rams look to mirror their performance from last November. Who will play the biggest role is yet to be determined, as fierce competition at every position is the new theme in Fort Collins.