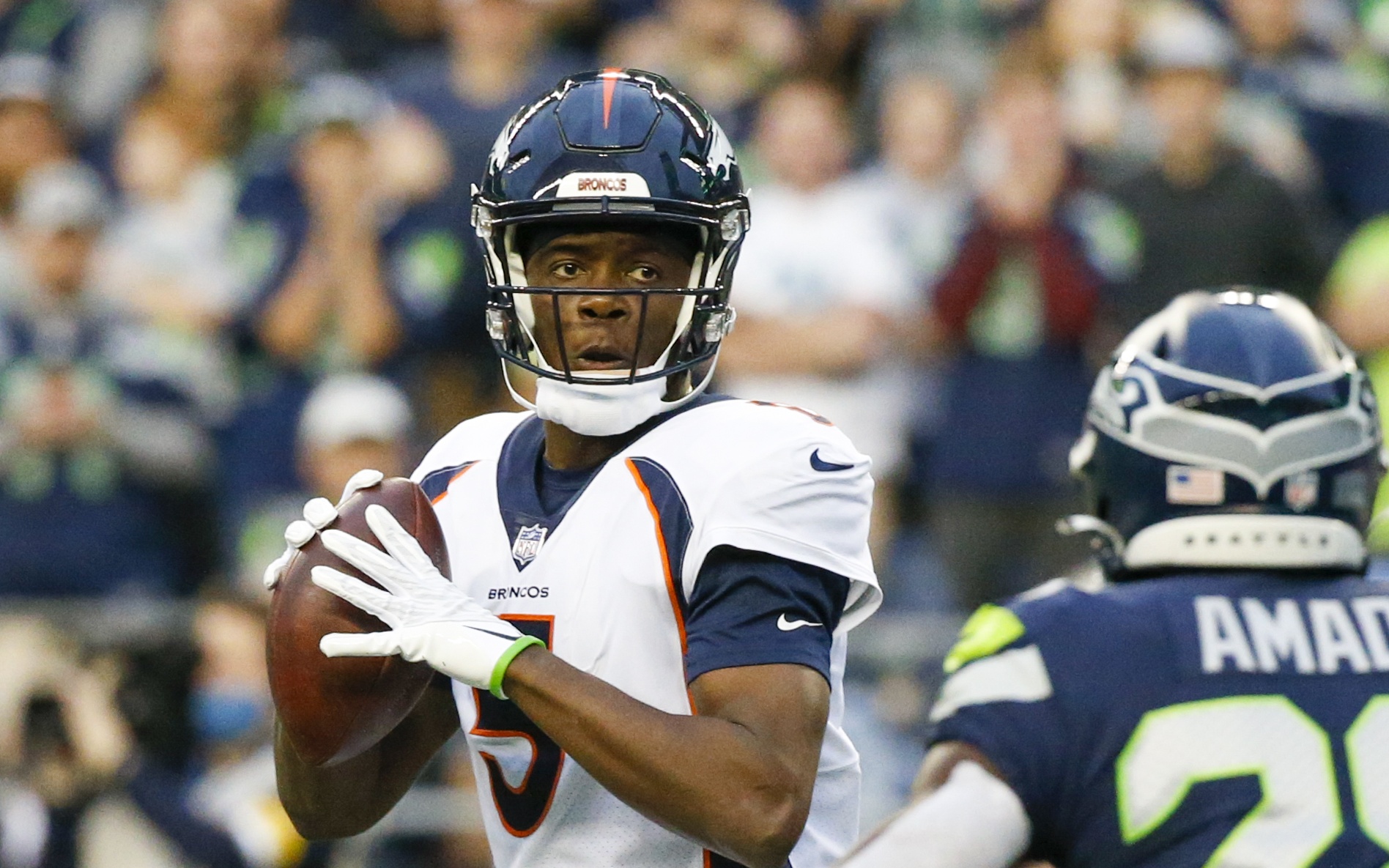 The country — Broncos Country — has been divided this offseason.
There have been two men fighting for the hearts of the nation, two men fighting to lead the Denver Broncos offense.
And now, that fight seems to be coming to an end as Vic Fangio is expected by some to name his starter on Monday morning. Which, if it's newcomer and journeyman quarterback Teddy Bridgewater, many Drew Lock fanatics will be sad, upset and wondering "what if?".
Lock was drafted in 2019 in the second round by John Elway and Co. He was injured his rookie year in preseason and Joe Flacco was the starter that year. It took him until Week 12 to get into a game that season, and while he played lights-out against Houston, two of his other games were merely passable, and two were downright bad that year.
Last year, Lock was injured again early in the season, but still managed to play 13 games. He was still wildly inconsistent, riding the highs of games like Carolina, but the lows of a four-interception game against Las Vegas.
Simply, Lock was the worst quarterback in the NFL in 2020 from basically any stat metric, and he needed a miraculous offseason to retain his starting job. Then, when many expected the Broncos to take a quarterback with their No. 9 overall pick, new GM George Paton traded for Bridgewater just before the draft and at that point, the writing was on the wall for Lock.
It's not like Bridgewater was a star last year with the Carolina Panthers, but he was the fifth-most accurate quarterback in the NFL while Lock was dead-last. And then, back in May during OTAs, Noah Fant and other receivers started singing the praise of Bridgewater for his ball placement and the way he asks receivers how he can help them.
"I've gotten the chance to throw with Teddy these last couple days of OTAs," Fant said in May. "You can definitely tell that he's a vet. Ball placement and things like that are very important to him."
Throughout training camp, it seemed like basically a dead heat. Which, really wasn't ideal for Broncos Country nor head coach Vic Fangio, who was tasked with naming a starter.
"Some days it's Drew and some days it's Teddy," GM George Paton said late in camp. And Fangio stuck to the "even-Steven" line even when it seemed clear Lock had taken the lead.
After the first week of preseason, Lock and Bridgewater both played well, but it was clear Lock had taken the lead even though Fangio wouldn't say as much. Not only was he very, very accurate, Lock connected with KJ Hamler for an 80-yard touchdown, a game-changing play which Bridgewater simply isn't able to reproduce himself.
But the competition raged on, and Bridgewater continued to be more consistent during the week of practices, and then in the second game of preseason, he was wonderful while Lock struggled mightily.
It must be noted that Bridgewater played with the starters while Lock had the No. 2 offense. But, that wasn't why Lock struggled, necessarily.
The issue with Lock is when he starts a game roughly, it's really difficult for him to get it back going well. In that second game on Saturday, Bridgewater finished 9-of-11 for 105 yards and 1 TD which was a 136.7 passer rating. He stepped up and delivered a dime to Jerry Jeudy on a 4th and 5 which set the tone for the game, and communicated well with Hamler to find the receiver open when his DB blitzed off the edge. Bridgewater's veteran nature showed on Saturday night.
Lock wasn't awful, but finished 9-of-14 for 80 yards, a 79.5 rating.
All Lock had to do was go out there and command the offense again. Instead, he was bull-rushed and took back-to-back sacks in the first drive which followed two straight TD drives by his counterpart.
Considering how close it's seemed from the outside looking in, one would have guessed this final preseason game would decide the starter. But, the rumblings around the local media who attend practices and pressers, who have inside information, makes it sound like Bridgewater will be named Broncos starting QB today.
That doesn't mean we won't see Lock this season, we may. In fact, it seems likely. But, probably only if "Teddy two gloves" is either injured or plays absolutely awfully for a stretch with the team still in contention for a playoff berth.
And really, that's what this all boils down to.
Fangio needs the team to make the playoffs or he will likely lose his job. Paton needs the team to make the playoffs to prove his construction of this dynamic defense was worth the trouble, and to prove to the league he can win as a GM.
And if Broncos Country wants to make the playoffs, the Drew Lock die-hard fans will have to remember they are Broncos fans first before any single player.
For Lock, his make-or-break offseason seems to have broken him. It doesn't mean he won't ever be a starter in the NFL, but it does seem likely his shot to be "the guy" in Denver will now be over if and when Bridgewater is named the starter.