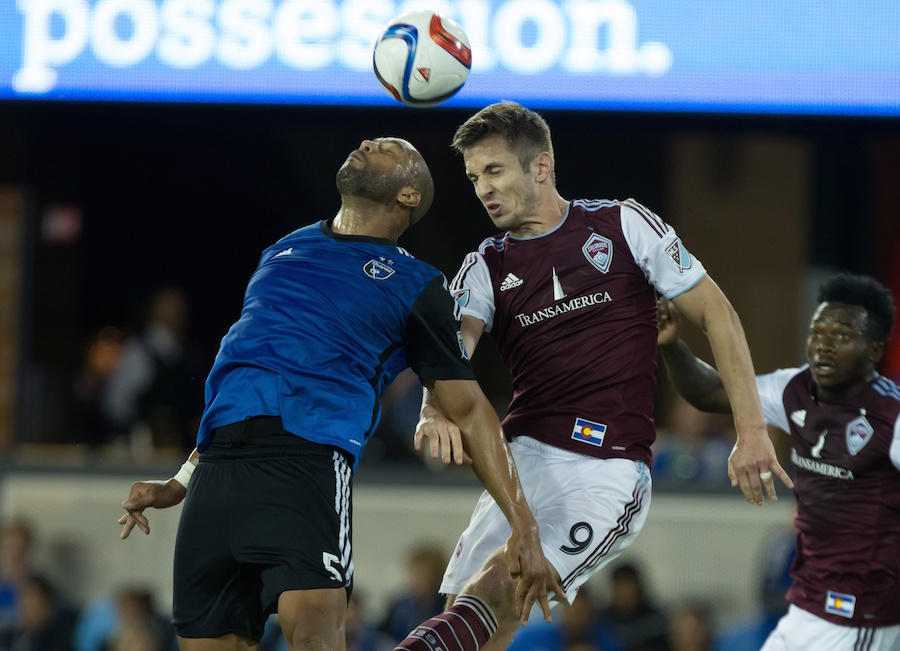 Concussion issues don't only exist in American football. Colorado Rapids forward Kevin Doyle announced on Twitter today that he is retiring effective immediately due to persistent medical issues caused by concussions.
"This year it has been clear to me that heading the ball was becoming problematic and causing me to have headaches," Doyle wrote. "Two concussions this season and numerous others over the years have made this more concerning. After consulting the experts in this field, it has been decided that to avoid the possibility of these symptoms becoming more serious and permanent, I will be hanging my boots up for good."
Doyle, who was lethal when he got his noggin on the ball in the box, spent his final three seasons with the Rapids and scored 16 goals in 71 games for the club. He was a vital member of the memorable 2016 Western Conference Championship runners-up and ended that season with six goals, tied with Dominique Badji for second on the team.
On the international circuit, the Irishman earned 64 caps and scored 14 goals for the Republic of Ireland national team over the course of his career. Before his time with the Rapids, Doyle plied his trade in the Premier League for Reading, the Wolverhampton Wanderers, Queens Park Rangers and Crystal Palace. He scored 37 total goals during his time in the Premier League.
Padraig Smith, Rapids Sporting Director and Interim General Manager, had kind words to say about his fellow countryman after the announcement.
"Kevin is both a terrific player and a terrific person," he said. "His contributions on the field have been invaluable, and off-the-field he has been a wonderful influence on the locker room as well as the community as a whole. His efforts will be sorely missed."
Doyle went on in his statement to thank Rapids fans for their support over the years.
"I've really enjoyed my time with the Colorado Rapids and playing in MLS has been a fantastic experience, I would have loved to have taken the opportunity offered to stay for another year," Doyle wrote. "The staff, players and fans here have made me, and more importantly, my family feel at home in Denver and we will miss it."
While Doyle definitely had more soccer in him, he made the right decision. The personal health and well-being of players beyond the field needs to be their utmost priority. Not only is Doyle's decision the correct personal one, it also paves the way for other athletes to admit when they're worried about their health. It also is a good example for young athletes to mirror. Don't put athletic success above your own personal health. There is life after sports.
So, while its disappointing that today the Rapids lost one of their best players, I hope we can come together to applaud the difficult, but correct, decision that Doyle had to make.