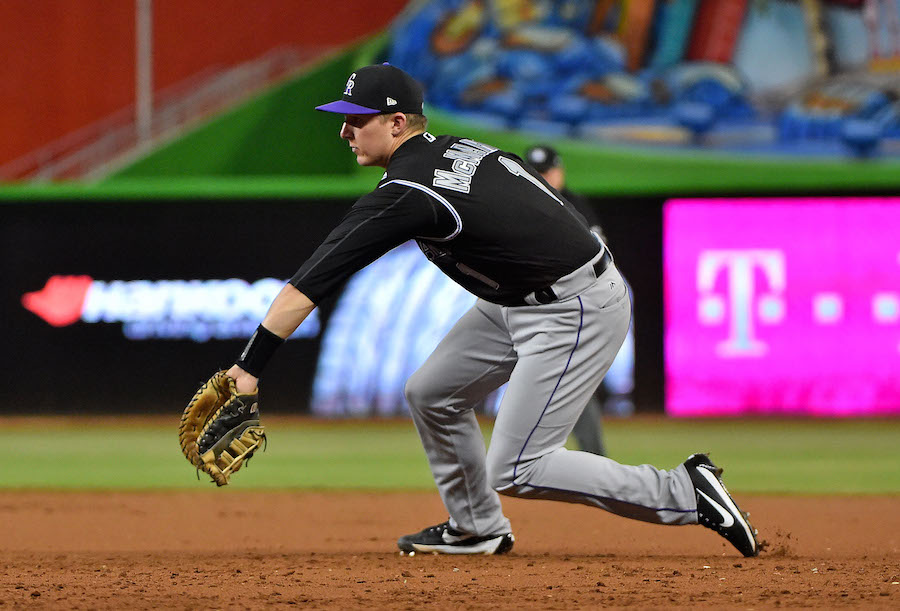 Ryan McMahon, the 23-year-old infielder who came up for a 'cup of coffee' last season when he registered 24 plate appearances, is a strong candidate to start the Rockies' season as the Opening Day first baseman. Rockies manager Bud Black isn't quite ready to name McMahon his starter, but the club's No. 3 overall prospect is making a strong case for himself.
McMahon joined Eric Goodman and Les Shapiro on Mile High Sports AM 1340 | FM 104.7 to discuss the upcoming season and the pressure of joining an infield that boasts seven Gold Gloves between Nolan Arenado and DJ LeMahieu.
McMahon, who came up as a third baseman, was asked if he feels comfortable over at first.
"I feel great over there now; I'd call it my first position," he said.
Playing first base is different than the other infield spots thanks to the necessity of picking low throws out of the dirt, something former Rockies Todd Helton and Mark Reynolds excelled at.
"It's just reps, hopefully [the other infielders] are getting more confidence in me," McMahon  said. He exudes confidence, and it has him close to claiming the starting job.
Goodman and Shapiro asked Black for his thoughts on McMahon's progress at first base. The skipper noted that McMahon was a quarterback in high school and is an 'athletic guy,' saying he is not terribly worried about McMahon's transition across the diamond. The transition to hitting MLB pitchers, however, could be. McMahon managed just three hits in 19 at-bats with the Rockies last season, a .158 average.
Pitching at the big-league level is considerably better than in Triple-A, however, and players often struggle to make the jump up to the majors right away. McMahon, who hit .374 in 70 games at Triple-A Albuquerque last season, would regularly be facing pitchers like the Dodgers' Clayton Kershaw and the Diamondbacks' Zack Greinke — two of the best in the game — if he makes the major league roster.
"I think the best way to get those guys is do the best version of yourself. They are going to make mistakes — not a lot — but you just got to be ready for that one and make sure you don't miss it," McMahon explained.
He was also quick to point out that he needs to prepare the best he can when facing these quality pitchers: "Our team is great about that. The way that these guys prepare, I think I am going to be fine in that department."
So far McMahon has had a fantastic spring training, hitting .368 in 38 at-bats.
"Sometimes you feel like you have to re-teach yourself to hit, so just going through it and fine-tuning some things, but feeling good and going in the right direction," said McMahon, about his spring thus far.
Stats in spring training are sometimes misleading and can be taken out of context. However, McMahon has showed he is capable of having success over the course of a season, as he hit .355 between Double- and Triple-A last season.
The MLB season is truly a grind, with fewer off-days throughout the season than other pro sports — and even the minor leagues. Baseball players have different theories on how to manage slumps, which are inevitable. McMahon doesn't have one specific philosophy, however. "Some days your swing is feeling good and you don't need to take as many swings in the cage, and you just kind of babysit yourself, manage it throughout the season," he said.
Click here to listen to the full interview with Ryan McMahon, including what he said the best part of playing in the Major Leagues is, or listen to the podcast below.
Catch Afternoon Drive with Goodman and Shapiro every weekday from 4p-6p on Mile High Sports AM 1340 | FM 104.7 or stream live any time for the best local coverage of Colorado sports from Denver's biggest sports talk lineup. Download the all-new free Mile High Sports Radio mobile app forApple or Android.