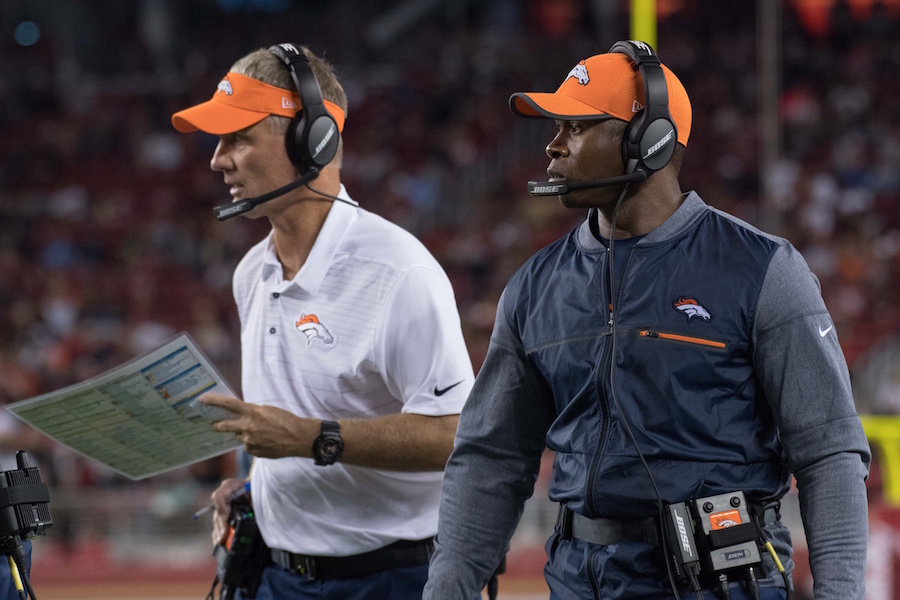 The Broncos' 42-17 rout of the Dallas Cowboys was due in large part to another bit of brilliant game-planning by offensive coordinator Mike McCoy and defensive coordinator Joe Woods.
After outcoaching Chargers offensive coordinator Ken Whisenhunt last week, Woods and the Broncos faced an even-tougher test: the Cowboys' offensive lines and running game, both of which were among the league's best last season — and they passed with flying colors.
Woods' defensive game plan prioritized stopping the run and daring second-year quarterback Dak Prescott to throw against the Broncos' vaunted 'No-Fly Zone'.
"Joe had a great plan. Our plan was to clog every gap; play man-three outside with the corners and their receivers, and clog every gap," said head coach Vance Joseph. "If he [Ezekiel Elliott] did pop a run, it was going to be on a missed tackle. It wasn't going to be on an open gap. We knew coming into the game that was going to be our first order of business; to stop the run and clog every gap. When they went three wides [receivers] and one [running] back, we played our normal base front with our normal secondary. It was a great plan by Joe and his staff, and it obviously worked."
Woods' game plan effectively erased star running back Ezekiel Elliot, who averaged 5.1 yards-per-carry last season and came into Sunday's game averaging 4.3. Elliott was held to just eight yards on nine attempts — an average of less than a single yard per carry.
"We just wanted to stop the run. That's what they do the best, and the they have the best offensive line in the National Football League. Stopping the run was our priority," said linebacker Von Miller. By shutting down an potentially explosive Cowboys' running attack, the game was put into Prescott's hands. He responded with 50 pass attempts, completing 30 of them for 238 yards and two touchdowns, but also threw two interceptions — one to Chris Harris Jr., and one that Aqib Talib returned 103 yards for a touchdown — and finished with an underwhelming rating of 68.6.
The players put all of their trust into Woods' scheme, and it showed. "He puts it all on us," said defensive lineman Derek Wolfe. "We just execute whatever he calls. We've got full faith in what he's calling, and I think he's a great coach."
On the offensive side of the ball, McCoy has so far revitalized an offense that was lethargic in the 2016 season; putting together game plans that have soundly defeated opposing defensive coordinators Gus Bradley of the Chargers and the Cowboys' Rod Marinelli. With a revamped offensive line, the running game has become a stronger point of emphasis — and it's quickly becoming one of the best in the league, ranking first in yards per game (159.0) and eighth in yards per attempt (4.2).
"I just think everybody's buying into the scheme. I think Mike McCoy got into a play-call rhythm. I think that always helps," said running back C.J. Anderson. "I think the O-line played tremendously, [and we] ran the ball effectively… I think we gave up [only] one or two sacks (Siemian was sacked twice). We gave up the sack-fumble. Other than that, how we look at is [this]: if we can just protect Trevor [Siemian], whether that was this scheme now, [or Gary] Kubiak's scheme last year. If we can protect Trevor, we'll give ourselves a shot. That's how we look at it."
Even the defense is giving credit to McCoy for revitalizing the offense, giving the defense more time to rest and more points to work with.
"Mike McCoy is out here — tip your hat to Mike McCoy, because he can get out there and move the chains by himself, let alone C.J.[Anderson], D.T. [Demaryius Thomas], E [Emmanuel Sanders], Trev [Siemian] and it's going to be good," said cornerback Aqib Talib.
Holding onto the ball and sustaining long drives has become a theme for the new offense. Through two games, the offense is averaging 34:02 in time of possession. Against the Cowboys, the importance of time of possession was emphasized.
"We had to kind of control the ball and match their physicality," said Siemian. "That's kudos to the offensive line. Those guys did a heck of a job, and allowed us to kind of get in that flow and sustain some of those long drives."
Woods and McCoy have seemingly solved the two largest problems the Broncos faced last season: offensive and defensive line play. With Woods' defense now able to shut down a top rushing attack, and McCoy's offensive line raising the efficiency of the running game, the Broncos look to move forward in the season and maintain their winning ways.
Woods' and McCoy's next test will come against the Buffalo Bills on Sunday, as the Broncos will hit the road for the first time this season. Expect them to have their plans in place once again.