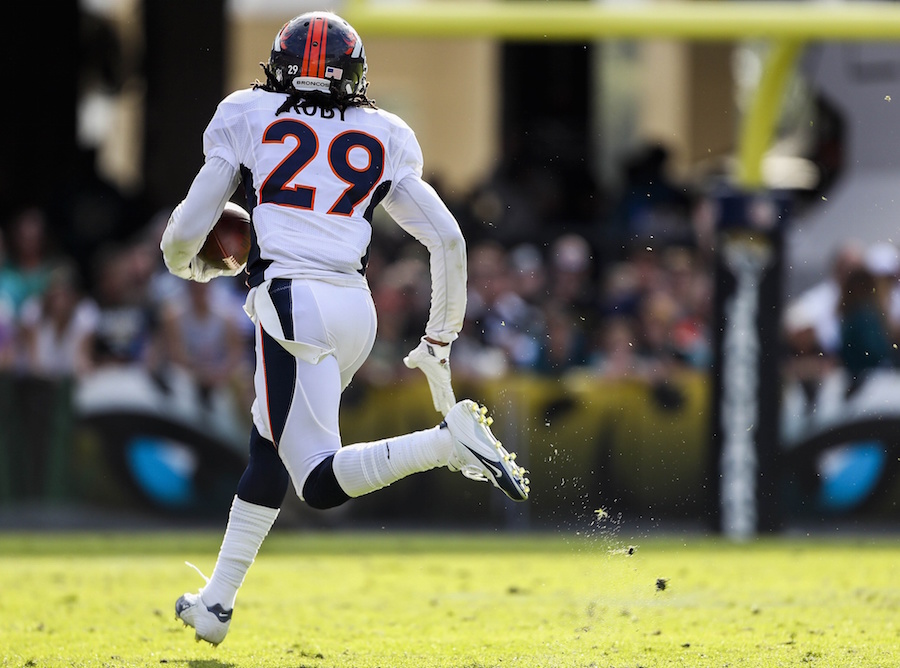 There is no question that the Denver Broncos are in desperate need to find their future quarterback, but if the Broncos have to spend a king's ransom in free agency to land one, what will it mean for the rest of the team?
More than likely, the Broncos will need to make some moves in other areas of their roster to free up cap space. One of those moves is likely to come at the vital cornerback position, and it will likely revolve around Aqib Talib, the 32-year-old All-Pro cornerback, who is entering the second-to-last year of his six-year contract. Looming behind Talib is Bradley Roby, a 25-year-old former 2014 first-round pick who will be entering the final year of his five-year rookie deal.
In his first press conference at the 2018 NFL Combine on Wednesday, head coach Vance Joseph spoke about Roby, saying, "Bradley is a first-round pick, he should play good for us, so I'm not surprised when he makes plays and plays at a high level — that's what he should do… he's definitely capable but he should be, he's a first-round pick."
To make things interesting, Talib is set to make $11 million dollars this upcoming season and then just $8 million in his final year under contract, while Roby is making $8.5 million in his final year of his contract. Talib is a proven and reliable veteran, while Roby has constantly been on the back burner, playing significantly fewer snaps behind Talib and Chris Harris Jr. — the Broncos' other Pro Bowl cornerback
Although it wouldn't be easy to cut or trade the incredibly productive Talib this upcoming season, it would spare the team about $3 million dollars that they could put towards a franchise quarterback in free agency. At the same time, this would leave them with Harris as the number one corner, followed by Roby, who should be able to play a solid game but has no track record of performing to Talib's high standard. That said, Roby has dwelt in the shadows of two great players at his position for the past four seasons, but there will still be an uncertainty with relying on Roby.
If Roby does not live up to his potential, and the Broncos don't find a way to get a long-term contract finalized, the Broncos could be looking at a situation in the spring of 2019 where they have their franchise quarterback, but don't have either Talib or Roby. The Broncos would be left with Harris, who will be 30 years old, Michael Hunter, Brendan Langley and Marcus Rios — a monumental downgrade.
And if Roby does get the job done next season? Can the Broncos sign Roby to a long-term contract? In recent history, the Broncos have struggled to retain talented defenders like Malik Jackson and Danny Trevathan.
The next big question? If the Broncos can reach a deal with Roby, have they really saved money in the long-term, anyway? Consider Robert Alford, cornerback for the Atlanta Falcons, who was drafted late in the second round in 2013. Alford plays more snaps than Roby, but at the same time, he's never made a Pro Bowl or been named a All-Pro like Roby. At the end of his contract, Alford was offered a four-year extension by the Falcons and is now set to make $9.6 million this upcoming season.
On the other end of the spectrum is Minnesota's Xavier Rhodes, who was drafted in the first round of the 2013 draft. Rhodes is a two time Pro Bowler player and 2017 All-Pro. At the end of his four-year contract, he was offered a six-year, $78.1 million extension, and will make $13.4 million this upcoming season.
For the Broncos to sign Roby, it'll take a multi-year contract that will probably land somewhere in between Alford's and Rhodes' contracts — which puts him at roughly $11.5 million a year.
While it might make sense to open cap space for a franchise quarterbacks and get younger at the quarterback position in the process, is it worth it to potentially have a major hole in your defense down the road, or end up paying more money in the long run for a player that might not meet the level of play Talib brings each week?
The Broncos swung and missed with Brock Osweiler and Paxton Lynch, and now they find themselves in a tough spot. They probably can't keep Talib and Roby while adding a big-time quarterback contract. They can keep two of three. One way or the other, it looks like Bradley Roby will remain a Bronco — but how he performs will decide whether the Broncos made the right — or the wrong — decision.
The Broncos can't afford to swing and miss again.