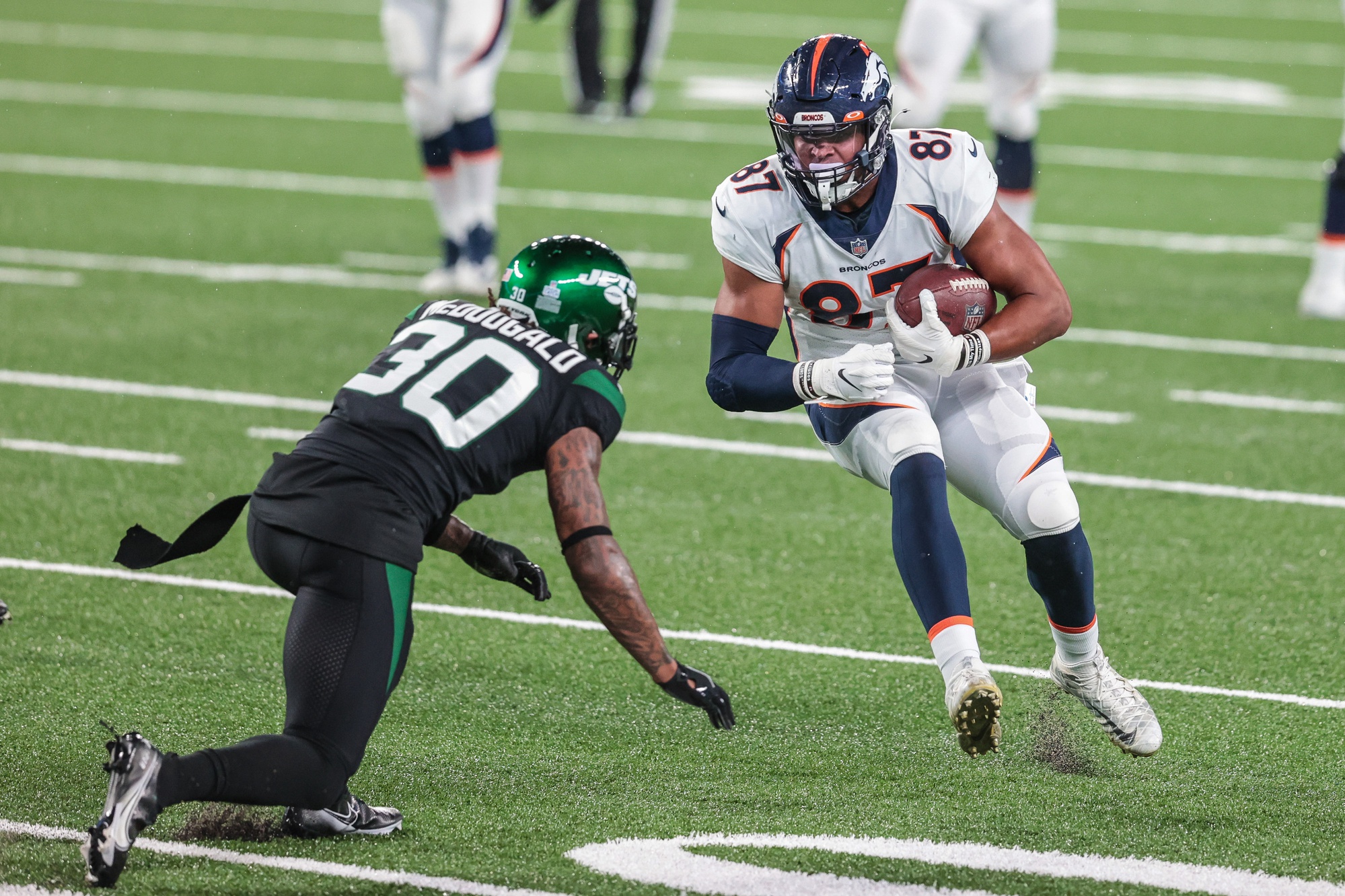 Now that we're two years in, the Denver Broncos' first-round selection of Noah Fant appears to be paying off.
He's a rare athlete who showed exceptional progress between year one and year two despite quarterback struggles, and the intangibles seem to be there as well.
He's an up-and-coming star at the position but how does he stack up against a division that is so exceptionally loaded at the tight end position? Let's take a look.
4. Los Angeles Chargers
Tight ends: Jared Cook, Donald Parham, Tre' McKitty
In our AFC West running back breakdown, there was also a franchise clearly in last place, though that time it was the Chiefs.
Now, it's the Los Angeles Chargers with an uninspiring tight end room that features the 34 year-old Jared Cook, third-round pick Tre' McKitty and developmental longshot, Donald Parham.
Now, with Travis Kelce, Darren Waller and Noah Fant in the division, being ranked fourth at tight end doesn't necessarily mean you have a bad tight end room. However, the Chargers have a downright dreadful tight end room.
Cook is the only player on the roster at the position who you feel comfortable calling a competent starter, and considering he's 34 and playing tight end, he could drop off a cliff soon.
The only hope for this room is McKitty going from 'third-round reach' to 'third-round steal' over the course of his rookie season, while playing a position that is notorious for rookie struggles.
3. Denver Broncos
Tight Ends: Noah Fant, Albert Okwuegbunam, Andrew Beck, Shaun Beyer, Andrew Beck, Eric Saubert
The Broncos have a top-10 tight end room in the league at the very least between Noah Fant and Albert Okwuegbunam, two of the most explosive players at the position in the entire league.
Unfortunately however, they're in a division with two of the NFL's three elite tight ends — Waller and Kelce. On top of that, Okwuegbunam has a checkered injury history, is coming off a torn ACL, and the depth behind him
To adapt an old Bill Parcells-ism, if you have four No. 3 tight ends, you probably don't have a No. 3 tight end. If the Broncos had a guy who was a clear asset on special teams, as a blocker, or could just complement Fant and Okwuegbunam really well, you likely wouldn't see four players on a seemingly-level playing field competing for that same position.
Beyer, an undrafted free agent, has the potential to be that complementary piece, but we won't know until training camp at the very earliest.
Despite the questions on the backend though, Fant has an opportunity to carry this group into higher ranks inside the division this season. The talent on the Raiders offense has greatly deteriorated and the Chiefs have a lot less weapons to target outside of Kelce, who will be 32 by season's end.
2. Las Vegas Raiders
Tight ends: Darren Waller, Foster Moreau, Derek Carrier, Matt Bushman
The Raiders finish in second behind the Kansas City Chiefs by a hair, as Waller just isn't quite at Kelce's level despite being close. Considering he's three years younger than Kelce, he should still be able to hold the crown of 'top tight end in football' at some point in his career, but that reign hasn't begun yet.
Waller is in the conversation for being the most difficult player to cover in the league. He is the epitome of being too fast for linebackers and too big for defensive backs, and as a result, is the catalyst for Vegas' offense.
Jon Gruden's bumpy second run with the Raiders would be looking even worse if not for stumbling onto Waller, as it's hard to find much of an offensive identity outside of him.
Henry Ruggs and Josh Jacobs couldn't live up to expectations in 2020, and the offensive line which was once at the core of the offense's identity has been gutted.
Outside of Waller, the Raiders might have the deepest tight end room in the division, with Foster Moreau, Derek Carrier and Matt Bushman all being roster-able players who can contribute in a pinch, without causing the coaching staff too much anxiety.
That further narrows the gap between the Raiders and Chiefs, but it's still not enough for Vegas to catch KC.
1. Kansas City Chiefs
What more explanation do you need outside of the continued existence of Travis Kelce?
Until George Kittle's availability proves to be more reliable, Kelce is the unquestioned top tight end in the league for how he impacts the game as a pass-catcher, but also as a blocker.
He's one of the five-or-so most unstoppable and most important skill position players in the sport and a vital part of the quartet (Andy Reid, Patrick Mahomes and Tyreek Hill being the other three) that has taken Kansas City within an offsides call of three-consecutive Super Bowl Championships.
Now that he's nearing 32, his age is somewhat of a concern, but he should still have another great year or two left in the tank.
At least, the Chiefs better hope that is the case, as the depth behind him is dreadful. The drop-off to Blake Bell and fifth-round rookie Noah Gray is steep, and could prove to be a Jenga piece for Kansas City's attack. Or as much of a Jenga piece as a skill-position player can be for a team that has Mahomes under center.