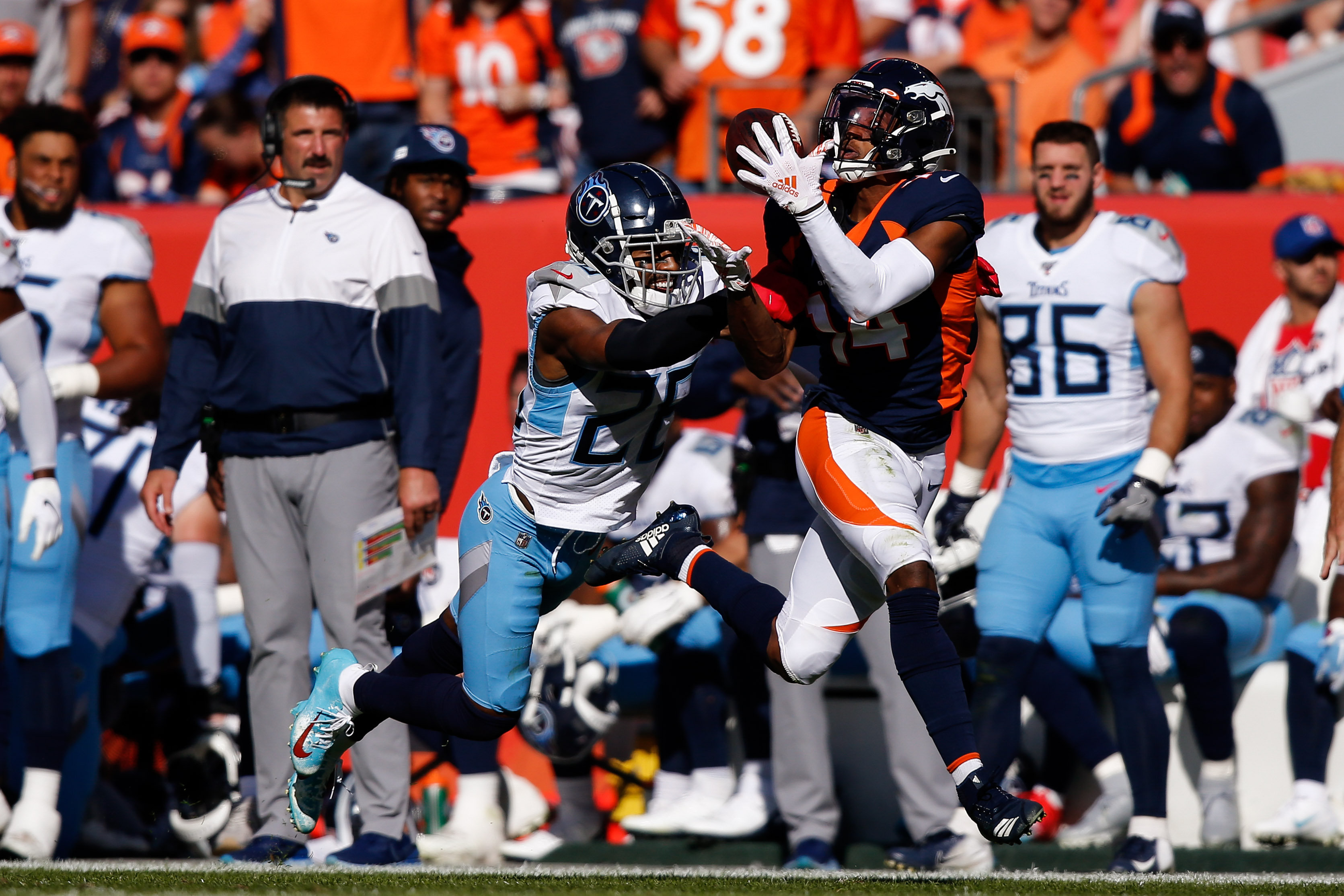 The Broncos have invested a ton of assets at wide receiver over recent drafts, but are these moves paying off?
To answer that question, let's take a look at how the Broncos' talent at wide receiver compares to the other teams in the division in a continuation of our ongoing series ranking the AFC West at each position group.
Make sure you check out our looks at how Noah Fant and Melvin Gordon stack up to the rest of the AFC West, but for now, let's look at the wideouts.
4. Las Vegas Raiders
In news that should make Broncos Country giddy, the Raiders find themselves ranked low in many of these AFC West positional rankings, and it's easy to see why.
Henry Ruggs is the unquestioned No. 1 wide receiver on the Raiders and was the first receiver taken in the loaded 2020 class. Unfortunately, he had a pretty disappointing rookie campaign, and that disappointment could easily carry into this year.
He was always an elite complementary piece, but Vegas doesn't have anyone else on the perimeter for him to complement. He also is most effective as an explosive weapon, but the Raiders' explosivity is limited by Carr's hesitancy to trust his offensive line and hold the ball long enough to create the big play. After his offensive line was just gutted, it's hard to see Carr becoming much more trusting.
Outside of Ruggs, the Raiders have some acceptable depth options like John Brown, Hunter Renfrow, and Bryan Edwards, but no one moves the needle.
3. Los Angeles Chargers
The Chargers may find themselves ranked third, but they are much closer to the Raiders than they are to either the Broncos or the Chiefs.
Keenan Allen is one of the best receivers in football and has been criminally underrated for a long time, but he is now 29 and has a terrible injury history. However, the fact Allen has Pro Bowl upside is enough to buoy an otherwise-paltry group above Vegas.
Mike Williams has never lived up to his expensive draft slot, but maybe he finally gets there in a contract year. So far though, all he has done is look like a poor man's Tim Patrick.
After Williams, LA's receiving group falls off a cliff.
They took the gifted, yet developmental, Josh Palmer in the third round, but he projects more as a Mike-Williams replacement in 2022, than an instant-impact-contributor in 2021.
Once again the Bolts will be forced to rely on the likes of Jalen Guyton, Joe Reed and Tyron Johnson. Whoof.
2. Denver Broncos
By season's end, the Broncos could be atop this list, however, we need to see it first.
Courtland Sutton had a 1,000-yard receiving season with Joe Flacco, Brandon Allen and a rookie Drew Lock who hadn't practiced for most of the year, on his way to looking like one of the best young receivers in the sport. However, he's coming off a devastating knee injury that severely limits one's explosiveness. Explosiveness is a big part of Sutton's game.
Jerry Jeudy was viewed by most as the best receiver in the draft, and he showcased a ton of promise as a rookie with how easily he created separation against high-end cornerbacks. However, drops and contested catches were a major problem for him last year.
K.J. Hamler is a threat to score from anywhere on the football field, and a rare athlete. However, the hamstring issue he dealt with last season has already cropped back up, and he also struggled with drops.
Now, is there reason for serious concern with Jeudy's drops or Sutton's return from his ACL tear? No.
But that doesn't mean we should just operate under the assumption that everything is going to be great or massively improved in 2021.
One thing we don't have to wait and see on though is the aforementioned Patrick, who proved he could be a quality starter last season. He'll likely leave for a starting job elsewhere in 2022, but he should continue to be Mr. Reliable for the Broncos for one more season.
Patrick's steady nature paired with the incredible upside of the rest of the talent is enough to comfortably land the Broncos in second.
1. Kansas City Chiefs
The Chiefs' receiving core is nowhere near what it used to be in terms of overall talent. That said, it's still a highly talented group, and one that deserves to be ranked as the best in the division until Denver's pass-catchers walk the walk.
Tyreek Hill is still a game-breaking weapon and one of the most dangerous weapons in the sport with his ability to score anytime the ball is in his hands. He probably affects the defense more pre-snap than any other skill position player in the league.
It should be noted that Hill's game is built on his speed, and while that has led to tremendous success, it could also lead to a rapid decline in play. Players who are all about speed don't tend to age gracefully, but at age 27, Hill shouldn't have to worry about that yet.
One worry though is outside of Hill, the Chiefs have very little. Mecole Hardman — who operates as a bargain-bin version of Hill — is the team's next best wideout, and beyond that, it will be up to Demarcus Robinson and Antonio Callaway to make big leaps.
The drop-off after that top four gets even scarier still though, with Byron Pringle and Cornell Powell likely closing out the roster.
It's a strong receiving core, but a single injury to Hill could lead to a devastating domino effect that shipwrecks the unit.