You can make the case that the Broncos couldn't have predicted the season-ending injuries to Ryan Clady and Ty Sambrailo. You could also make the case that the Broncos were ill-prepared to protect Peyton Manning with a shoddy and thin offensive line. Either way, the outcome is the same: The Broncos offensive line was a mess last season.
In no way, shape or form should a guy like Michael Schofield ever have been starting on a Super Bowl winning team; the only good thing he did last season was be so bad he took the spotlight off the deficiencies of the four other lineman on Denver's offense.
Remember, the Broncos' starting left tackle was a guy who the Broncos let walk five years earlier.
This offseason, though, John Elway has taken strides to ensure that no quarterback, whomever he is, faces what Peyton Manning and Brock Osweiler were forced to endure last season. With the signings of Russell Okung and Donald Stephenson, the Broncos now have the flexibility and depth to shore up their porous first line of defense.
Still, it's not enough.
As we saw last season, Denver needs to be prepared for the worst. They need to have a backup plan. If Stephenson or Okung go down, nobody wants to see Schofield getting significant snaps again — nobody. Not to mention, we're not even positive Okung is fully healthy; there's a reason why his contract can be voided entirely if he's not healthy enough to start the season.
So with that said, here are five offensive lineman the Broncos could realistically be targeting in this year's draft and how they could end up getting them:
5. Jason Spriggs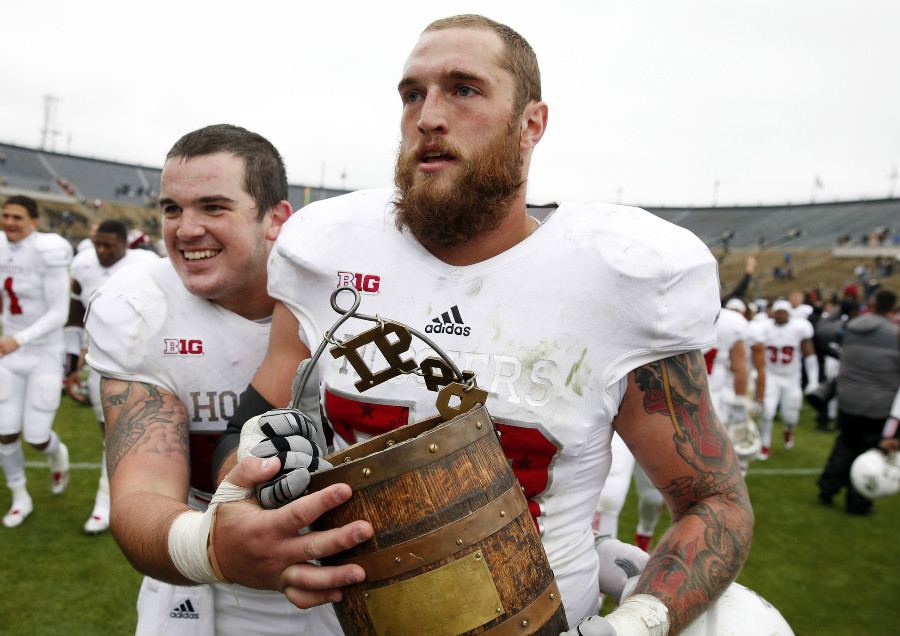 Experience: Senior
School: Indiana
Height/Weight: 6-6/301 LBS
Projected Round: 1st/2nd
Jason Spriggs is easily the best player on this list, but he's also the least likely to be drafted by the Denver Broncos. You don't sign two tackles in free agency if you're going to draft another a few months later.
If Okung were to look more injured than the Broncos had originally thought, though, then maybe drafting a tackle at the backend of the first round starts to become more reasonable. In that case, Spriggs is the guy.
A former tight end, Spriggs has the size and athleticism to be able to dominate as a pass blocker, and he's a solid run blocker, too. Strength is an issue, though; Spriggs is definitely more of a finesse player. Going up against grown men in the NFL who know how to feast on inexperienced and underdeveloped lineman could be a shock to Spriggs' system.
Still, in Gary Kubiak's zone-blocking system, he could grow into a long-term solution at tackle.