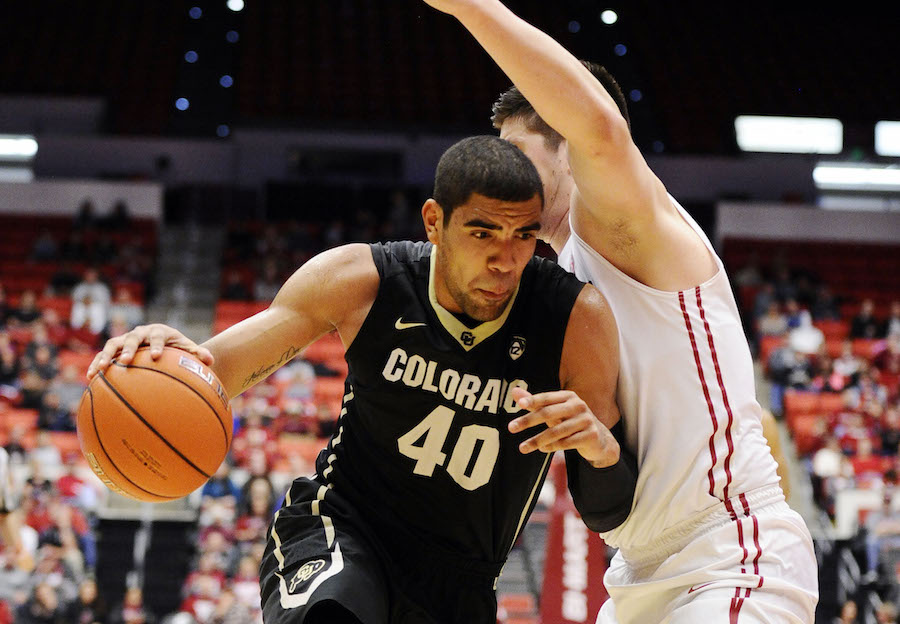 March 10, 2011. First-year head coach Tad Boyle and his Colorado Buffaloes have just defeated Kansas State by 12 points in the quarterfinals of their final Big 12 men's basketball tournament for their 21st win of the season. With Selection Sunday just a day away, things are looking better than good for a CU invite to the NCAA Tournament. A narrow seven-point loss to No. 2 Kansas the next day is nothing more than a tiny blemish on the Buffs' tournament résumé. A bid to the Big Dance seems like a formality.
Except it wasn't. The tournament committee passed over a deserving CU squad and sent Boyle and company to the NIT. (After three wins, the Buffs fell to Alabama in the semifinals at Madison Square Garden.) Their 24 wins were a school record.
March 12, 2015. Colorado State defeats Fresno State by 12 points to advance to the semifinals of the Mountain West men's basketball tournament. The win is a school record 27th for head coach Larry Eustachy's team, against just five losses. The sixth loss would come the next day against league champion San Diego State, but at 27-6, and with an RPI in the low 30s, CSU appears by every measure to be a lock for the NCAA tournament.
Except they weren't. With Wyoming capturing the MW tournament title and the committee opting for just three teams from the conference (Wyo joined San Diego State and Boise State), CSU is sent to the NIT where they pratfall and lose to South Dakota State. (As they now flounder, you can make an argument that CSU men's hoops has still not recovered from that snub.)
When it comes to NCAA tournament selection and the national view of the quality of basketball played in our state, nothing is a slam dunk, even when it should be. Colorado is the Rodney Dangerfield of college hoops. We get no respect.
So now, in March of 2016, on the eve of conference tournament play, it's Boyle's Buffs that have positioned themselves as tournament worthy this season. With an upset of ninth-ranked Arizona standing out on their résumé, the 21-9 Buffs will enter the Pac 12 tournament no worse than the fifth seed, with a chance to enhance that résumé even further.
This CU team belongs in the NCAA tournament. Along with the win over Arizona, they've also beaten league leader Oregon (currently ranked No. 9 in the nation) and Cal (currently ranked 25th); they've split with both teams, winning at home. CU plays at No. 13 Utah Saturday night.
Right now, the Buffs RPI is 29th, very close to where CSU was last season. Bracketologist Jerry Palm has Colorado as a No. 7 seed playing UConn in the first round. He also had CSU in the tournament at this time last season (as did everyone else). What happens if USC or another team that currently sits behind the Buffs in the Pac-12 standings gets hot and wins the conference tournament? Could the Buffs get squeezed out? It's happened before.
We know CU should be selected, but could they be this season's Dangerfields?
Obviously, there are plenty of meaningful games still to be played, and a lot of "Cinderella" stories to unfold. One or more mid-major team that has had a down season could rise up in their conference tourney (like Wyoming did last season), win an automatic bid and upset the apple cart. That could take away a potential at-large spot from a "power" conference like the Pac-12. Most experts expect at least five, maybe six, Pac 12 teams to be invited to the Big Dance. Colorado absolutely should be one of those. But they should have gone in 2011, too.
The only way to ensure they'll be treated fairly is to do what Boyle and company did the year after getting snubbed. They took matters into their own hands the following season (2012) – their first in the Pac-12 – and went out and captured the league's automatic bid by winning the conference tournament. There was no vote required. That's truly the only way to remove the Dangerfield effect and ensure this Buffs team gets the respect that should be coming to them.