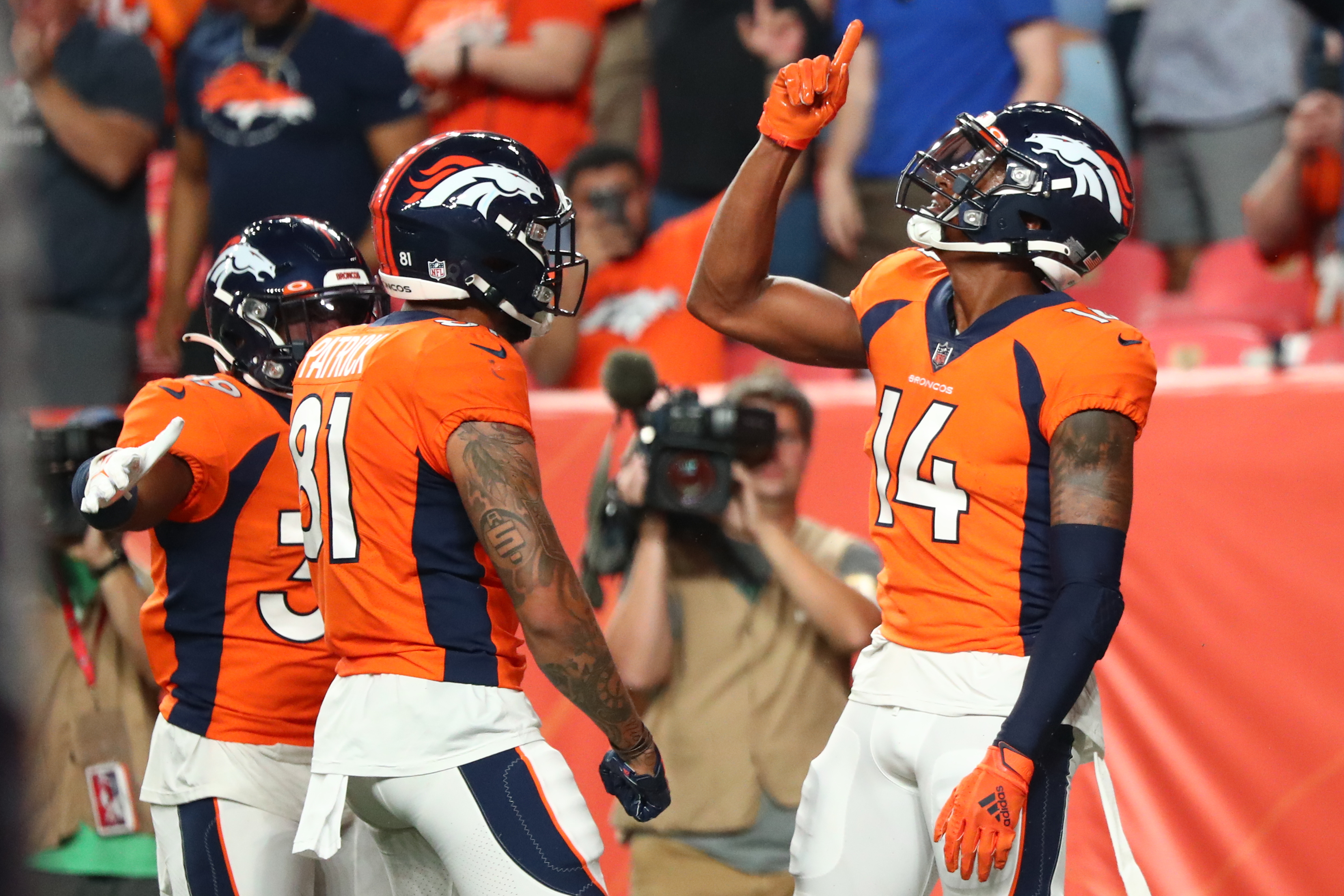 The Broncos played their preseason finale Saturday night, and while multiple key players made impressive debuts, the coaching staff continued to make baffling decision after baffling decision.
But first, let's start out with the positives.
Stock Up
Von Miller
In his return from a dislocated peroneal tendon in his ankle, Von Miller looked like he never missed a beat.
He didn't get the sack he was likely chasing for his son Valor, whom he dedicated the game to, but he did make sure his presence was felt on almost every single snap. He attacked the preseason with a ferocity you typically don't see from a future first-ballot Hall of Famer, especially post-30, in his return from a fairly devastating injury.
At the time he left the field, he led the team in both tackles and pressures, making life hell for Rams quarterback Bryce Perkins, who was just mobile enough to escape Miller's reach.
If this game was any indication, Miller has a lot left in the tank to offer the Broncos.
Courtland Sutton
Miller wasn't the only player returning from a devastating injury though, as Courtland Sutton also made his debut tonight in his return from the torn ACL he suffered in Week 2 against the Steelers.
Sutton got off to a slower start than Miller, though much of that had to do with Teddy Bridgewater's hiccups on the first two drives.
Once Bridgewater got warmed up though, Sutton ate.
He was targeted twice on the tandem's final drive of the preseason finale, hauling in both, one of which resulted in a touchdown. Even at the half, two drives after he had left the field of play, he remained Denver's receiving leader.
The strong performance is excellent news for Broncos Country, which was understandably nervous about Sutton's ability to return and continue to contribute at his high level after such a serious setback.
Melvin Gordon
Speaking of players performing well in their preseason debut, Melvin Gordon played fantastically, showing everyone why he remains the No. 1 running back despite Javonte Williams' continued strong outings.
On the Broncos' first drive, which resulted in a Brandon McManus field goal, Gordon was responsible for every single yard gained.
When he left the game, Gordon finished with 35 yards on five carries, gaining seven yards per carry. Gordon showed excellent burst, vision and power, and looked even better than he did to close out the 2020 season.
Denver has the makings of one mean two-headed monster in the backfield.
Stock Down
Vic Fangio
Multiple things went wrong on Saturday night, and a large majority of them can be traced back to the man in charge, Vic Fangio.
Let's start with his handling of the quarterback competition, which was seemingly almost reopened in the eyes of the fanbase after Bridgewater's early struggles.
Why on earth is Fangio playing both these quarterbacks when he's already determined who the starter is and who the backup is? That was not going to change with tonight's game
There was very little to gain in the way of chemistry, and a lot to lose in the locker room, and in terms of optics and messaging. A bad Bridgewater game and a good Lock game right before a two-week break before their next showing would understandably create some lingering questions in Broncos Country, as to whether or not Fangio made the right decision.
Through Bridgewater's first two drives, he had completed just one of six pass attempts as a result of inaccurate passes, gaining a measly four yards. You could feel the fanbase ready to explode with anger.
'The coaching staff chose this guy over our beloved, homegrown product?" Someone likely said in the Rocky Mountain region.
While that anger is totally understandable, the hiccups proved to be just that; hiccups. Bridgewater re-entered the game for the third time and engineered an impressive touchdown drive, on which he was nearly perfect.
Even with that drive materializing, Lock's strong performance could be enough to leave some of that anger hanging over Broncos Country for a few weeks.
The next blunder that can be traced back to Fangio, is the continued miscues from the special teams unit, led by special teams coordinator Tom McMahon.
McMahon's unit had been dreadful each of the past two seasons, leading to many in both the fanbase and media calling for his head by midseason of last year.
However, he was shockingly kept on as special teams coordinator, and the special teams unit has somehow found a way to regress, despite being the worst special teams in the league last year.
Against the Seahawks, the unit allowed multiple 40-plus yard returns, and against the Rams, they allowed yet another one.
Then, on the Broncos' first field goal, the team was forced to waste a timeout as McMahon's unit had deployed too many men to the field.
Fangio's struggles at quarterback and with injury have earned him the benefit of the doubt through two seasons, but it's frustrating to see these poor decisions continue to crop up.