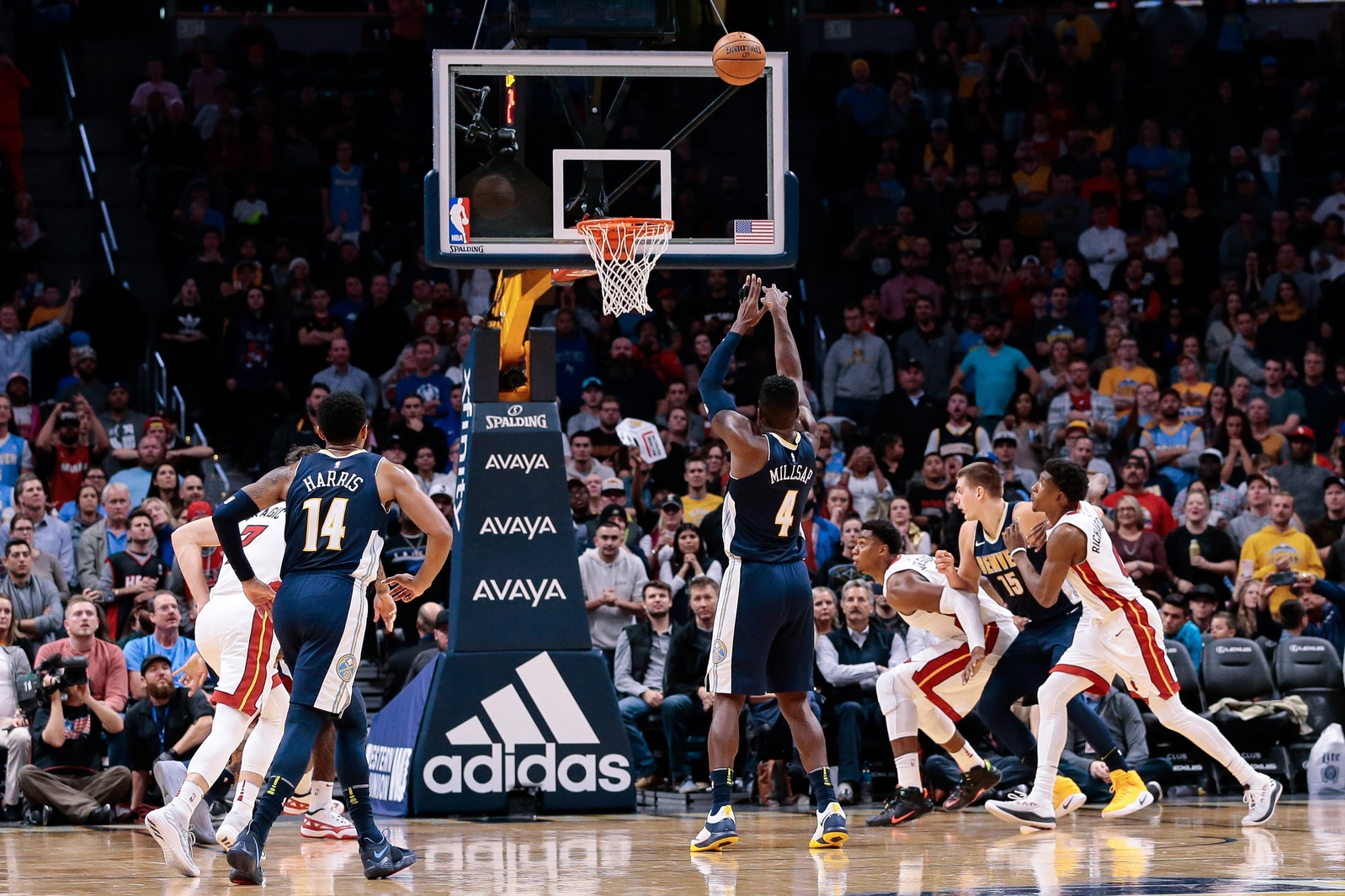 The Denver Nuggets escaped with a win over the Miami Heat on Friday night at Pepsi Center, 95-94. A spirited defensive effort in the second half and timely redemption from Paul Millsap allowed the Nuggets to hold on in the final seconds, 95-94.
The Nuggets trailed by six at halftime but came out of the locker room with a renewed sense of urgency. They held Miami to just 16.7 percent from the field in the third quarter on three of 18 shots. Meanwhile Denver shot 50.8 percent from the field in the third, scoring 25 points and took a five-point lead into the final quarter.
The Heat went on a 16-5 run with less than six minutes left in the fourth quarter and Denver trailed by two with 26 seconds left in the game. Millsap missed two free throws that could have put the Nuggets ahead on the when trailing by one, 93-92. After Miami split a pair of free throws on the other end, the Heat led 94-92. It was Denver's ball with just under 24 seconds to play and Head Coach Michael Malone went back to his $90 million dollar star. Once again Millsap got to the free throw line. He was able to draw James Johnson's sixth foul on a three point attempt and this time, he hit three clutch free throws to give Denver the one point lead, 95-94. Miami got one last chance come out with the win on the road as Dion Waiters nearly made a three as time expired, but the Nuggets held on for their second straight win.
Millsap carried Denver with 27 points, nine rebounds, five assists, two steals, and a block on the night. Nikola Jokic recorded a double-double with 19 points and 14 rebounds. The tandem combined for 46 points and 23 of the Nuggets' 41 rebounds.
The win improved the Nuggets record to 2-0 on their season-long six-game homestand and 5-4 on the season. Denver will play again tomorrow night as they are set to welcome the defending NBA Champion Golden State Warriors to Pepsi Center in their third game in four days. Tip-off is scheduled for 7pm MDT.
Check out the video below for a full recap of the game…