This Wide Wide Sports-less World is something else, eh? It only took about one week of sans-sports-living to realize just exactly how much we watch, consume, enjoy, discuss…need sports.
It's been rough.
If there's been a silver lining (outside of Tiger King), it's that plenty of sports outlets have become very creative in their efforts to deliver us sports. One of my favorite ways of doing this has been the repurposing of "retro" content – classic games, moments, performances.
And there's no reason Mile High Sports can't get in on the fun. In an attempt to take a trip down memory lane, we're proudly presenting "The Cover Story" – the tale of Mile High Sports Magazine as told through each and every cover.
Now, we're going to shake things up and present them in a somewhat random order, but at the end, we'll give you, the reader, a chance to vote for your favorites. So, for the next several weeks, while we're all cooped up inside, check in in often at milehighsports.com and check out our Cover Story.
We'll post every cover and perhaps some behind-the-scenes tales behind a few.
Click here for the entire series.
Enjoy.
Issue: August 2006, Justin Wilson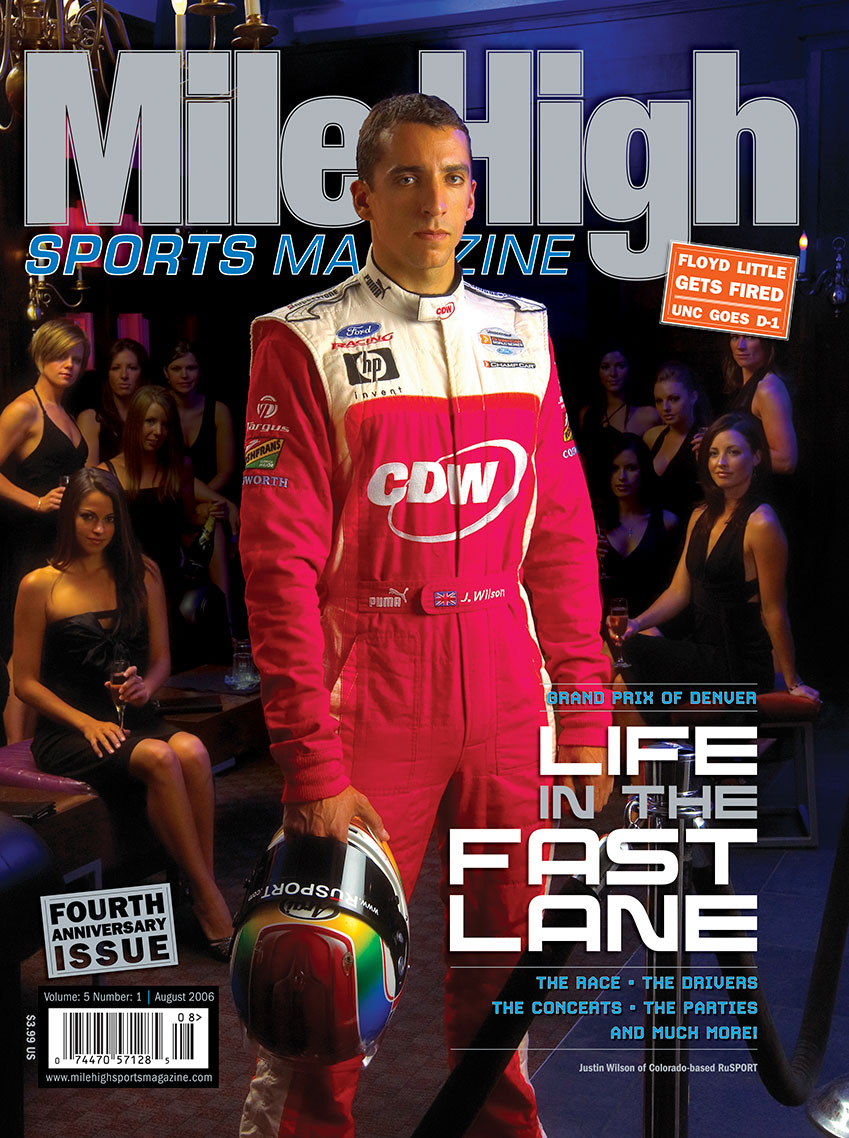 Remembering this particular cover is heartbreaking. In essence, it's a cover of "things that were."
To begin, Justin Wilson, the very genuine, very handsome, very talented race car driver who is prominently featured, passed away in August 2015. Though he competed in a very dangerous sport, it's safe to say he died doing what he loved – Wilson died on the 179th lap of the 2015 ABC Supply 500 at the Pocono Raceway. But what I recall about Wilson, is that – at the time – he was a young, up-and-coming driver, who was incredibly shy and extremely gracious. Mile High Sports took the recommendation to feature Wilson for its "Grand Prix of Denver" special edition, and the experience couldn't have been better. Sure, Wilson could drive fast and well, but ultimately, the Englishman was the kind of guy you'd like to have a beer with. In this photo, which was shot at a now defunct Denver bar, Wilson was the center of attention – ironically played a role in which he wasn't accustomed. Instead, he was fun loving and righteous
The fact that Wilson died at the tender age of 37 isn't fair, but losing him isn't the only sad memory within this cover. Remember the Denver Grand Prix? What a grand event! For a weekend, Denver became a hotbed for open-wheel racing, and it was really, really cool. Drivers like Wilson carved out the most efficient path the Denver streets could afford and zoomed at 5280 feet for the thrill of thousands. Mile High Sports partnered with the event, which ran from 2003 to 2006, and the race hasn't returned since. While the magazine has traditionally been about stick-n-ball sports, the Grand Prix of Denver was a signature event that broke the mold, giving sportsfans in Denver a weekend of "wow."
Editor's Note: Also pictured on this cover: Sara (Thompson) Waters, host of the "Curiosify" podcast on Mile High Sports, and Lauren Gardner, host for MLB and NHL who was once the 2007 "Face of Champ Car" as well as a Mile High Sports covergirl (to be discussed later).
---
Issue: March 2015, Shane O'Neill and Dillon Serna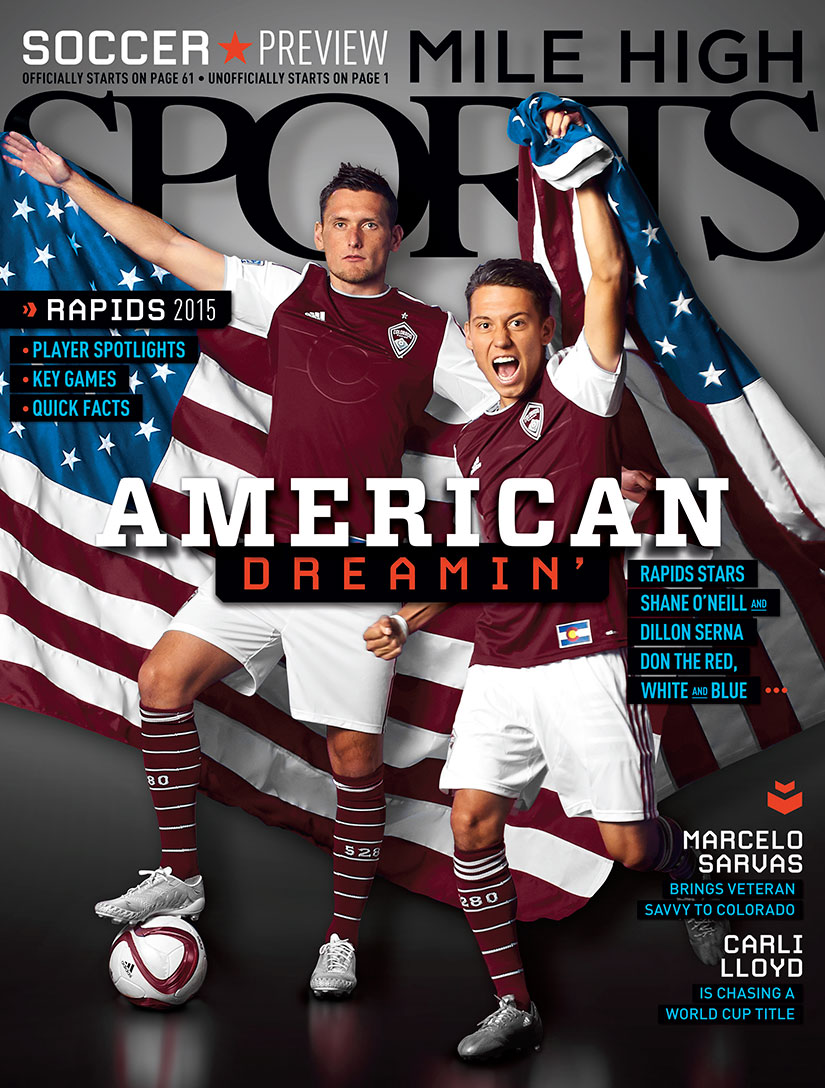 Want to talk about potential? Excitement? National appeal? Then let's talk about the March 2015 cover that featured Rapids youth Dillon Serna and Shane O'Neill. Serna, a product of Horizon High School, and O'Neil, who played at Fairview, came up through the Rapids system and, by all accounts, looked to be the future of the franchise. But it was better than just that; both O'Neill and Serna were call-ups on the US Men's National Team, poised to represent the USA (and the Rapids) on the global stage. But no sooner than this issue came out, something seemed off.
Apparently, the Rapids didn't love the fact that O'Neill spent time training with the USMNT instead of working out back home with the Rapids. A rocky start to the 2015 ultimately concluding with the club selling O'Neill's rights to Cypriot club Apollon Limassol. O'Neill bounced around various European clubs before signing with Orlando City in 2018. Today, the talented defender is with the Seattle Sounders.
As for Serna? Well, an injury plagued career has now landed him with Sporting Kansas City II. At the age of 26, Serna is now trying to regain his footing in MLS after he was released by the Rapids following the 2019 season.
As for the USMNT? Well, they failed to earn an invitation to the 2018 FIFA World Cup. If only they'd stuck with O'Neill and Serna.
---
Issue: January 2020, Nathan MacKinnon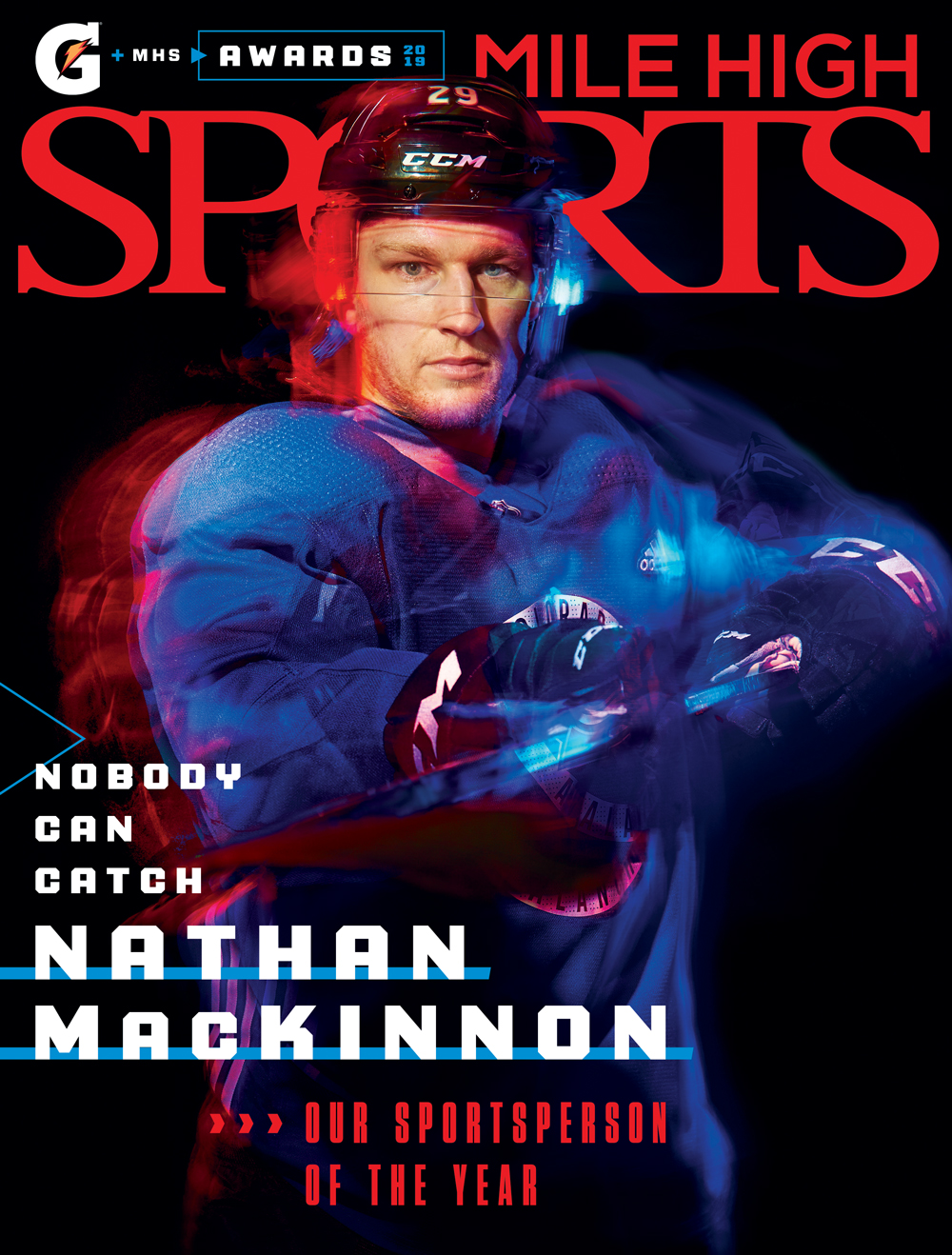 Whenever the dust finally settles, it's quite possible that Avalanche forward Nathan MacKinnon might simply be the most decorated and talented athlete within his sport ever covered by Mile High Sports. In this, his third cover appearance, MacKinnon was chosen as the magazine's Sportsperson of the Year. It was a well-earned honor for MacKinnon, who nearly guided the Avs to an appearance in the NHL Western Conference Finals in 2019. But MacKinnon doesn't necessarily love the attention. In truth, he's all business. But for this shot, he obliged, stepping into a dimly lit set right after practice and allowing photographer Randy Parietti to capture his intensity… perfectly.
Enjoying our trip down memory lane with Mile High Sports Magazine? For over 17 years, Mile High Sports has been the local, independent voice covering everything from the Preps to the Pros in Denver and across Colorado. One way you can help us continue our coverage is to click here to subscribe to Mile High Sports Magazine. Whether for yourself, your business, or friends and family, we appreciate the support. THANK YOU!