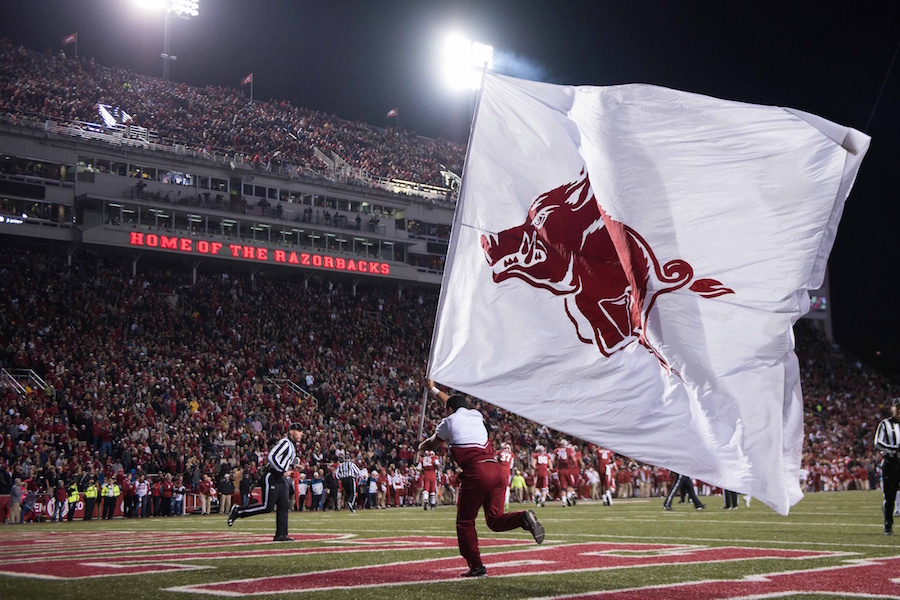 Read this story at CSURams.com
Colorado State, in conjunction with the University of Arkansas, announced on Wednesday that the two teams will play each other on Sept. 8, 2018 in Fort Collins. It will mark the second time that an SEC school has ever visited Fort Collins, joining Mississippi State in 1981.
"This is exciting for our football program and for our fans," said head coach Mike Bobo. "Being able to bring an SEC opponent to Fort Collins speaks to the growth of our program and also speaks to the impact our new on-campus stadium is already making. We want to challenge ourselves in our non-conference schedule and also bring those quality opponents to our home field and our fans."
The addition to the schedule completes the Rams' 2018 non-conference slate, which will feature three Power-5 opponents for the second year in a row. The season will begin Sept. 1 with the annual Rocky Mountain Showdown vs. Colorado in Denver. The following week, Sept. 8, the Razorbacks will visit Fort Collins, followed by a trip to another SEC school, Florida, on Sept. 15. The Rams will close the non-conference portion of their schedule on Sept. 22 vs. Illinois State before opening up Mountain West action. CSU will host Hawai`i, New Mexico, Utah State and Wyoming in conference play while travel to Air Force, Boise State, Nevada and San Jose State.
Tuesday's announcement with Arkansas is the second in the past year. In April, it was announced that the two schools will face each other in Fayetteville during the 2019 season. Additionally, the two schools signed a home-and-home deal to play in basketball over the next two seasons, which was also announced in April.
"Arkansas is a wonderful addition to our home schedule in 2018 and reinforces our trend of securing high-profile non-conference opponents," said athletics director Joe Parker. "We are thrilled to have the Razorbacks in Fort Collins as we transition an originally agreed-upon guarantee game into a home-and-home series."
The Rams and Razorbacks have met three times in football. All three contests – in 1974, 1979 and 1990 – were played in Fayetteville and won by Arkansas.
Between 2018-2028, CSU now has 18 non-conference dates scheduled, 15 of which are against Power-5 teams. The Rams will also play three Power-5 opponents in 2017, facing Colorado (Denver), hosting Oregon State and traveling to Alabama. From 2008-14, CSU did not host a Power-5 school once, but from 2015-2021, at least one will visit Fort Collins in six of the seven years, plus other dates already scheduled for 2025, 2026 and 2027.
The Rams are preparing for their highly anticipated 2017 season and opening of the new on-campus stadium. New season ticket commitments are now being accepted by contacting the Rams Sales Team at 800-491-RAMS (7267) or visiting www.CSURams.com/tickets. Current season-ticketholders will have first priority to select their seats during appointed times set to begin March 22. In preparation for the inaugural season of the on-campus stadium, the Colorado State athletics department has launched a special football gameday website, which provides in-depth information on everything from tickets to parking, tailgating, gameday logistics and much more. The website can be found at www.CSURams.com/footballgameday.