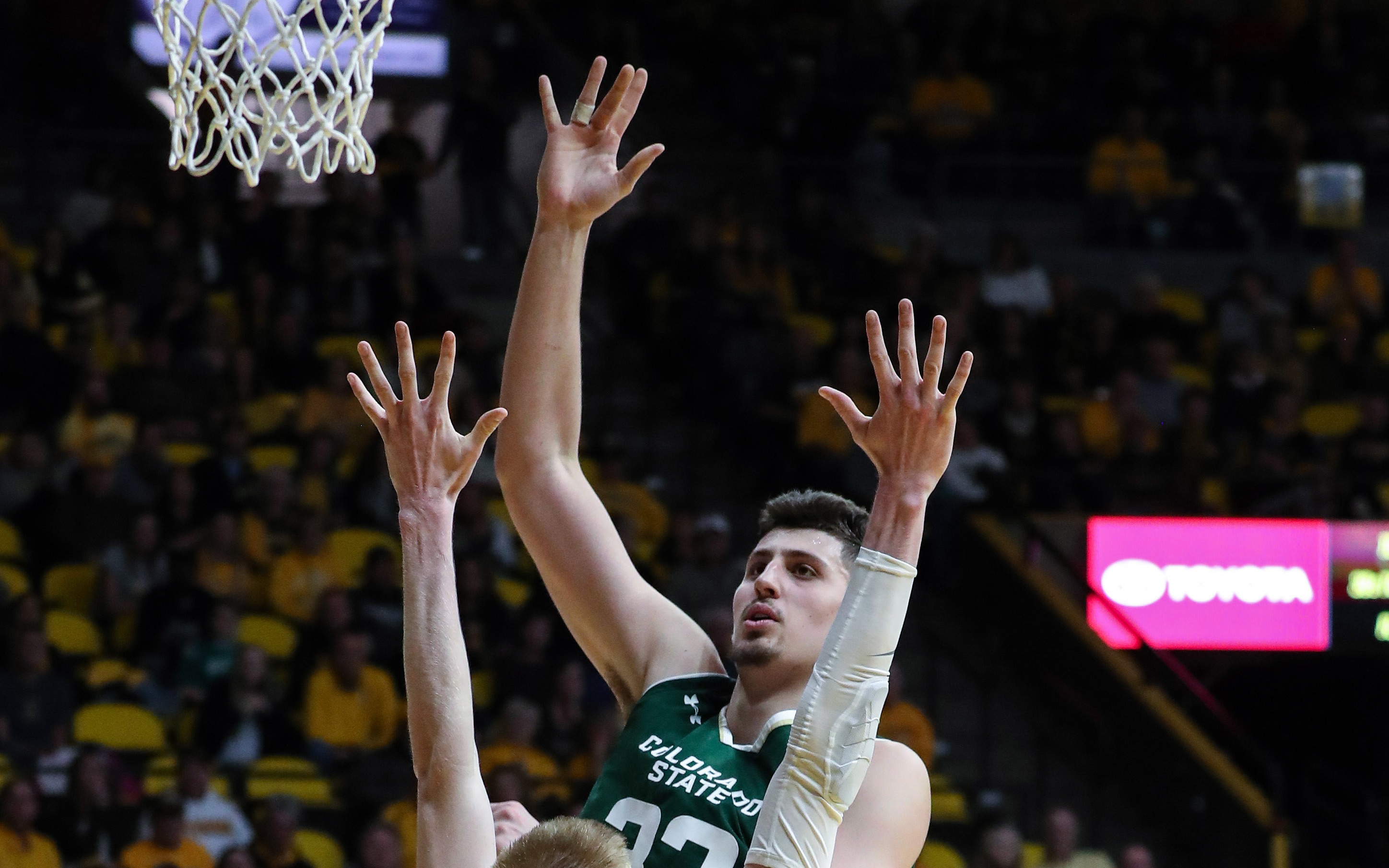 This article is the first in a three-part series predicting Colorado State's upcoming basketball season. The first focuses on CSU's initial non-conference portion, while the second evaluates the remaining games on the Rams' non-conference slate. Finally, the last will dive into conference play. 
Basketball season has returned. 
The Colorado State Rams officially begin the 2018-19 season on Nov. 3 when Niko Medved's bunch takes on CSU-Pueblo at Moby Arena for an exhibition contest.
The Rams begin their regular season at home on Nov. 7 as part of the Gulf Coast Showcase against Colorado Christian.
CSU's refurbished squad will have the opportunity to get accustomed to a new coach, game plan, and plenty of new faces in the comfort of its own stadium for the first three games of the season.
Medved begins his head coaching stint with Colorado State by taking over a green and gold team that lost its leading scorer, Prentiss Nixon, but returns the rest of its core in Nico Carvacho, J.D. Paige, and Anthony Masinton-Bonner.
Medved — who returns to Fort Collins after coaching at Furman and Drake — will have the luxury of mixing and matching lineups, considering the Rams added a lot of depth during the offseason.
Oral Roberts transfer Kris Martin will be eligible when the season begins. The true scorer will be relied on to help compensate for the 16.1 points per game CSU is losing from Nixon, who transferred to Iowa State.
Texas Tech transfer Hyron Edwards, as well as freshman Kendle Moore, will help provide depth in the backcourt as well. Edwards may not be eligible until the second half of the season due to NCAA transfer rules, but Moore will be eligible immediately.
Forward wise, Deion James will be a stud this year, redshirt junior Zo Tyson is eligible after transferring before last season and freshman Adam Thistlewood is also capable of providing depth down low. Although, Rams fans will likely fall in love with Thistlewood more for his outside jumper than his rebounding prowess.
Before receiving a medical redshirt last season, Tyson was a key contributor for Cape Fear Community College. The 6'9 forward was a double-double machine who averaged 14 points and nearly nine rebounds per game during the 2016-'17 season.
Thistlewood joins the Rams after being selected to the Colorado All-State first team in each of his last two high school seasons. The Golden, CO native averaged 22.3 points and 8.4 rebounds per game as a senior at Golden High School.
Without a doubt, the Rams will look much different on the court this season, not only because of their additions, but because of the coaching philosophy Medved has brought to the table. Medved emphasizes designed, or set, plays. Former head coach Larry Eustachy operated much differently, allowing free reign on the offensive end which usually led to disastrous results.
The 2018-19 season will mark a major transition season for the program. Adjustments will have to be made, and there may be a learning period that coincides with getting comfortable in a new system.
Optimism to improve from the disappointment of last year surrounds the program. It was the first time finishing under .500 in eight seasons. Let's predict how things will play out for the Rams by taking an in-depth look at their initial set of non-conference games.
Predicting the first half of Non-conference
CSU men's hoops will play 13 non-conference games to initiate the 2018-19 season. Last season, the Rams won their final three conference games to climb to 7-6 as Mountain West play began.
In terms of RPI, CSU's non-conference slate will be slightly more difficult than last season's. The average RPI of the 12 D1 teams the Rams faced last season was 153. This season it is 136, making the CSU's non-Mountain West opponents pretty respectable overall.
Gulf Coast Showcase (First Half)
The opening games of the Gulf Coast Showcase supply the Rams with an opportunity to build confidence and work toward finding its identity as a team.
In a one week span, CSU faces DII Colorado Christian, Arkansas Pine Bluff, and Montana State at home.
Both Colorado Christian and UAPB should be games in which Medved is able to incorporate his entire bench for a significant portion of the second half. Pine Bluff lost 14 consecutive games to begin the 2017-18 season en route to a 14-21 finish in which it competed well within the SWAC.
The Golden Lions played Air Force well before losing by only 10 points to the Falcons. However, there is no reason why CSU shouldn't run away from UAPB early.
Montana State's 13-19 campaign marked its eighth straight finish of .500 or worse. The Bobcats have struggled to stay afloat in the Big Sky and most likely will again this season.
The Rams should begin the season with a perfect 3-0 record.
Gulf Coast Showcase (Second Half)
Facing Louisiana in the fourth game of the regular season provides CSU with its first true test. The Ragin' Cajuns knocked Iowa off early in the season last year before cruising to a 27-6 finish, which earned them an NIT berth.
Louisiana's 27 wins marked the most in program history and respectively resulted in an RPI of 65. The Ragin' Cajuns lost three of their top four scorers from last season but still return second leading scorer Jakeem Grant, who averaged 13.7 points per game last season.
Considering Louisiana has lost so many crucial pieces to last season's success, the Rams should be able to come away with a victory against the Ragin' Cajuns.
Depending on the outcome of that game, the Rams will square up with either Toledo or Florida Gulf Coast. Both teams won 23 games last season and won't be easy outs for the green and gold.
Toledo appears to be a more difficult potential matchup for CSU in the second round.
The Rockets return three double-digit scorers from last season and could win even more than 23 this season. I don't see the Rams coming out victorious against Toledo.
The Rockets sported the No. 56 scoring offense in the country last season. Toledo averaged 79 points per game. All indicators are pointing toward that offense improving as well.
I don't see CSU being able to keep up with that lethal of an offense early in the season while adjusting to a new coaching philosophy, resulting in their first loss. If they somehow can beat Toledo, however, they'd make it to the Gulf Coast Showcase's championship game.
Game 6 versus Southern Illinois (Nov. 27)
SIU finished second in a sound Missouri Valley Conference last year by assembling their second 20-win campaign in the last three seasons.
The Salukis welcome back five of their six most significant contributors, setting the program up to make a run at Loyola-Chicago for the Missouri Valley crown.
SIU's biggest concern last season was scoring. The Salukis ranked No. 269 in the NCAA with an average of 69.9 points per game. The reason SIU got the best of most of its opponents was the presence of an overwhelming defense.
The Salukis will be an improved team offensively, so expect a close game here. This one really could go either way. But, given that the Rams will host SIU, CSU will have a slight edge provided by their home court.
The Rams will come away with a hard-fought win in the 2018 Mountain West-Missouri Valley Challenge.
Overall
If all goes as predicted in this article, Colorado State will begin the 2018-19 season by winning five of its first six games. Doing so would mark the second time CSU has accomplished the feat in the last two seasons. Remember, the Rams began the 2017-18 season 6-1.
Following the Rams' first six games, the competition gets tougher to conclude the green and gold's non-conference slate. CSU begins its second half of conference play by traveling to Boulder to play the rival CU Buffaloes and then return home to face Arkansas of the SEC.
We will pick up the prediction where we left off as the second half of conference play approaches.