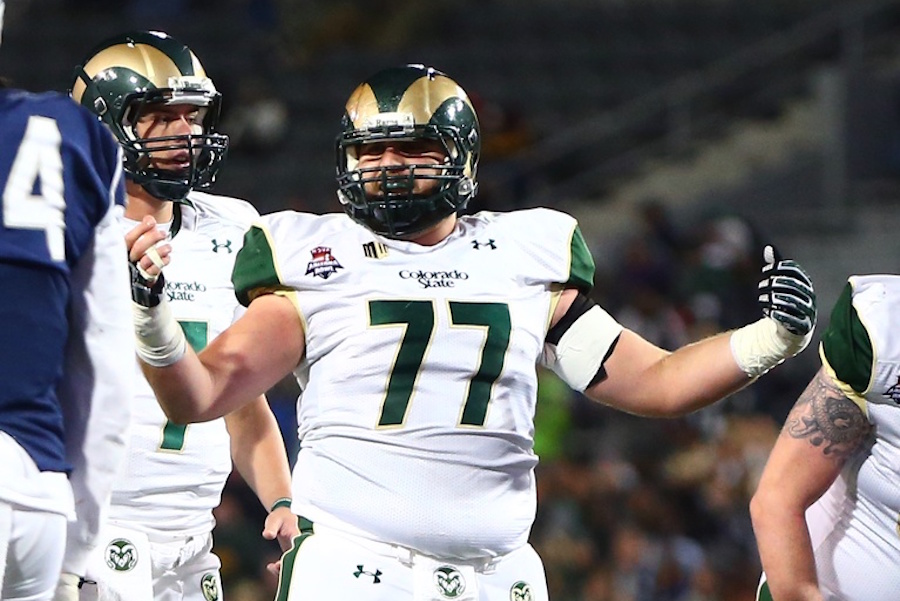 Read this story at CSURams.com
Colorado State center Jake Bennett was named to the Rimington Trophy 2017 Fall Watch List on Tuesday, an annual award presented to the most outstanding center in college football. The list was selected by the Rimington Trophy Committee after compiling nominations from programs across the country.
Bennett was named Second Team All-Mountain West by the league's media and coaches last season, and also landed on Phil Steele's All-MW second team after starting all 13 games at center.
The Lakewood, Colo., native helped anchor an offensive line that allowed just 1.0 sacks per game in 2016, ranking eighth in the NCAA. CSU's offense also ranked 12th in the country in passing efficiency, 31st in rushing offense. 28th in scoring offense and 30th in total offense.
Bennett also started all 13 games for the Rams in his sophomore campaign in 2015, and made three starts in 2014 as a freshman before a knee injury ended his season.
The 6-3, 290 pound lineman is one of seven MW centers on the Watch List, and the only one from the state of Colorado. The winner will be recognized at the Rimington Trophy Presentation at the Rococo Theatre in Lincoln, Nebraska on Saturday, January 13, 2018.
The Rimington Trophy is presented annually to the Most Outstanding Center in NCAA Division I-A College Football. Since its inception, the Rimington Trophy has raised over $2.9 million for the cystic fibrosis community. The award is overseen by the Boomer Esiason Foundation, which is committed to finding a cure for cystic fibrosis and has raised over $130 million for the fight against cystic fibrosis.
Dave Rimington, the award's namesake, was a consensus first-team All-American center at the University of Nebraska in 1981 and 1982, during which time he became the Outland Trophy's only double winner as the nation's finest college interior lineman.
The Rimington Trophy is a member of the National College Football Awards Association (NCFAA), which encompasses the most prestigious awards in college football. The 23 awards boast 765 years of tradition-selection excellence.