Saturday at the stadium, what could be better?
Colorado State Rams football kicked off their fall scrimmages Saturday, with the offense going against the defense, each unit making some plays. And, for the most part, the first-team offense got the better of the first-team defense, and the same could be said about the second-teams as well.
"I thought the execution of the 'one' offense was pretty good," Mike Bobo said after the scrimmage.
K.J. Carta-Samuels, the likely starter at quarterback, continued his hot fall camp by playing very well Saturday. His first drive was a three-and-out, but after that, he did many things well.
On his second drive, Carta-Samuels connected with Warren Jackson in the middle of the field and the lanky receiver spun out of a tackle before trotting 35-40 yards down the gridiron. To cap that drive, Jackson caught a fade pass from Carta-Samuels for the touchdown.
Then, on the first-team's fourth drive of the day, Carta-Samuels uncorked a deep fade down the left sideline perfectly in stride to Bisi Johnson for a touchdown. The ball had great touch, perfect timing and couldn't be stopped. He also threw one to Jackson in a red zone drill.
Other things Carta-Samuels did well: He checked down to gain a few yards underneath on one throw, he saw the safety blitz coming and went the other way for a gain, and he fit some balls into tight windows, too.
"I thought K.J. did a good job," Bobo said. "Threw some nice deep balls, threw a nice deep ball to Bisi…Overall I thought he did a nice job."
It wasn't all good for Carta-Samuels; he threw it behind Cam Butler in the one-minute offense and Josh Watson dove to pick off the pass.
And it wasn't all good for the entire team, either.
"We're not quite in 'game shape' yet," Bobo explained.
As for the second team, Justice McCoy was the quarterback and did decently, but it was clear Carta-Samuels is far ahead of the redshirt freshman in terms of knowing the offense and playing. McCoy and the "twos" scored the initial touchdown of the scrimmage, a nicely thrown fade to freshman Nikko Hall for 20 yards.
On his next drive, though, McCoy forced a pass and was behind his receiver, having it picked off by Trey Sutton. Later in the scrimmage, McCoy helped lead the second-team down the field, but the star of that drive was Rashaad Boddie, who bruised his way into the end zone.
Full stats below: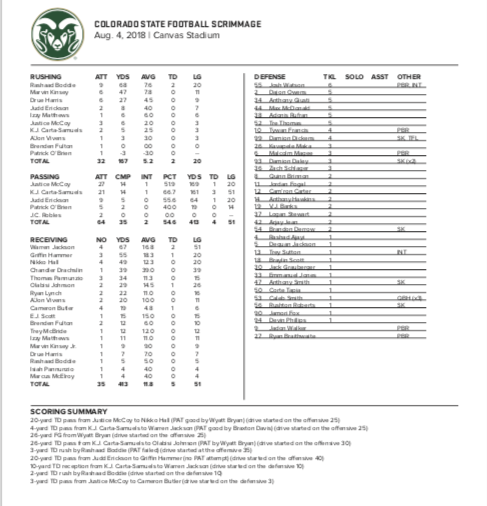 Other notable players/plays:
Marvin Kinsey had live legs, great quickness and speed on basically all of his runs, Saturday. Whether he was going outside or in between the tackles, Kinsey seemingly gained yards on every run.
Jadon Walker lit up E.J. Scott on a deep pass, leaving Scott down on the field for a bit and Walker walked off but then laid on the sideline bracing his shoulder.
A few plays later, cornerback Malcolm Magee hit Maxx Shapiro hard on the sideline for force a dropped pass.
Rashaad Boddie ran with toughness all day long, trucking Quinn Brinnon on one play.
Damion Daley enjoyed a sack of McCoy.
Freshman running back Drue Harris had some solid, tough runs as well, looking a bit like Boddie.
Patrick O'Brien, the quarterback transfer from Nebraska who's not eligible until 2019, fit a pass into a very tight windows with solid arm strength.
Judd Erickson had a great fade throw into the back of the end zone to Griffin Hammer for a touchdown.
Chandler Drachlin caught a pass from McCoy and went for a big gain late in the scrimmage.
Notes: 
The quarterback progression was as follows; 1. Carta-Samuels, 2. Justice McCoy, 3. J.C. Robles, 4. Judd Erickson and 5. Patrick O'Brien. Collin Hill, who was the almost certain starter before he tore his ACL in February playing basketball, didn't play Saturday. Hill was ruled out of the scrimmage and on Friday, Bobo said the quarterback could be doing more in about a week to ten days.