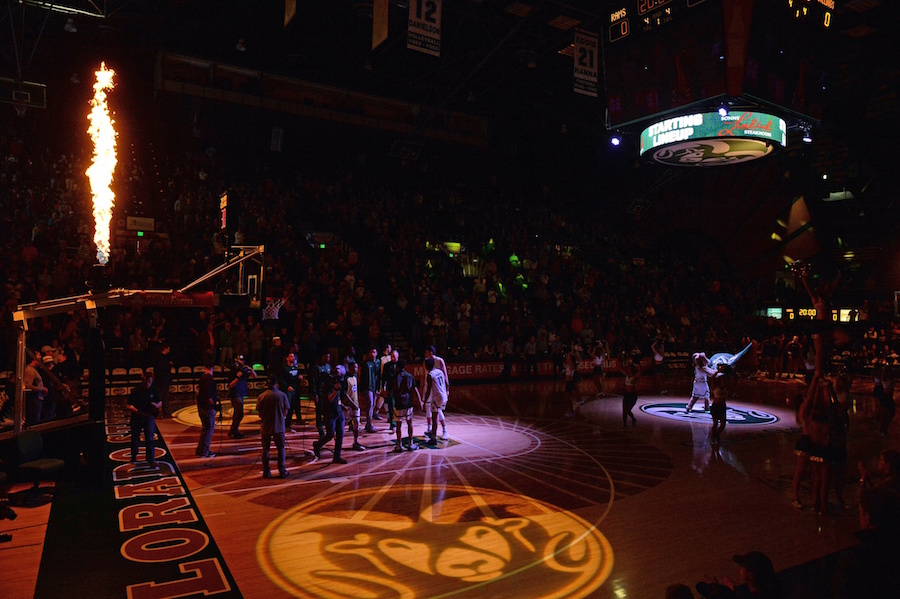 Read this story at CSURams.com
Colorado State's men's basketball team was rewarded for its quality season with a No. 4 seed in their bracket of the National Invitation Tournament (NIT) and will host No. 5 College of Charleston on Tuesday, March 14. Tip time is set for 7 p.m. MT and the game will be televised on ESPN3. Tickets for Tuesday night's game will go on sale Monday morning at 8 a.m. at the CSU Athletic Ticket Office at CSURams.com/tickets or by calling (800) 491-RAMS (7267). Season ticket holders will have first priority on their current seats.
CSU enters the postseason with a 23-11 record, having gone 13-5 in the Mountain West and finished as the runner-up in both the regular season and postseason tournament. The Rams will have received their fourth postseason invitation in five years under 2017 Mountain West Coach of the Year Larry Eustachy and will be playing in their third tournament. CSU is led by senior guard Gian Clavell, who was the Mountain West Player of the Year, as the Puerto Rico native earned All-Tournament honors after averaging 27.0 points in the three tournament games. Sophomore guard Prentiss Nixon joined him on the All-Tournament team, scoring 23 points in the championship game against Nevada. Senior forward Emmanuel Omogbo, a first-team All-Mountain West pick, has recorded a school-record 20 double-doubles this season and is averaging 14.0 points and 10.5 rebounds a game.
The Rams are 6-8 all-time in the NIT, including a 5-3 record at home. Last time Colorado State was in the tournament was in 2015, losing in the opening round at home to South Dakota State, 86-76.
The Cougars come in with a 25-9 record, having lost in the Colonial Athletic Association (CAA) championship game to UNC Wilmington, 78-69. Under the leadership of third-year head coach Earl Grant, Charleston has made significant strides, last year posting a 17-14 record before this year's 6.5-game improvement and runner-up in the CAA regular season with a 14-4 mark, earning Grant CAA Coach of the Year honors. The two teams have one common opponent this year, as Charleston hosted Boise State in mid-November and defeated the Broncos, 60-47. Redshirt-junior guard Joe Chealey, who was a first-team All-CAA selection, leads the Cougars at 17.8 points per game, connecting on 39.2 percent of his three-point attempts, while sophomore forward Jarrell Brantley is adding 14.2 points and 8.3 rebounds per contest, having been named second-team All-CAA and CAA All-Defensive Team.
This will be the first time the two programs have met on the basketball court. The winner of the game will advance to play the winner of No. 1 seed California and No. 8 CSU Bakersfield, being played on ESPN2 at 9:15 pm MT Tuesday night. Location, day (March 16-20) and time of that contest will be determined following the conclusion of the two games.