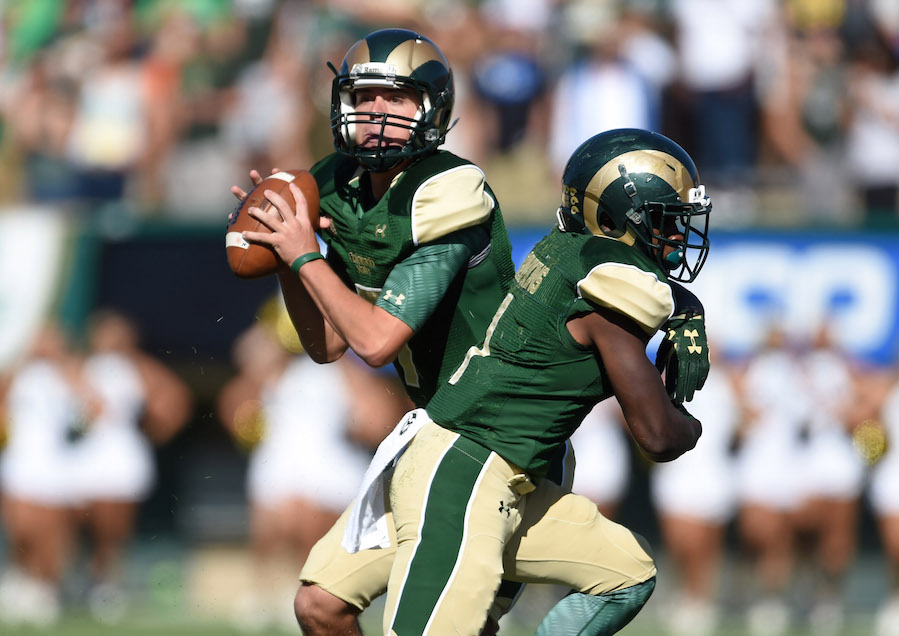 A lot of attention has surrounded Colorado State's Hayden Hunt and Jake Bennett for being listed on the Ray Guy and Rimington Award trophy watch lists, respectively, but the battle at the quarterback position in Fort Collins is what will have people talking the most as the season approaches.
Gil Whiteley on Mile High Sports AM 1340 | FM 104.7 had Mike Brohard, a CSU insider, on his show to discuss how the quarterback battle is shaping up ahead of camp.

"At this point the job looks like Nick Stevens," Whiteley assumes.
"Right now I think the job looks like it is wide open and there going to go in there and its going to be a battle," Brohard believes.
The immediate assumption would be that Stevens is the starting quarterback because he had an effective season under center as a redshirt sophomore. In his first season as a starter he threw for 2,369 yards, 21 touchdowns, and 12 interceptions with a 61.9 percent completion percentage, leading the Rams to a 7-6 record and a bowl appearance.
Graduate transfer Faton Bauta from the University of Georgia, however, has more than just age going for him. Bauta was recruited by CSU head coach Mike Bobo when he was an assistant at Georgia. His playing time in Athens was extremely limited, having attempted just 38 passes over his three years. Nearly all of those came in a loss to Florida last year. Still, his SEC experience and ties to Bobo, not to mention his lone year of remaining eligibility, might be enough to give him a shot.
True freshman Collin Hill, who was a top quarterback prospect out of South Carolina where he threw for 3,505 yards, 35 touchdowns, and led his team to the state title game, is also a Bobo recruit.
To listen more on the QB situation and CSU's upcoming season click the podcast below…
Catch Gil Whiteley every weekday from 11a-1p on Mile High Sports AM 1340 | FM 104.7 or stream live any time for the best local coverage of Colorado sports from Denver's biggest sports talk lineup.