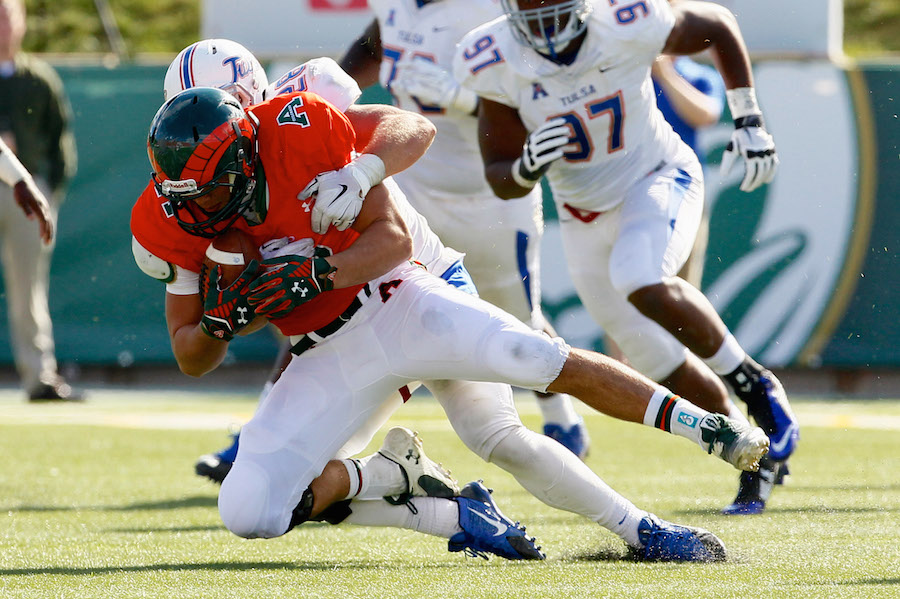 Ten Colorado State football players earned academic recognition by the National Football Foundation Colorado Chapter on Monday, including two first-team honorees.
Wyatt Bryan and Nolan Peralta were named to the 2015 NFF Academic All-Colorado first team, while eight others were named honorable mention: Cole Anderson, Kivon Cartwright, Hayden Hunt, Izzy Matthews, Colby Meeks, Kevin Nutt, Jr., Trent Sieg and Nick Stevens. Of the 10, eight return to the field this fall for the Rams, while the other two graduated with degrees. Anderson graduated in December with a degree in business administration while Cartwright earned his master's degree in management practices.
Bryan – who connected on 16 field goals as a redshirt freshman in 2015, the fifth-most in CSU single-season history – holds a 3.68 grade-point average while working toward a degree in mechanical engineering. Peralta was an integral part of the Rams' offense, playing in 12 games as a blocking tight end. The Rams' offense ranked third in the Mountain West with 425.8 yards per game. He is studying biological sciences and currently holds a 3.63 GPA.
The criteria to qualify for first-team academic recognition is a cumulative GPA of 3.30 or higher, in addition to at least a 70-percent participation rate as a starter or regular contributor. In total, 162 student-athletes (91 first-team, 71 honorable mention) received recognition across the 10 collegiate football programs in the state of Colorado.
In December, the NFFCC named Hunt the 2015 Special Teams Player of the Year, and he will be honored Monday evening at the 23rd annual Colorado Chapter National Football Foundation Scholar-Athlete Awards Banquet at the Denver West Marriott. Hunt was one of three finalists for the 2015 Ray Guy Award and an All-American by several publications. He is studying political science at CSU.
Additionally, 2016 signee Toby McBride, of Fort Morgan High School, will be one of 15 prep stars to be recognized at the banquet as a 2015 scholar-athlete.