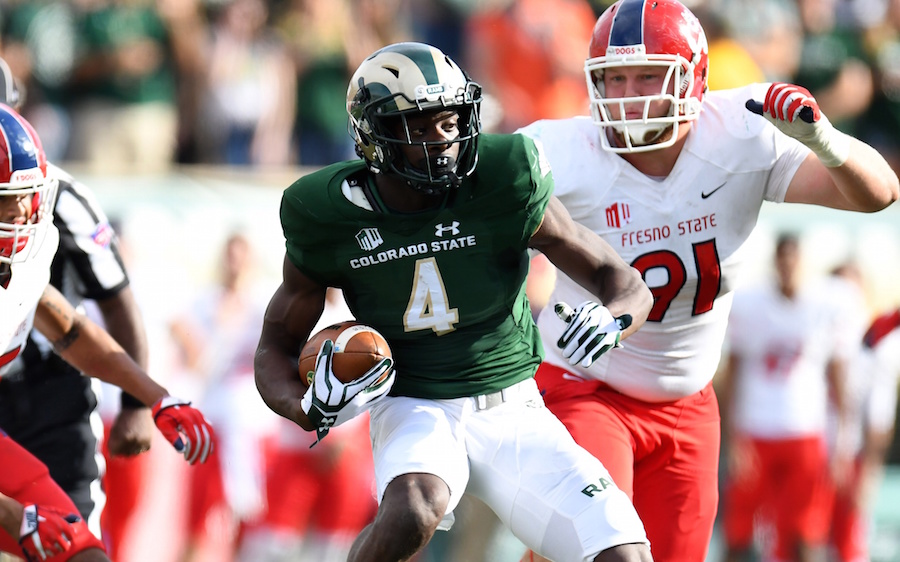 Read this story at CSURams.com
Colorado State senior wide receiver Michael Gallup has been named to the 2017 Biletnikoff Award watch list, the Tallahassee Quarterback Club Foundation announced Tuesday.
The Biletnikoff Award annually recognizes the outstanding receiver in college football. Gallup is one of three players from the Mountain West on the list, as well as one of three from the state of Colorado.
Gallup was impressive in 2016, his first season of football at the Division I level. He earned first-team All-Mountain West honors after recording 76 catches for 1,272 yards and 14 touchdowns, with his touchdown total ranking eighth in the NCAA and second in a single season in CSU history. His receiving yardage total was 14th in the nation and tied for the league lead. Gallup's productivity continued to rise as the season wore on, including scoring a touchdown in each of his final games while averaging 128 yards per game over that stretch.
The Monroe, Ga., native was recently named preseason Fourth-Team All-American by Athlon Sports, as well as a preseason First-Team All-MW selection. He was also listed as one of the top 10 wide receivers in college football by Lance Zierlein of NFL.com.
The Tallahassee Quarterback Club Foundation, Inc., will announce the ten Biletnikoff Award semifinalists on November 13, 2017, following the vote by the members of the Biletnikoff Award National Selection Committee. Likewise, the three finalists will be declared, following another vote, on November 21, 2017. For complete details and updates of interest, together with weekly statistics and timely, important news of the Biletnikoff Award candidates, as well as a fan vote and discussion board, please consult the Foundation's highly informative website at BiletnikoffAward.com.
Additionally, senior offensive lineman Zack Golditch has been named to the 2017 Wuerffel Trophy watch list. The award is known as "College Football's Premier Award for Community Service," and is presented annually by the All Sports Association in Fort Walton Beach Florida.
Golditch was also on the watch list in 2016, and joins eight others who also return. Named after 1996 Heisman Trophy winning quarterback Danny Wuerffel from the University of Florida, the Wuerffel Trophy is awarded to the FBS player that best combines exemplary community service with athletic and academic achievement. The 2017 watch list is comprised of 108 players.
The Aurora, Colo., native has been a fixture in the Fort Collins community throughout his collegiate career. He recently took his community service ambition abroad with CSU's Green & Global initiative in Jamaica.
Golditch has made several visits to hospitals, including the burn unit at Aurora's UCHealth facility and the nearby Children's Hospital Colorado. He has also spent time befriending children involved with Respite Care, a non-profit organization in Larimer County provides short term, quality care for children with developmental disabilities, giving respite to their families, and enhancing the quality of life for the entire family. He has also been a regular volunteer with the Fort Collins Boys and Girls Club.
He has previously been recognized for his community service efforts, including being named a nominee for the 2017 Allstate AFCA Good Works Team. He was CSU's representative for the 2016 Famous Idaho Potato Bowl Humanitarian Award, which recognized excellence in community service. Golditch was also on the 2016 Wuerffel Trophy Watch List, another premier award for off-the-field efforts in the sport. As a freshman in 2013, he was presented with the National Football Foundation Inspiration Award for his courage and resiliency in returning to the football field after being among those wounded during the July 20, 2012 Aurora theater shooting. He was honored during the NFF Chapter Awards Luncheon at the Waldorf-Astoria in New York City.
In two seasons as a starter on Colorado State's offense line, Golditch has played four positions and helped power a strong running game while keeping Rams quarterbacks on their feet. They allowed just 1.08 sacks per game in 2016—13th-fewest in all of FBS—and the CSU offense ranked 19th nationally in passing efficiency, 31st in rushing offense and 38th in scoring offense and total offense. The Rams allowed just one sack in the last 21 quarters of the season. CSU has had a winning season and competed in a bowl game each season with Golditch on its roster.
Golditch is double majoring in sociology and ethnic studies. He is expected to graduate in December, becoming the first member of his immediate family to do so.
Voting for the Wuerffel Trophy is performed by a National Selection Committee that includes college football television and print media, industry notables, former head coaches and prior Wuerffel Trophy recipients.