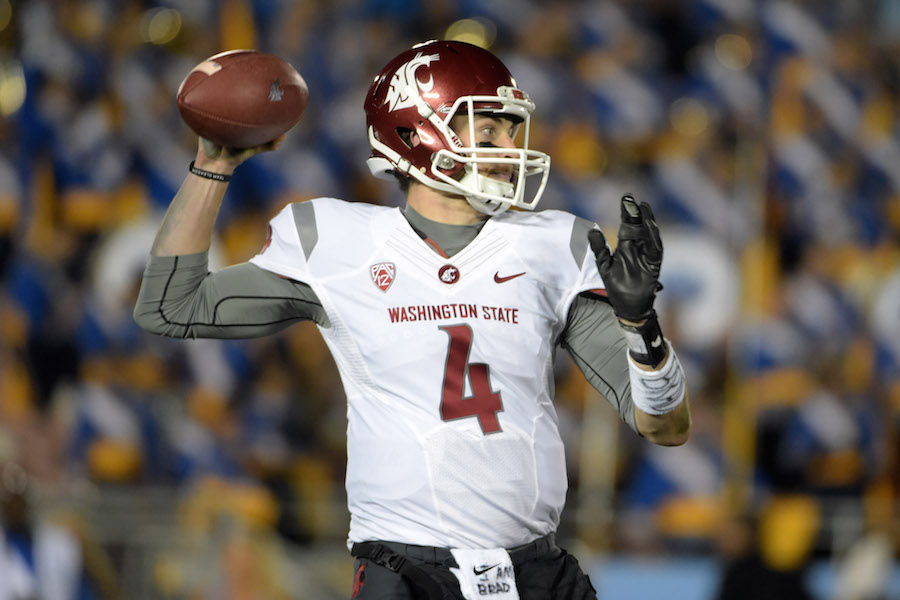 The Colorado Buffaloes have shown panache all year long, but they'll need an awful lot of moxie to knock off the Washington State Cougars.
For one, the Cougars lead the nation with 414.4 passing yards per game. Though the Heisman is probably a longshot, Washington State quarterback Luke Falk's prowess as a passer is unquestionable. He's had two 500-yard games, and thrown for over 4,000 yards on the year, to go with a 70.3 completion percentage and 35 touchdowns.
CU football: Buffs gear up to face high-powered Washington State aerial attack https://t.co/Dw2cBe8Nuv

— Buffzone (@buffzone) November 21, 2015
It's tough to even mention CU's freshman quarterback Cade Apsay in the same sentence as Falk. The replacement for the ailing Sefo Liufau, Apsay has only thrown the ball 34 times. To be fair, the freshman's performance was respectable, going 18-for-23 for 128 yards and two touchdowns. But he'll have to play out of his mind to keep up with this Wazzu offense.
Oh, and that's not to mention that the Cougars are rolling. They have a 5-1 record in their last six games, and they're coming off of a momentum-building win over UCLA in Los Angeles. The only blemish during that stretch came in a 30-28 loss to the Stanford Cardinal. Had a last-minute field goal not gone wide, the Cougars would have pulled the upset. And remember, this Cardinal team rolled CU 42-10 in Boulder.
As if CU fans need reminding, the road hasn't been especially kind to the Buffs, especially in conference-play. Before beating Oregon State this year, CU had not won a Pac-12 match on the road since September 2012. Pullman doesn't look to make things easier for the Buffs.
While I would welcome an upset, it's going to take a minor miracle for it to happen this weekend.
---
Calvin Jouard is an intern at Mile High Sports and a student at the University of Denver
---