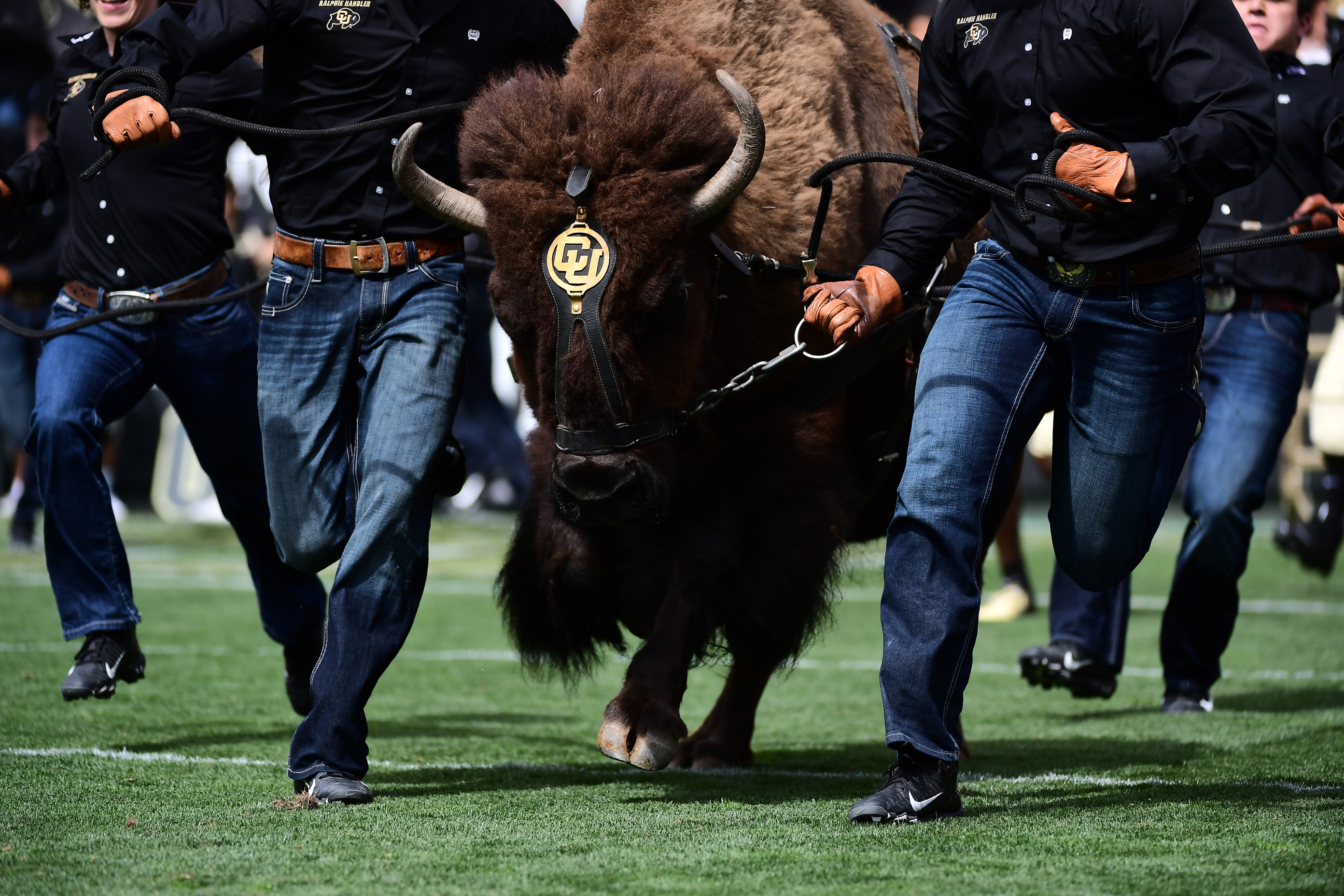 Courtesy of David Plati, CU Athletics
The Pac-12 Conference released its revised 2020 schedules Friday, with the season now set to commence on Sept. 26 with the University of Colorado to travel to the University of Oregon in the new season opener.
The Pac-12 announced on July 10 that it would only play a conference-games schedule this season, thus canceling all non-league contests due to the Coronavirus pandemic.  Colorado was set to open the season on Sept. 5 at Colorado State, then host Fresno State (Sept. 12) before reuniting with former Big 12 Conference rival Texas A&M in College Station on Sept. 19.
The revised schedule differs a bit from what was released in January: the nine Pac-12 opponents announced then remain the same, but CU will travel to Oregon instead of the Ducks coming to Boulder for the first time since 2015.  Oregon State, which had not been on the slate, will now visit Folsom Field on Nov. 28, with the regular season finale set for Dec. 5 against Washington State.  That will be the latest game to end the regular schedule since Dec. 7, 1963, when a game against Air Force was delayed two weeks due to the assassination of President John F. Kennedy.
Traditional league rivalries now appear all throughout the schedule instead of toward the end of the season, with Utah now coming to Colorado in week two on Oct. 3.
Bye weeks are built in if the pandemic forces the postponement of games to allow for make-up dates.  All teams have a bye at some point in weeks four-through-six (Oct. 17-31), with Saturday, Dec. 12 available as well.  The conference's championship game, originally set for Dec. 4, is now penciled in for Dec. 19.
The Buffs will now open Pac-12 league play on the road for just the second time in the last six years in traveling to Eugene, as the Ducks are the defending conference champion.  Oregon was originally set to be CU's league lid-lifter on the same date, except in Boulder.  And with three of the first four games on the road, it will mark the first time the Buffs open away from home three times out of four to open a season since 2016.  But one of those games was in Denver: you have to go back to the 1973 and 1974 campaigns to find three road affairs among the first four contests.
This will be Colorado's latest season opener in 59 years, or since Sept. 30 in 1961; that year, CU defeated Oklahoma State in Boulder, 24-0.  That is also the last time that a conference opponent was the foe in a season opener for the Buffs.  The last times Colorado opened a season with a true road game came in 2011 and 2015, when CU played at the University of Hawai'i.
The last 10-game regular season occurred in 1970, as the NCAA Division I approved an expansion to 11 games for 1971; it okayed a permanent 12th game beginning in 2006.
At this time, selections for most television broadcasts have not been determined, thus no game times have been established.  CU will have one night game, as the Buffaloes will travel to Seattle to face Washington on Friday, Nov. 6, in a game set to be televised by ESPN.
Colorado was 5-7 last year, with a 3-6 record in Pac-12 play for fifth place in the South Division.  Karl Dorrell was named head coach on Feb. 23, and his first Buffalo team returns 58 lettermen from that squad, including 15 starters.
When all athletic competition and practices ceased last March 12 due to the pandemic, the Buffaloes were four days away from opening their spring football drills.  With the season opener now set for Sept. 26, CU's fall camp will begin on Monday, Aug. 17, with the first day of classes is on Monday, Aug. 24.
As for CU's other fall sports (women's soccer, women's volleyball, men's and women's cross country, men's and women's golf and women's tennis), the conference is expected to release those schedules in early August.  As is the case with football, soccer and volleyball will play conference-only schedules and their seasons will commence the last weekend in September.  Both programs can begin their fall practice sessions on Aug. 15.
In addition, the Pac-12 Championship game in football will now revert to a home-hosted model instead of being played in Las Vegas.
Sept.    26          at Oregon
OCT.       3          UTAH
Oct.      10          at Arizona
Oct.      17          at Southern California
Oct.      24          —BYE—
OCT.     31          *ARIZONA STATE
Nov.       6          (Fri.) at Washington (ESPN)
NOV.    14          UCLA
Nov.     21          at Stanford
NOV.    28          OREGON STATE
DEC.       5         WASHINGTON STATE
Dec.     19          Pac-12 Championship Game