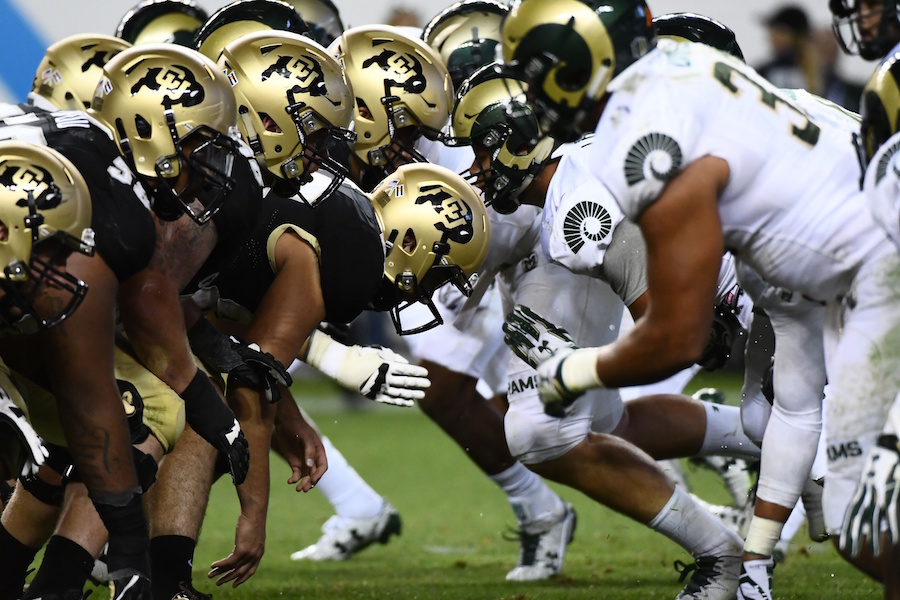 The Colorado State Rams fell 17-3 to Colorado in the Rocky Mountain Showdown on Friday in Denver. With the loss, the Rams fall to 1-1 on the season while the Buffaloes improve to 1-0. Attendance for the in-state matchup increased for the sixth consecutive year, and the 73,932 fans marked the largest crowd since the 2003 game and fifth-highest in the series.
"It was a disappointing night for us," Head coach Mike Bobo said. "Our expectation as a football team was not just to come in here and play hard; our expectation was to win the ballgame. We're not looking for a pat on the back."
The Rams moved the ball effectively throughout the game–out-gaining the Buffaloes 397 to 347 in total yardage–but were beset by 10 penalties called against them, resulting in 120 yards lost and negating a pair of Colorado State touchdowns.
Nick Stevens completed 24-of-47 passes for 309 yards with two interceptions. It marks Stevens' third consecutive game passing for more than 300 yards, but ends his streak of eight consecutive games with multiple touchdown passes.
Senior running back Dalyn Dawkins led the Rams on the ground with 43 yards on 14 carries. Wide receivers Detrich Clark, Olabisi Johnson and Michael Gallup all contributed heavily in the passing game, going for 72, 71 and 67 yards, respectively.
Senior cornerback Kevin Nutt intercepted two passes, becoming the first Ram with multiple interceptions in a game since Tyree Simmons in a 2014 game against New Mexico (11/22). Junior linebacker Josh Watson led CSU with nine tackles and Jakob Buys, Ellison Hubbard, Richard King, Toby McBride and Tre Thomas all recorded sacks.
Stat of the Game
The Rams out-gained CU, 397 to 347 in total yardage, but were called for 10 penalties, costing them 120 yards and negating two touchdowns.
Looking Forward
The Rams will look to bounce back next Saturday, Sept. 9, when they take on Abilene Christian in Fort Collins, Colo. The game will be celebrated as CSU's annual Ag Day with 4-H and an Orange Out, as the team will don its traditional pumpkin and alfalfa uniforms with all fans encouraged to wear orange. Tickets are available at CSURams.com/tickets or by calling the Rams Sales Team at 800-491-RAMS during regular business hours.