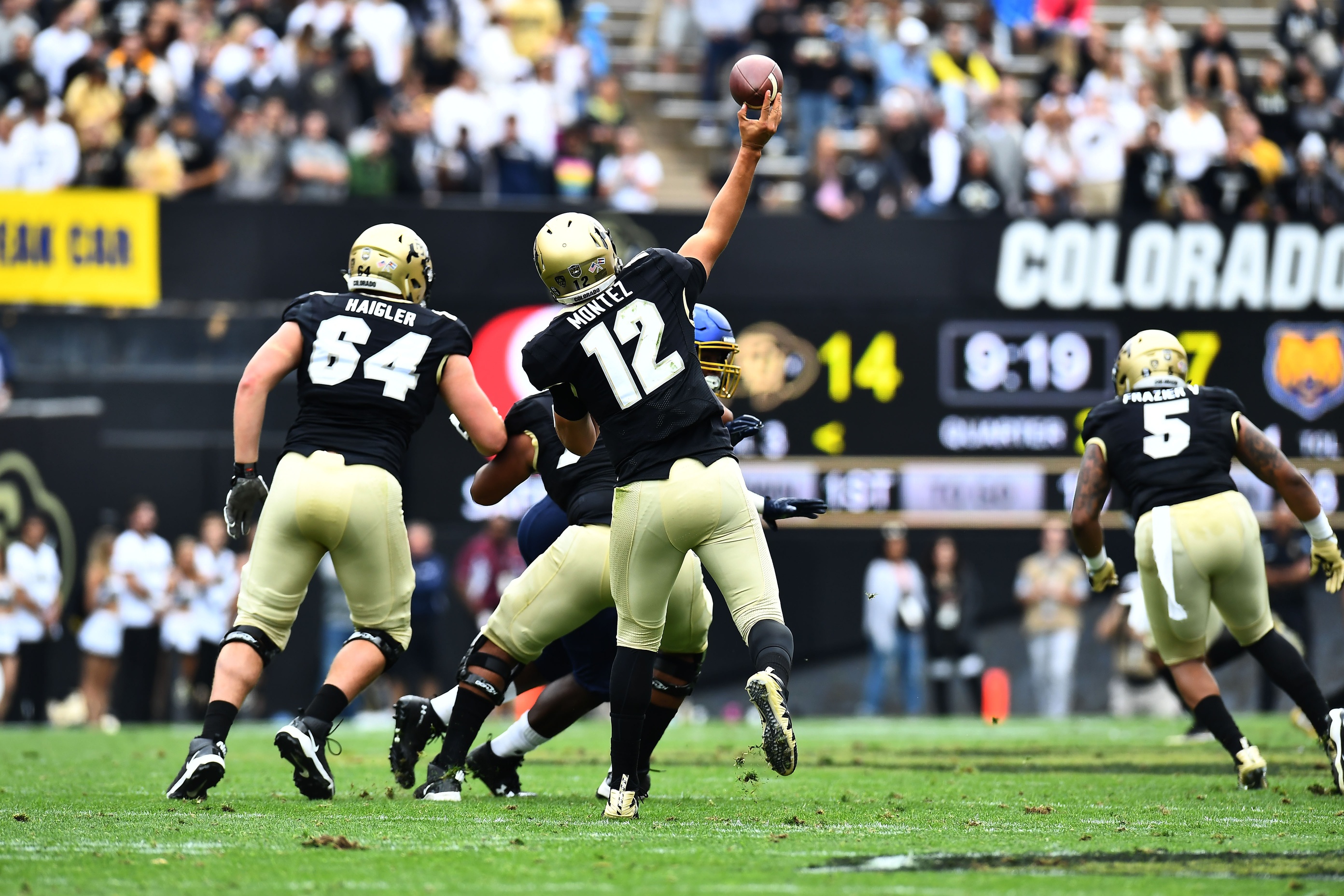 As the season begins to draw to a close, the Colorado Buffaloes (4-4, 1-4) need answers. CU started out the season with three straight wins before running into the brick wall that was conference play.
They are now coming off of the worst offensive performance in Head Coach Mike MacIntyre's time in Boulder. On a rainy, windy (otherwise normal) Washington evening, they were shut out 28-0 by the (#15/#16) Washington State Cougars. Now, as the calendar soon flips to November, the Buffs have no margin for error.
Colorado welcomes the California Golden Bears (4-4, 1-4) on Saturday, October 28th for CU's annual Homecoming game. This is a must-win game for both teams. The victor will be just one win away from a total of six, enough to qualify for bowl eligibility. In what should be a very tight game, here's you should watch for as the Buffaloes seek a win for homecoming weekend.
Who will be the QB? 
Not only is the question, who will be quarterbacking the Buffs when they take on the Golden Bears, but, what will they be able to accomplish?
In last week's shutout, the Buffaloes used three different quarterbacks and were only able to muster 94 yards passing against a Top 10 Defense. Incumbent starter and redshirt-sophomore Steven Montez, backup redshirt-freshman Sam Noyer, and walk-on redshirt-freshman Casey Marksberry, combined for 13 completions on 34 attempts.
Following MacIntyre's comments postgame after the loss to Wazzu, Montez and Noyer have both competed for the job in practice this week. Mac told media on Monday after practice that, "We're preparing them both to play and when we walk out there to play Saturday is when we'll make the decision."
Montez was the successor to four-year starter and three-year team captain, Sefo Liufau. He saw quite a bit of action in 2016 due to Sefo's injury frequency and entered 2017 as the man. Montez has developed a good amount this season but his failure at times to read defenses, struggling with when to stay in and get out of the pocket, inability to complete passes deep downfield, and more concerning, recent inaccuracy issues have left the coaching staff with no other choice.
The kid from El Paso, Texas is coming off of one of the worst games of his short career. He completed four of his 13 passes for 21 yards before being benched at halftime. Noyer then saw his first glimpse of Pac-12 action in the second half, but fared only marginally better. He completed just seven of his 18 attempts for 53 yards and failed to generate the spark that Coach MacIntyre was looking for.
This is a Cal team that beat the very same Cougars team just one week before in dominant fashion, 37-3. The Buffaloes have to find continuity and Montez's ability to command the offense and most importantly, put points of the board, will be vital in the most winnable game left on the 2017 schedule. Cal has scored 81 points in their last two games and comes in to Boulder following a tough, overtime loss to sophomore dynamo quarterback, Khalil Tate and the Arizona Wildcats (5-2, 3-1), 45-44. Expect Cal's Head Coach Justin Wilcox to stack the box in an effort to force the Buffs to beat the Bears' opportunistic defense through the air.
How much does Phil Lindsay have left in the tank?
To put into account both how little the Buffs were able to do against WSU and also how much Phillip Lindsay means to the Colorado offense just think about this, Lindsay became the first Buffaloes' running back to notch back-to-back 1,000-yard rushing seasons. The only other Colorado player to ever have two 1,000-yard seasons in his career was Eric Bieniemy, who did it in 1988 and 1990. Lindsay is in good company.
His last three games–a career night vs. Arizona in which he had 41 carries for 281 yards, the 28-carry, 185 yard performance against the Oregon State Beavers (1-7, 1-5), before finally being slowed down by Washington State where he went for 98 yards on 29 carries.
The Buffs will look to get him back going and should continue to rely on him heavy, especially with the recent quarterback debacle. Expect a heavy dose of Phillip Lindsay, a task the Golden Bears will surely attempt to slow down.
Can the Buffs match Cal's fire?
With the Buffs coming off of their most disappointing game of the season, Cal is looking to gather as much momentum as they can up from their nail-biting 45-44 loss on Saturday. In the game, the Bears set numerous single-game season highs such as points (44), touchdowns (5, tied season-high), first downs (31), rushing attempts (47), total plays (96), total yards (473 and also controlled the game throughout it's entirety with time of possession (35:00).
The Golden Bears will look to duplicate that exact same game plan with hopes that it brings a different result. While the Buffaloes are still trying to figure it out, Cal will look to push the tempo against them and force them into bad plays. This is a big game for both teams.