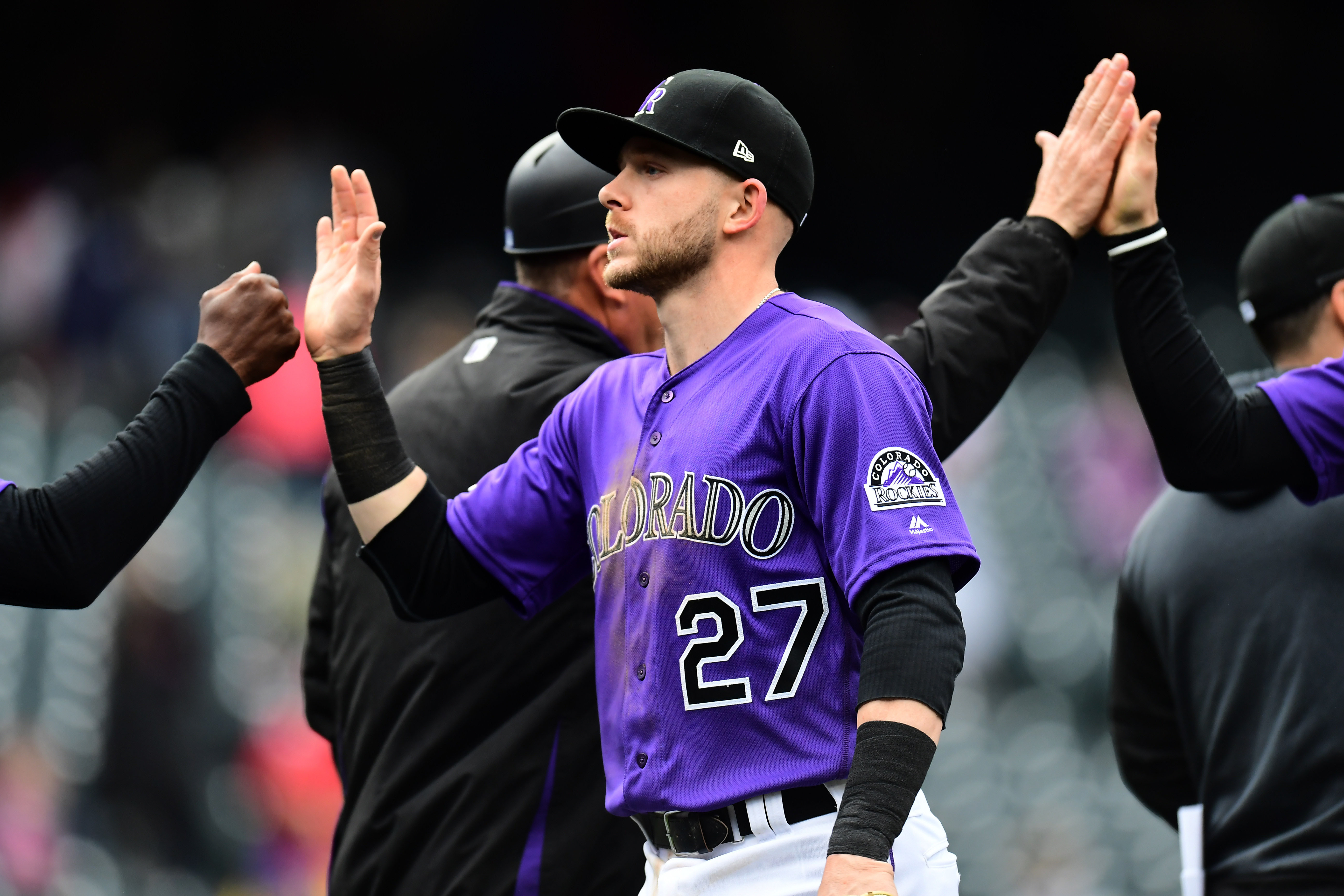 Flashback to the beginning of April, following a drubbing on ESPN's Sunday Night Baseball. The somber mood that overtook the Colorado Rockies after a 12-6 loss was palpable. The clubhouse was silent, the energy was gone.
The loss was part of 12 in the club's first 17 games, their worst start in the 27-year history of the franchise.
"Nobody here likes losing, that's for sure," Ryan McMahon said. "We're a very competitive group and that streak that we had sucked big time, it wasn't fun."
Something changed though.
No longer were the Rockies the brunt of losses, rather they began to start rolling. First, it was against Derek Holland, a battle that saw the Rockies walk four times and receive a brilliant outing from German Marquez. A pair of wins in San Diego, with runs finally scored in the first and second innings continued the charge.
"I don't think any of us were panicking," Garrett Hampson said. "We were just able to come together and we basically said, 'situational at-bats need to get better, don't try to do too much.' We've seen better results from there."
The wins speak for themselves. A separating factor from the wins against the Miami Marlins to start the year has been the resiliency shown.
There hasn't been a notable hot streak, nor have there been any record-breaking sprees at the plate. Instead, the Rockies have finally begun to put each facet of the game into place. Relief in a predominantly distressing sport has played a role.
"I think guys are starting to get comfortable and settle in," Charlie Blackmon said. "(We) kind of know what to expect from guys and everybody's playing well so everybody else wants to play well too. I think it's a contagious thing."
Blackmon, formerly engulfed by a lengthy slump to start the year, has developed the contagion himself. So too have Nolan Arenado and Trevor Story.
Each of the three has hit multiple home runs over the recent winning spell for the club, with Blackmon nailing a walk-off home run, followed by a first-pitch home run in the subsequent game against the Phillies. Even McMahon piled on a pair of long balls in his return from injury over the weekend.
"We have a lot of guys that can take games over," McMahon said. "You don't see that around Major League Baseball. Usually (teams) rely on two or three guys. I think we've got at least eight or nine guys that can just take a game over."
A bevy of options has risen to the challenge of overcoming a horrendous start. The season's onset caused agony because of inner-clubhouse expectations, rather than panic.
"There's a lot of potential within everybody in this locker room," McMahon said. "The vast majority of (expectation) comes from within (the team). It's just how our veteran leaders are. I think it's how (the Rockies) system is."
The Rockies have also begun to put together victory-enabling performances on the mound, starters and relievers alike.
Across their most recent eight-game stretch, both German Marquez and Jon Gray have had a pair of quality starts with Kyle Freeland hurling one of his own. The trio has posted a 3.03 earned run average across a combined 15 starts in 2019. Though Freeland hit the 10-day injured list Monday, the recent success is still notable.
"I feel like we're starting to find our stride a little bit individually," Gray said. "When (each of us is) doing good… we feed off of that. We're trying to outperform each other."
The bullpen has continued their success throughout the year as well, a combined 3.42 ERA to show for their efforts.
In their most recent win, a quartet of the team's relievers combined to throw six innings, allowing only two hits. Down 5-2 after Anderson's latest lackluster start, the effort enabled the offense to claw back behind a batch of long balls, concluding the contest in the lead, 7-5.
The club's success lacks a true starting point. There was no meeting that sparked the rejuvenation, nor was there a specific loss deemed too painful. From the players, a boiling point was uncertain, though the temperature was rising.
"You lash out at people that are closest to you," McMahon said. "We see each other all the time, it's definitely a hard thing to (not get frustrated with each other)."
Worries, pending feuds and broken bats have bypassed the club, leaving behind a trail of lessons. A sole mission to compete, one way or another serves as the catalyst for the rocky road ahead.