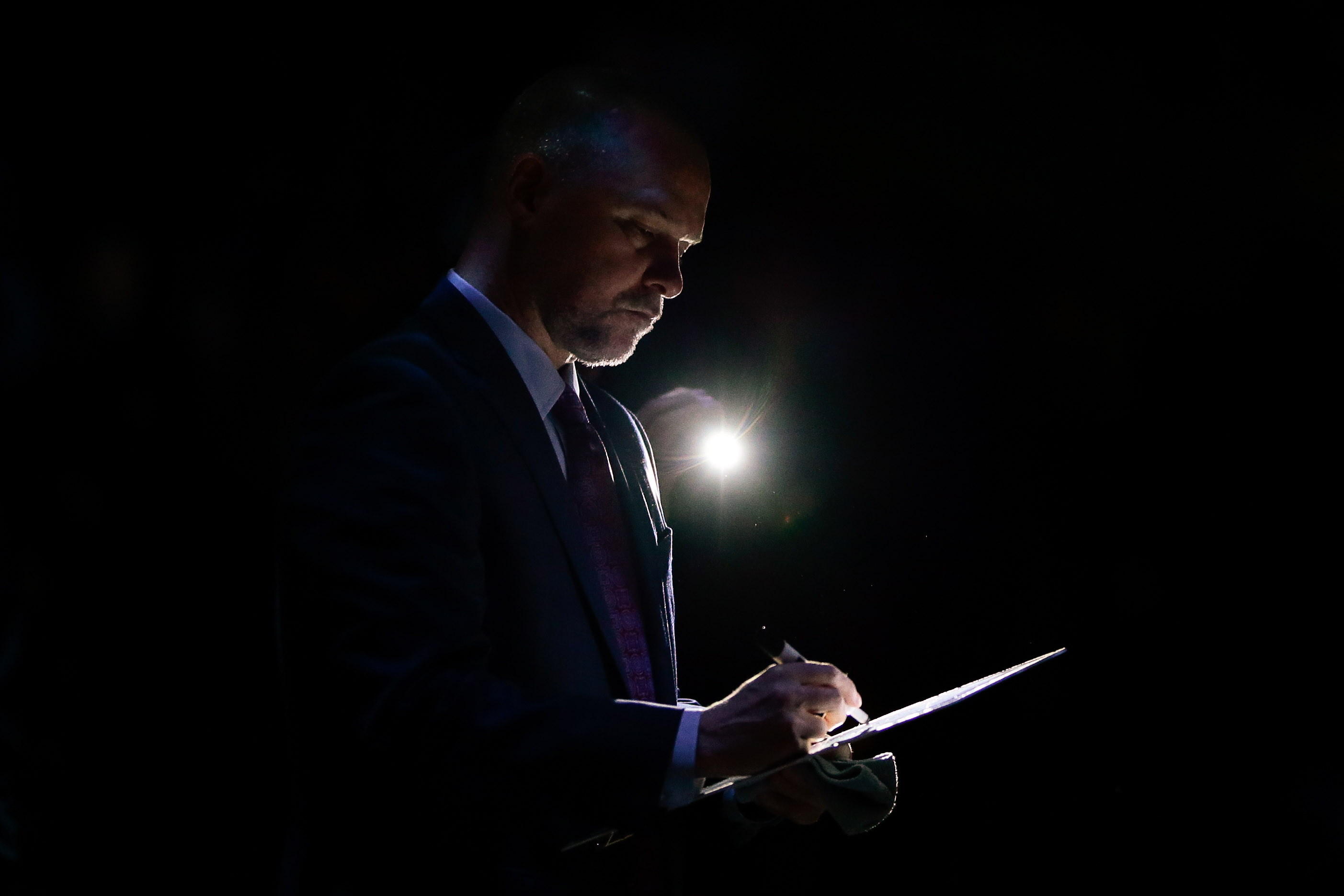 After the Denver Nuggets fell 101-94 to the Memphis Grizzlies — who had lost 19-straight games prior to the matchup and were boasting a league-worst record of 18-50 — the conversation frantically switched from if the Nuggets would make the playoffs to who is at fault for the fallout as if the Nuggets were eliminated from postseason contention altogether after the loss.
So where are things going wrong for Denver? If you decided to use Twitter as your point of reference (never use twitter as your point of reference) or the optics of fans than you would be led to believe that the issue starts and stops with head coach Michael Malone. It is time to debunk that myth.
The idea of players not playing hard is the head coach's fault cannot be argued because the job of a coach is to have his team prepared and ready to play for each game, but looking back at the historical evidence of the past seven or eight years of Nuggets' basketball can paint a clearer picture.
George Karl's last few teams at the end of his tenure in Denver would also take nights off or not play with everything they had in each possession. There are only two players remaining from Karl's last season that still play for Denver and one of them — Kenneth Faried — is entirely out of the rotation, so it isn't as if the holdovers from the teams that Karl coached are where the percolation of complacency comes from. Brian Shaw also failed to get Denver to play with intensity and aggression for 48 minutes each and every game. Things got so bad under Shaw that he eventually fell back on rapping his pregame notes to his team as he attempted to develop chemistry with his younger roster, but that didn't work and eventually the Nuggets broke huddle with a chant of, "one, two, three…six weeks!" as an ode to how much time was left until the end of the season.
This common theme of the Nuggets taking their foot off of the gas goes back much further than Malone, President of Basketball Operations Tim Connelly, and General Manager Arturas Karnisovas. It has been a random systemic issue that has plagued the organization for the better part of a decade.
So to say that the lack of effort falls on specifically Malone just isn't true when looking at the past three coaching staffs stemming over two large roster overhauls. Putting the blame solely on the shoulders of Malone is short-sighted and would be a statement that was based on optics and not facts.
There is a long laundry list of things that Malone has done incredibly well for the Nuggets franchise for the present and for the future. From the second he arrived in Denver in 2015-16 until the final buzzer of the Nuggets 101-94 loss to the Grizzlies on March 17th, it is impossible not to see the systematic improvement in nearly every facet.
Year one (2015-16):
Malone was hired as the head coach after a hellacious run with Shaw at the helm. Shaw took a fully rebuilding Nuggets' roster and destroyed every fabric holding together any semblance of a culture that existed before he arrived. The locker room reportedly became cancerous with Shaw leading the charge and any hope of consistent winning evaporated seemingly in an instant.
Fast forward to the end of Malone's first year, and there is almost no trace of the poisonous chaos that existed before him and there was suddenly a young core of talented players to be excited about. Even if you remove the results of the 2015-16 Nuggets' season, just the fact that the Nuggets' roster was — and still is — genuinely happy playing together and that there is no irreparable animosity between the coaching staff and the players speaks to the culture that Malone was able to instill in just one season. That turnaround was because of Malone and he should receive credit accordingly.
In addition to resurrecting a strong locker room culture and building an environment where players can actually improve, Malone also had one other masterstroke his first season. He bought into Gary Harris, gave him confidence, and turned him into a present-day, top-ten shooting guard in basketball.
Harris' rookie season numbers were atrocious. He had a -12.8 net rating thanks to an abysmal offensive rating of 94.8. He played just 13.1 minutes a night and shot an awful 20.4 percent from three and 30.4 percent from the field while averaging 3.4 points and 1.2 rebounds each night. By the end of his rookie season, many were questioning if Harris was even an NBA-caliber player.
After just one offseason with Malone and a much-needed boost of confidence from his head coach, Harris became one of the most consistent players on the Nuggets in the 2015-16 season and he has continued to improve each year. His averages skyrocketed across the board while being given more and more responsibility on both sides of the floor. While his points, rebounds, assists, steals and minutes went way up from his rookie to sophomore seasons, somehow Harris' efficiency actually improved as his workload increased. Look at Harris' shooting numbers year by year: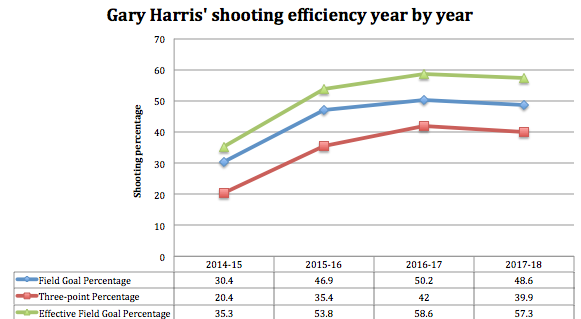 Without the time Malone took with Harris to help build his confidence and assist his growth as a player, the Nuggets would be in a much worse situation than as they are currently. Harris is now averaging 17.7 points per game, which leads the Nuggets, to go with 2.7 rebounds and three assists while shooting 39.9 percent from three and 48.6 percent from the field. Without Malone, the odds of Harris producing at such a high level are much slimmer.
Year two (2016-17):
Malone is known as a defensive-minded head coach around the league and — when taking into account that he learned under the tutelage of coaches like Jeff Van Gundy, Steve Clifford, and Tom Thibodeau — for him to let go of his instincts enough to not only start, but play through an un-athletic, 22-year-old second-round pick that was defensively-inept, but an offensive savant, is pretty incredible in retrospect.
Of course that infamous second-round pick is Nikola Jokic, who is now 23-years-old and putting up averages of 17.2 points, 10.4 rebounds, 6.1 assists and 1.2 steals in just 31.5 minutes per game — a stat line that has only been reached by Larry Bird (twice), Kevin Garnett, and Russell Westbrook (when he averaged a triple-double) since the NBA began tracking assists.
It is easy to act like the decision to play through Jokic was an obvious one, but the odds of Jokic turning into such an elite-level talent was nearly zero. Jokic is the exception — not the rule — and for that, Malone deserves credit for taking a leap of faith that many coaches in the Association likely would have struggled to agree to.
The decision to start Jokic reaped immediate benefits as the Nuggets morphed and evolved into the NBA's most efficient offense. From December 15th, 2016 — the day Jokic became the full-time starter — until the end of the regular season, Jokic helps transform the Nuggets into the league leader in offensive rating. Look at the chart below at how Denver's offensive numbers ballooned the second that Jokic became the full-time starter and focal point of the offense.
Nikola Jokic's impact on the Nuggets' offensive rating

Malone's choice to play through Jokic offensively transformed Denver from a bottom-half offensive unit to an honest-to-god juggernaut when everyone is locked in and executing. It took an exorbitant amount of faith and confidence to work through the issues that come with playing through Jokic, but Denver is now far along the path of working through Jokic's growing pains. Denver now has a bonafide star player to build around and his development is a testament to Malone's patience and willingness to trust his young players.
Year three (2017-18):
With the current trajectory of Jamal Murray's career, it is hard not to look at the 2017-18 Nuggets' season as the year that Murray emerged as a future cornerstone in Denver.
In a vicious Western Conference that features a lethal group of lead guards — such as Stephen Curry, Damian Lillard, James Harden, Chris Paul, and Russell Westbrook — starting a second-year combo guard at point guard was, again, an educated leap of faith by Malone. Murray has mostly repaid the favor by elevating his per-game totals across the board.
His per-game scoring has jumped from 9.9 points his rookie year all the way up to 16.4 points this season while adding an extra assist and rebound to his per-game totals as well. He is shooting 5.9 percent better from the floor and is taking nearly four more shots per game compared to his rookie season.
Even beyond just raw statistics, Murray has shown a killer instinct that does not exist anywhere else on the roster and that he has shown that he undoubtedly has the potential to be one of the best pure scorers in the NBA. Malone allowing Murray to work through his growing pains is a big reason why Murray is ahead of the curve developmentally.
In addition to allowing Murray to burst onto the scene, Malone's other strong decision was to play a more aggressive style of defense in the 2017-18 season from the defense he ran in 2016-17.
Look at how much more disruptive Denver has been since deciding to use the athleticism on the roster in a more aggressive manner on the defensive end of the floor.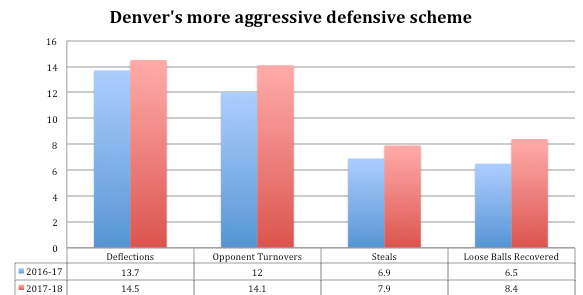 Denver playing a more aggressive scheme has helped them climb from 29th in the league with a defensive rating of 110.5 last season to 22nd in the league with a defensive rating of 108.6 this season.
While that may not seem like a huge improvement, the fact that Denver improved defensively, even with Paul Millsap missing over three months, is another step in the right direction thanks to Malone's decision to play more assertively.
---
This is not to say that Malone doesn't have faults either. Just like the young roster that he coaches, Malone — even though he is an NBA lifer — is still a young head coach in the grand scheme of things. There are clear issues that he has to continue to work in the same way that Harris, Jokic, and Murray do.
Malone is as passionate as they come and, while it is one of his best qualities as a coach, it can also negatively impact his decisions if his emotions get the best of him. Malone has a nasty habit of burning timeouts at inopportune moments leaving him without an ability to stop the clock late in games. There have been multiple runs in which Denver could have stopped or slowed the hemorrhaging of points, but because Malone had become frustrated and took a timeout to calm things, Denver was unable to slow an onslaught from an opponent. The most notable example of this is when Boban Marjanovich single-handedly defeated the Nuggets because Malone had burned his second-to-last timeout with 8:37 left in the game.
That is really the catalyst of Malone's current issues; he is a Queens-bred New Yorker who is fiery, passionate and loyal to a fault. Because his emotions can get the best of him, his rotations can become arbitrary. His passion for the game is an all or nothing trait that Malone still needs to learn to harness and use in the most efficient way possible.
With that being said, Malone's impact has been — and is — significantly more positive than negative, but he does deserve some blame for the Nuggets fallout that sent them from being in the discussion for home-court advantage all the way to an alarming level of complacency and lack of urgency. Denver is now in the 10th seed in the Western Conference playoff race; a game-and-a-half away from the eighth and final playoff spot with just 12 games remaining. When factoring in that eight of the Nuggets' remaining 12 games are on the road and the final ten are against playoff opponents, the possibility of Denver snapping their four-year playoff drought is becoming increasingly improbable — if not nearly impossible considering Denver is 11-22 on the road this season.
Regardless of the outcome of the 2017-18 season, faulting Malone as the primary reason for the inexplicable losses Denver has endured is a thought process that lacks context. The reasoning for the Nuggets indefensible losses will likely never be fully understood, but — while Malone has made mistakes — it is not Malone's burden to bear alone.