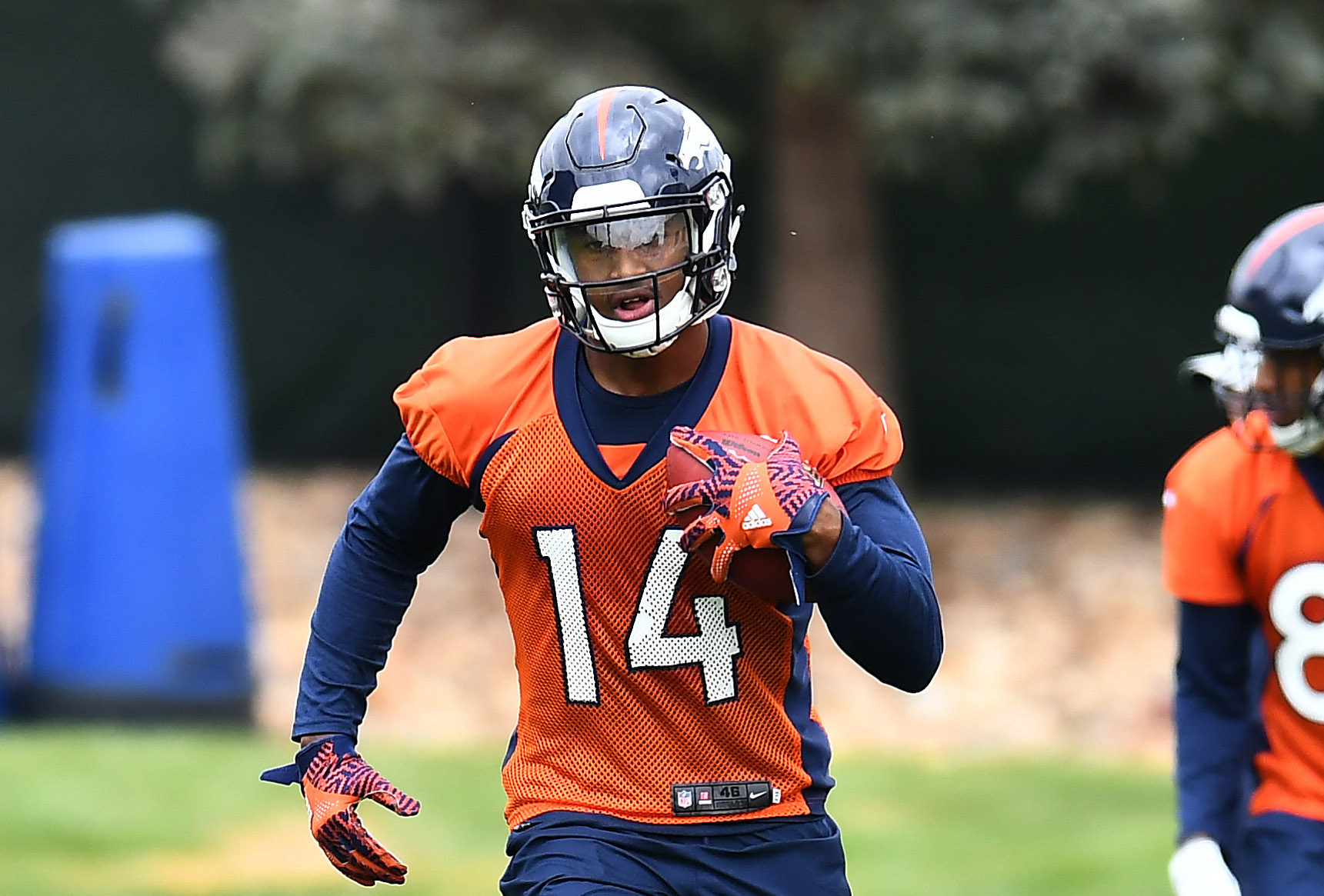 The Denver Broncos did not have a receiving issue last year; they had a depth issue.
Demaryius Thomas and Emmanuel Sanders are one of the better wideout parings in the league, but they did not have enough threats surrounding them to fully maximize their talents. That allowed opposing defenses to key in on the run game and use zone schemes in the defensive backfield to stymie Thomas and Sanders, who were consistently double-teamed last season. If the Broncos were able to get production from any of their receivers or tight ends beyond Sanders and Thomas, their offense would have looked significantly more competent last season.
Sanders and Thomas accounted for 39.2 percent of all receptions made by any players on the Broncos' roster last season with a total of 130 catches between them. After Sanders and Thomas, there was only one other wide receiver or tight end who recorded more than 20 catches all year — Bennie Fowler — and he had only 29 catches. Virgil Green led all tight ends in receptions with just 14. With that minuscule amount of production over an entire season, why would any opposing defenses key in on any other receiving threats outside of Thomas or Sanders?
General manager John Elway understood this and made the necessary moves to add more weaponry to the Broncos' offense. Elway started his quest during the 2018 NFL Draft, when he selected Courtland Sutton and DaeSean Hamilton with the 40th and 113th picks. Now that each of them have taken the field to prove themselves, both Thomas and Sanders are taking notice of their talent.
Both Sutton and Hamilton have been making high-level plays throughout training camp and they now look to be in line for a sizable chunk of playing time once the regular season arrives. Thomas and Sanders know this and have spoken to both Sutton and Hamilton about how important their roles will be next year.
"Me and D.T. told them yesterday, 'Hey, we're going to need you guys to step up,'" Sanders told DenverBroncos.com. "You never know what's going to happen throughout the season. There's going to be times [on] third down and five, we're going to need Courtland to come up with those big-time catches. We're going to need DaeSean to come up with a big-time catch. We need those guys. And they understand that."
It isn't just Sutton and Hamilton's fellow receivers speaking highly of them either. On the other side of the ball, Bradley Roby has spoken highly of both newly drafted wideouts as well.
"Courtland and DaeSean are great pickups," Bradley Roby told DenverBroncos.com. "I really like Courtland a lot. I think he's going to help us a lot this year. He's a big guy, but deceptively fast. He's decent off press [coverage]. He has great, solid hands, and that's all you really need at this level; you've got great quarterbacks that are going to get it to you. He's a big body that can go get it. [Hamilton] is more smooth, a possession-type of receiver. He gives you some good shakes and stuff. I think they were great pickups."
Even with the compliments coming from their defensive counterparts, Hamilton is in the business of improving and that is all that is on his mind.
"[The cornerbacks] haven't told me anything, and honestly, I don't really want them to tell me anything positive," Hamilton said. "I just want them to tell me things that they can see that I can do to get better. I want them to tell me stuff that I should have done on a rep that I went against them and stuff like that."
That is what makes the Broncos drafting of Sutton and Hamilton so exciting. Both young wideouts are just looking to make their mark. They understand that they are rookies and have a long ways to go in terms of gaining the respect of their teammates, coaching staff, and fellow NFL peers all around the league.
That also percolates into their relationship with newly acquired starting quarterback Case Keenum. When Sutton was asked about relationships with his quarterback, this is what he had to say.
"Whoever's throwing the ball, my job is to make them look good," Sutton told DenverBroncos.com. "If the ball is perfect, if the ball isn't perfect — my job is to make them look good, and that just comes with the territory of being a receiver. I don't really think too much into who's throwing it; I just go out there and make sure I'm executing what I'm supposed to be executing, being in the spot that they need me to be in, so that when they want to get rid of the ball, I'm in the spot that I'm supposed to be in."
Sutton just wants to make his mark, and that is exactly what he is doing. Both Hamilton and Sutton are showing that they can produce at an NFL level. Now, all that is left is to take the field and help the Broncos get back to the playoffs.