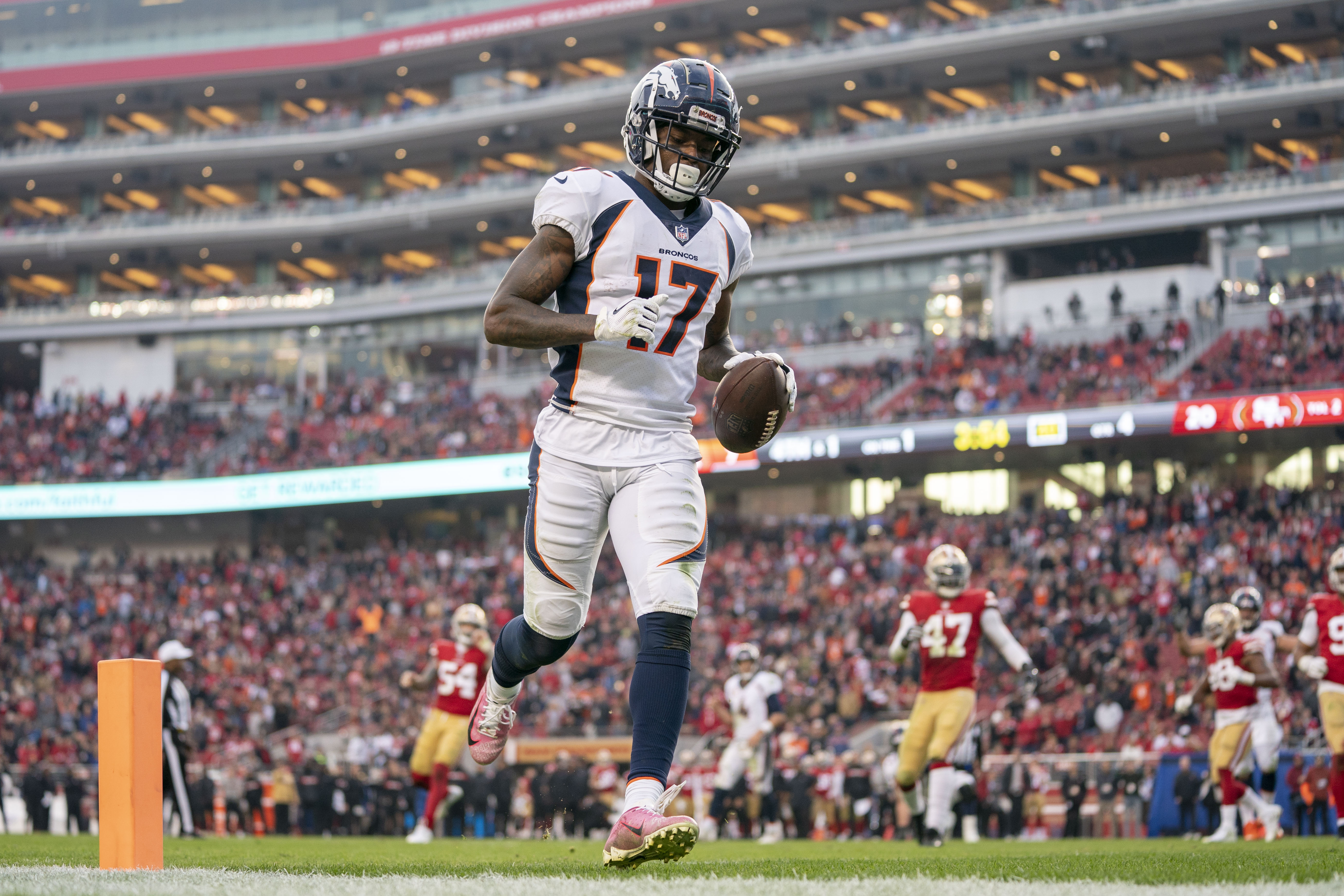 The Denver Broncos opted to trade veteran wide receiver Emmanuel Sanders to the San Francisco 49ers earlier in the week, opening a door for the rest of the receivers on Denver's roster to increase their impact.
With the departure of Sanders, the Broncos will look to Courtland Sutton and DaeSean Hamilton to step up within the offense.
Sutton will take over as the Broncos primary receiver; however, the battle for the No. 2 spot is somewhat up for grabs. While Hamilton has been penciled into that role, he has by no means solidified it according to head coach Vic Fangio.
"We'll see," Fangio said of if Hamilton is ready for a larger role. "I just like to see a little more umph in his play. You know what I mean? Just a little more umph."
Hamilton has grabbed 11 receptions for 106 yards this season, but his shining moment of the year was a drop in the endzone during Denver's Week 1 loss to the Oakland Raiders.
With Sanders now gone, Hamilton looks forward to solidifying his spot within Denver's receiving core.
"That's what I came into the NFL for," Hamilton said. "If somebody is not ready for an opportunity like this, then I don't know why they're even in the NFL or what they're even playing for. This is something that people look forward to. This is what many people wish they could do. It shouldn't even be a question whether I'm ready. At this point the question is, 'How fast can I get started.'"
Hamilton is in his second season out of Penn State and has yet to showcase his talents on the gridiron properly. Everyone around Dove Valley knows Hamilton possesses talent, but he has seen limited action since coming to the Broncos.
Now that he is expected to see his role increase, Hamilton looks forward to proving why he can be a steady receiver in the NFL.
"Obviously, it's frustrating not getting the ball," Hamilton said. "You're a receiver, and it's your job to get the ball and make plays, but I can't dwell on that, and I can't really change that. I don't call the plays, I don't put the ball in my own hands, and I don't throw the ball to myself either.
"Like I said, now with this opportunity there's obviously no choice but to go out there and make plays and produce and do what I'm supposed to do out there," the young wideout continued. "The excitement is through the roof. I'm more than excited to get started, more than excited for this opportunity. Like I said before, I think it's going to be great."
The Broncos will move forward with a young duo at receiver, but both Sutton and Hamilton learned a lot from veterans like Sanders and Demaryius Thomas. Despite being young, Hamilton learned the ropes of playing receiver in the NFL from his predecessors.
"I learned a lot," Hamilton said. "He taught me basic nuances, him and 'D.T.' (Jets WR Demaryius Thomas) both. They taught me little nuances. They taught me and [WR] Courtland [Sutton] and a lot of other here just little fundamentals, different little veteran tricks that have obviously worked for him in his career, and that's obviously going to continue to work for him. Emmanuel taught me basically the different things that he sees on the field, how he sees it, the way he plays, the way he does things, and why he does and things of that sort.
The Broncos will try to remain competitive this season while also taking a look at the talent on their roster. With Sanders now gone, the stage is for Hamilton to show what he can bring to the table within Denver's offense.