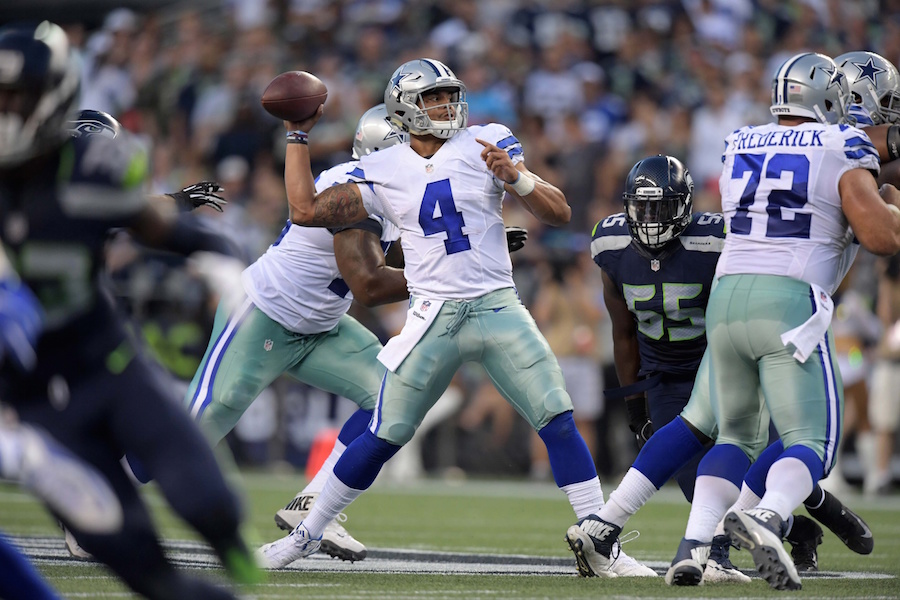 Football season is back, and so is daily fantasy.
Every week, we'll be breaking down each position, giving you the information you'll need to select the best daily fantasy team you can on Sunday.
Today, it's the quarterbacks (all prices courtesy of DraftKings):
DraftKings' Top-10 Quarterbacks for Week 1:
Best Value: Dak Prescott ($5,000)
This is a definite risk, but let me name a few quarterbacks who cost as much as Dak Prescott this week: Josh McCown, Matt Cassel, Dan Orlovsky, Kellen Clemens, Brian Hoyer and a ton of other non-starters.
$5,000 is literally the cheapest price DraftKings will give a quarterback, and it's reserved for backups; you may not find another starter this season at such a cheap price.
Now, of course, Prescott could turn back into a pumpkin Week 1, but if has so much as a solid game, he could win you the week. Not because of his points, but because of the massive amount of your budget your allowed to spend elsewhere.
Most Overpriced: Drew Brees ($8,100)
I'm not fully on board the Raiders hype train, but I'm definitely aware of it. And if they're half as good as some people believe they are, that defense could provide some serious trouble for Brees and the Saints offense.
Right now, New Orleans' offensive line looks to be a mess, and with Khalil Mack lining up opposite of them, don't be surprised if Brees spends more time on his back than he does in the end zone.
This isn't exactly an injury update, but you should be treating it as if it is.
Sam Bradford was traded to the Minnesota Vikings this week to fulfill one purpose: be the starting quarterback. Unfortunately, with so little time to prepare, it's going to be a tough task to get him out on the field on Sunday.
Whether it's him or Shaun Hill, you probably don't want to be starting a Vikings quarterback anyway, but if you have an urge, just keep your ear to the ground.
---
If you're itching to get your fantasy season underway, make sure you sign up for DraftKings' Week 1 Fantasy Football Millionaire Contest! They're giving away $5 million in prizes, including $1 million to first place, and you can enter for free with your first deposit.
Spots are filling up fast, so enter now!