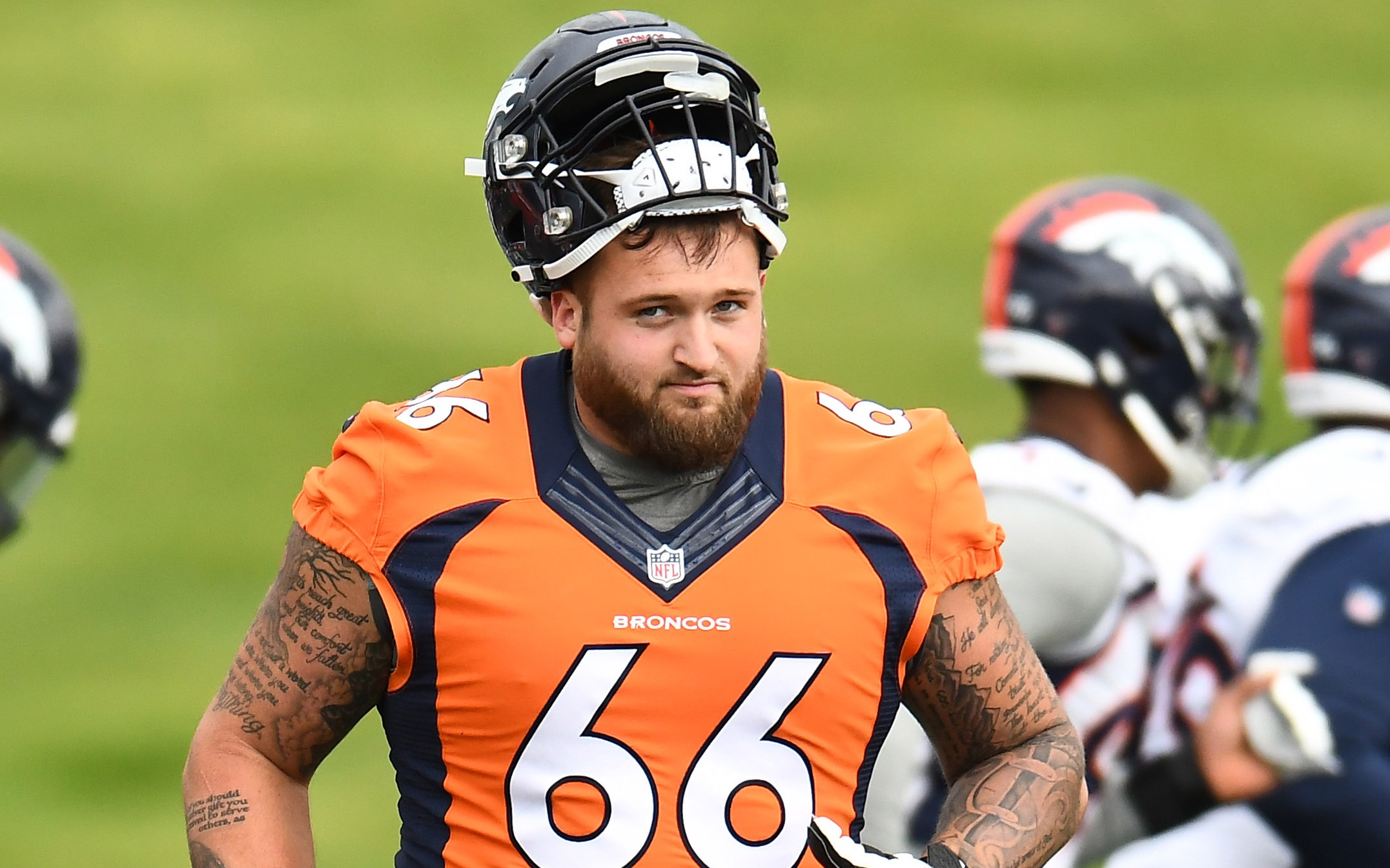 The Drew Lock hype train has left the station, and the conductor is guard Dalton Risner.
Risner and Lock were drafted together in 2019, each in the second round. One season into their prospective careers, Risner looks to be a star guard and the future of Denver's offensive line. And according to him, Lock may just be the future of the quarterback position in the Mile High City, too.
"When it comes to Drew, I think he deserves the hype," Risner said on Thursday. "He played five games last year and proved that he was about it."
Notably, down the stretch last season, the Broncos went 4-1 with Lock as the starter. He was an immediate injection of excitement for Denver's fanbase as well as his offensive teammates. Lock is still a raw talent, even if he does display a strong arm, mobility and an infectious energy on the sideline. According to Next Gen Stats, Lock excelled in the middle of the field, but he struggled on deep balls along the sideline.
Risner acknowledges the young quarterback has a long way to grow, but he's also confident his gunslinger is up to the task.
"I think he has a lot more to prove this year, and I know Drew is going to step up to the plate and do that," Risner continued. "He's worked extremely hard off the field this year during the offseason, and since he's shown up, I've seen more of a leadership side from Drew. I'm extremely excited to see what he does."
Of course, Lock has a way to go in terms of being a polished quarterback, and his opportunity for growth extends to the leadership side of things as well. For Broncos fans, hearing he is leading his offensive unit more is hugely positive.
Quarterback is the quintessential leader in American sports, the focal point of the offense and usually, the entire team. When he shines bright, he's the hero. And if the team struggles, he's the goat.
And quarterback is uniquely difficult for so many reasons; some can sling the pigskin like none other, but they shrink in terms of leading their older teammates. Some are great leaders, but don't have the necessary physical tools. Only the greats possess a combination of both.
If Lock is to excel this season strictly in terms of his play, the offensive line needs to step up and protect him.
"As an offensive line, we've got to take [protecting Drew] upon ourselves," Risner said. "I don't just say that with no weight. That carries some serious weight with me. I want to be able to protect Drew this year and I want to be able to give him time to make those plays."
Denver's offensive line is without a doubt one of the weaknesses on this 2020 roster. Risner may be a sure-fire stud on that ever-evolving offensive line, but Garett Bolles is a huge question mark who's accrued far too many penalties and at costly times, during his short career. Graham Glasgow comes in as a veteran presence at right guard whom Risner said he's learned from this offseason.
And finally, Ja'Wuan James opted out of the season, so Elijah Wilkinson is penciled in as the starter at right tackle even though he was just activated off the PUP list. Denver is expected to sign a free agent tackle, and they hosted Demar Dotson yesterday at Dove Valley.
Certainly, the outsides of the o-line are the biggest uncertainties, and the new group needs to jell quickly in order to function as a unit to not only give Lock time to make plays, but to open up holes for Melvin Gordon and Phillip Lindsay, too.
If everything goes as planned — which is difficult to anticipate during a pandemic — the Broncos will kick off their 2020 regular season hosting the playoff-caliber Tennessee Titans on Monday Night Football, Sept. 14.