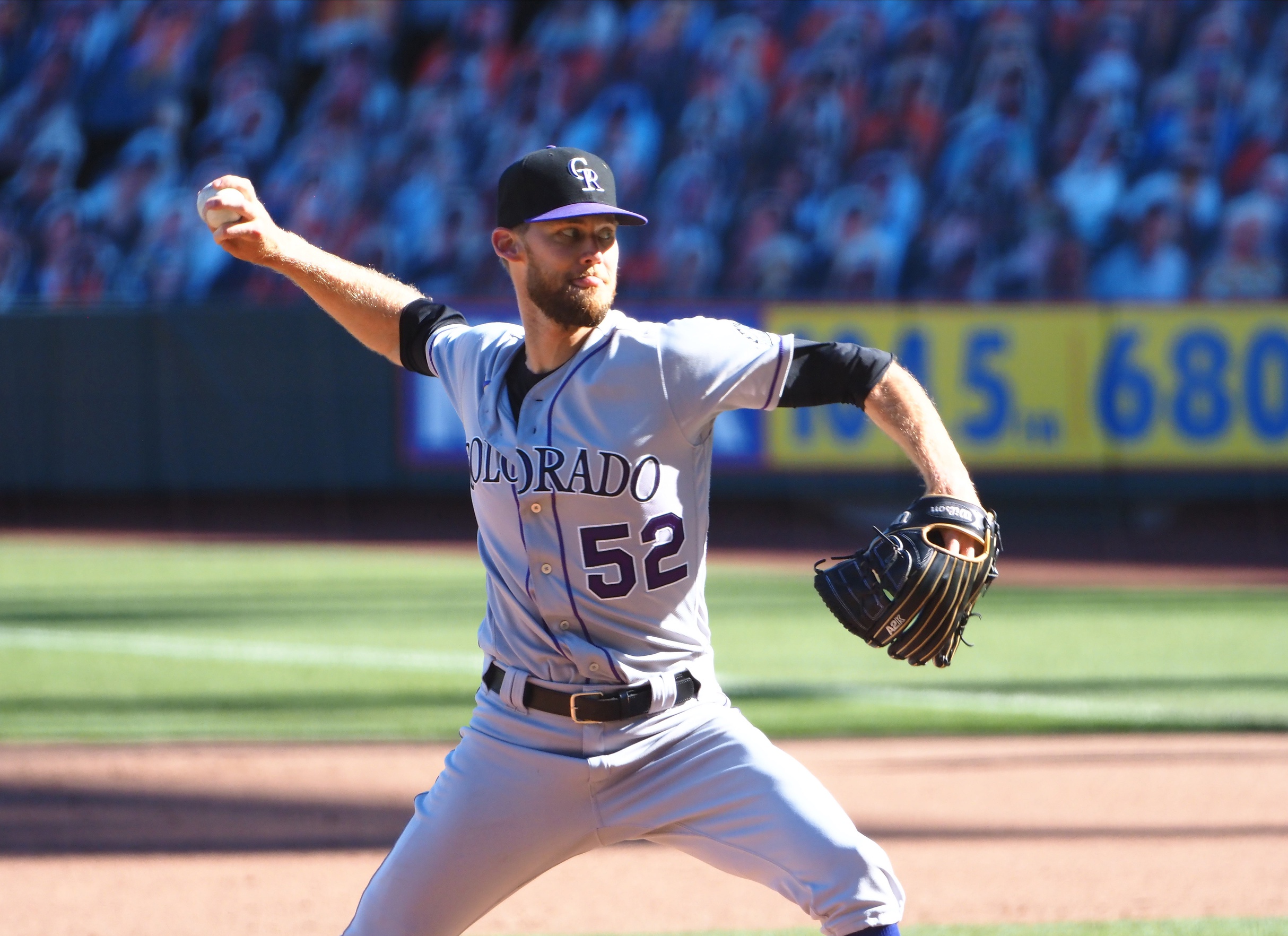 Not a lot has gone right for the Colorado Rockies over the past couple of calendar years. Between the time Nolan Arenado signed an eight-year extension and now, the Rox have suffered through two dismal seasons, alienated Arenado, lost two-thirds of what was already one of baseball's smallest analytics teams, and parted ways with some beloved players.
Another thing that went wrong was the Rockies' bullpen. Each of the team's three big post-2017 relief additions are either pitching elsewhere or nowhere, and all three are doing so a combined $100 million or so richer. Meanwhile, Colorado's relief corps owns a collective 5.58 ERA during that time. Yikes.
But Colorado received some welcome positive news on Thursday, when Daniel Bard earned National League Comeback Player of the Year honors. Bard, whom the Rockies acquired in an under-the-radar move last offseason, finished 2020 with a 3.65 ERA in 23 appearances. He struck out nearly 10 batters per nine innings en route to ending the season as the club's closer. And, of course he did all of that despite not pitching in the majors since 2013.
Bard's success story is a good reminder of how baseball teams can best build their bullpens. Six of baseball's top eight bullpens in terms of WAR in 2020 came in under the league-average figure in bullpen spending. The Rockies were in that mix, too, but only because it doesn't include what they had to pay Wade Davis, Jake McGee, and Bryan Shaw to go away. This time around, the Rockies have opted to forgo spending big money on relievers in favor of trying to find diamonds in the rough.
Colorado in the last week added a pair of promising young arms to its relief staff. The Rockies first acquired, in a trade with the Boston Red Sox, left-hander Yoan Aybar. The 23-year-old minor leaguer is a converted outfielder who has struck out almost 11 batters per nine innings across two seasons a pitcher. Aybar is rough around the edges, as his 5.8 BB/9 would suggest. But it's not a bad move for the Rockies to bank on his ability to miss bats and find his command as he goes.
The same could be said about Jordan Sheffield, whom the Rockies took in the Rule 5 Draft on Thursday. Sheffield, a 2016 first-round draft pick, transitioned into a relief role late in 2018 after struggling as a starter. The 25-year-old right-hander posted a 3.27 ERA in 55 innings across two levels in 2019. He struck out 12.1 batters per nine innings, but his 7.0 BB/9 rate stood out like a sore thumb. Like Aybar, Sheffield has a chance to be a good gamble—especially when considering both will get the chance to work with pitching coach Darryl Scott, who was instrumental in the success of the last batch of Rockies pitching prospects to reach the majors.
The Rockies have a history of making the most out of bargain bin relievers. The same can't really be said about the big-money pitchers who have signed with the team. The current iteration of the team has so many holes in the lineup and at the back end of the rotation that it would be ill advised to spend a bunch of money to shore up the bullpen, a position group that is volatile in nature and prone to sample-size weirdness anyway. Whether that money will be spent on other areas of need is a different discussion, and one that will certainly unfold as the fallout of an underwhelming week of winter meetings continues.