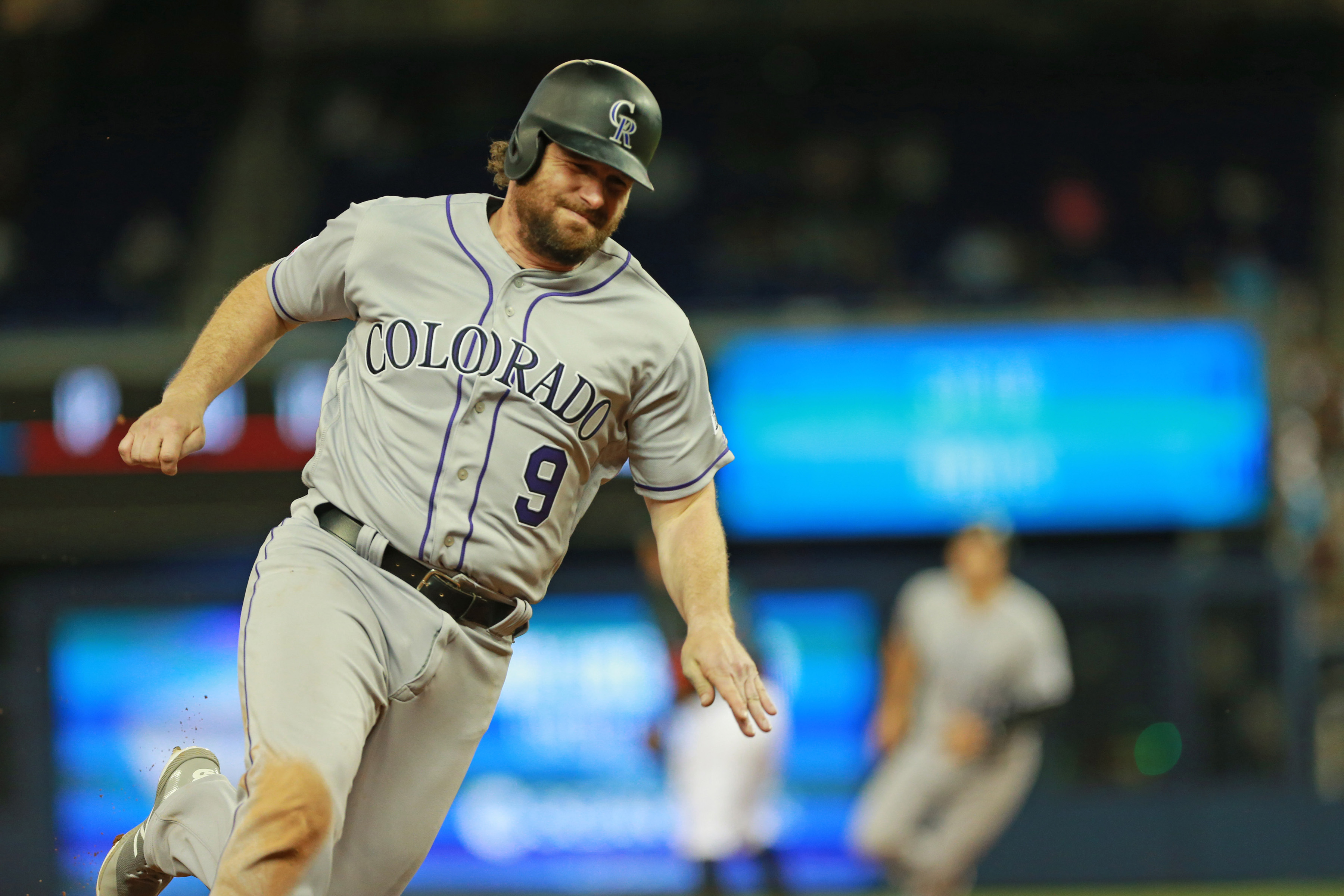 Daniel Murphy was signed by the Colorado Rockies to lock down first base and add balance to a lineup that is lean on power.
The two-year, $24 million contract Murphy inked was the lone transaction the club made in the offseason to improve their 40-man roster.
The veteran infielder was expected to make a significant impact for the Rockies from the jump; however, after just two games played in 2019, Murphy was placed on the injured list with a fractured left index finger.
Murphy's injury was one of many the Rockies' would deal with over the first few weeks of the season, but as the club has meandered further down the lengthy regular season trail, they have been getting closer to full strength.
And now Murphy is closing in on a return.
Murphy made his first rehab appearance with the Albuquerque Isotopes Saturday night, taking five at-bats and playing seven innings.
Manager Bud Black would not provide a timetable for his return but did acknowledge that it depends on Murphy's comfort level both mentally and physically. That said, there is an expectation Murphy could return within the next week or so.
"We talk to the players about how they are feeling, what they need (in order come back healthy)," Black said Sunday. "The big question is, 'Mentally do you feel good about coming back at a particular time whether it's one game or 10 games (rehab)?'"
Black elaborated saying hitting is not an issue for "Murph" at this time, it's his ability to field and catch balls without pain or discomfort.
There is no magic formula the Rockies deploy during the rehab process as every injury, player and situation is different. However, with veteran players like Murphy, there is an established line of communication throughout the entire process with a players' input playing a significant role when deciding a return date.
"Every situation is unique but with most veteran players they know themselves really well," Black said. "I think a lot of times the conversations with the front office, coaching staff and player, there is a level a trust there."
Winners in six of their last seven games, the Rockies are playing solid all-around and are eager to get Murphy's bat back in the everyday lineup to further their success at the plate.
A pure hitter with gap to gap power, Murphy is a perfect complimentary bat to sluggers Nolan Arenado and Trevor Story. Murphy's bat is versatile and can be pegged anywhere in the lineup, though, he has primarily hit between the 2-5 spots, owning a career .299 batting average.
The 34-year-old has a career .306 batting average when hitting second, and a mark of .329 as a cleanup hitter.
Aside from maintaining a high batting average throughout his career, Murphy's biggest strength is his ability to lengthen at-bats, put the ball in play and avoid striking out. The Rockies have lacked discipline at the dish so far this season, owning a strikeout percentage of 26.3% which is the second-highest mark in the National League behind the pitiful Miami Marlins.
"The nature of his at-bat where there's a solid at-bat, controlling the strike zone, swinging at strikes, taking balls," Black said. "I think that has a tendency to carry over to the rest of the group."
Additionally, Black is confident Murphy's return will keep the Rockies' offense rolling and provide the rest of Colorado's hitters with extra confidence moving forward.
"His presence as an active player will be seen,"  Black said. "It will be subtle. It's tangible and hopefully, the quality of the at-bat rubs off on the other guys when they see him take his at-bats."