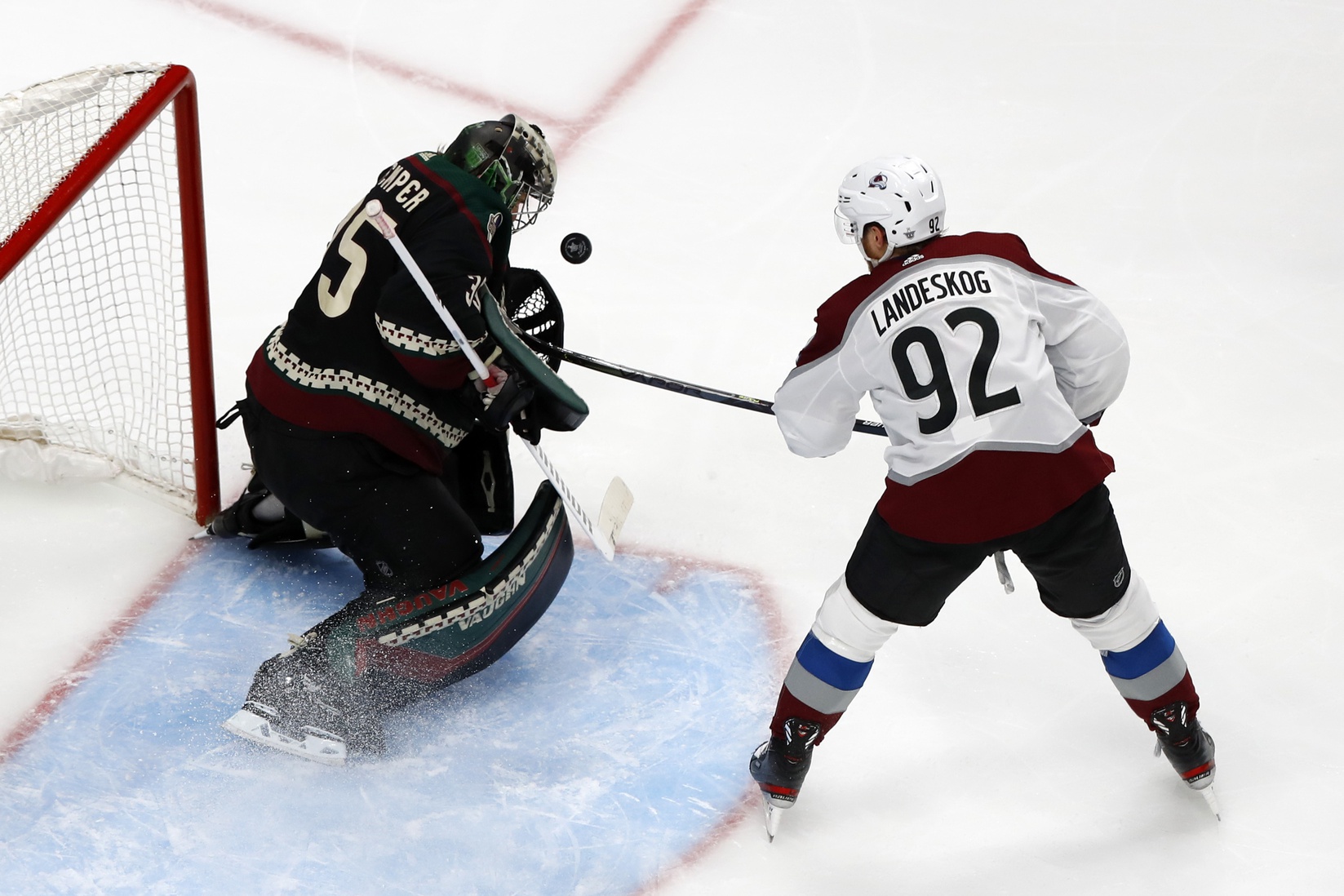 Before the series began, the Avalanche knew they were in for a battle against Arizona Coyotes goaltender Darcy Kuemper. What they weren't expecting was 49 saves on 51 shots.
Colorado threw everything it could at Kuemper on Saturday at Rogers Place in Edmonton, but the netminder held his ground to help the Coyotes to a 4-2 victory. Kuemper's performance pulls Arizona to within a game in the series (2-1) and ends the Avalanche's five-game unbeaten streak since the NHL restart.
"He made some saves for sure," Avs captain Gabriel Landeskog said. "I think we can still make it harder on him and get in front of him, take his eyes away. It's one of those things where you look back at the scoring chances we had tonight. Any other different night one of those goes in, or a couple of those. You can always say that about a game. We just got to stick with it. It's just as simple as that."
Colorado peppered the opposition with 20 shots in the first, 16 in the second and 15 in the final frame and surrendered just 23 all night, with two coming on an empty net. Despite the shot discrepancy, the Avs did not hold the lead at any point.
Pavel Francouz started for the Avalanche after starter Philipp Grubauer played the first two games. With a rare playoff back-to-back, Avs coach Jared Bednar decided to give his starter the day off. Francouz had only played one game during the round-robin, a 4-0 shutout over Dallas.
"I was pretty fresh coming into the game so I didn't have any issue to stay focused," Francouz said. "Obviously, it's tough when you're just standing there and hoping your teammates are going to score. So I was trying to stay in the game and follow every play."
Colorado trailed 1-0 until a goal from Andre Burakovsky after the midway point of the second period. Burakovsky was last in ice-time, playing just 11:03. Despite scoring on consecutive days, the Austrian-born forward is part of a group of middle-six wingers that are struggling to find consistency.
Without Vladislav Namestnikov in the lineup due to injury, Bednar shuffled Burakovsky and fellow wingers Tyson Jost, Valeri Nichushkin and Joonas Donskoi on the second and third lines. The coach was looking for someone to answer the call and step up consistently, relieving some of the load off of the top line and second-line center Nazem Kadri.
"I'm not looking for different options right now I'm trying to find chemistry," Bednar said. "I'll be honest that's the problem I've had with our lineup the past couple of games. This is playoff hockey, we need to play our best hockey and I think you can kind of group those guys together and say they got to be better. It's inconsistencies in that group. So I'm trying to figure out who's going and who's there to make a positive impact in the game. And I've been doing it for a couple of games now."
The Coyotes answered Burakovsky's goal with a late second-period tally from former Av Brad Richardson, eventually adding two empty netters with a goal from Colorado's Mikko Rantanen jumbled in between.
With Game 4 scheduled for 3:30 pm MST on Monday, Colorado's mindset is to continue to put the puck on net. The 92-39 shot-attempt domination was just a small measure of what Colorado is capable of. But according to Bednar, there are small changes that need to be made to capitalize on a higher volume of shots.
"We shot the puck really well," Bednar said. "We're going to have to find a way to get in Kuemper's eyes because if he's seeing it he's stopping it. We had a great night tonight. But you got to tip your cap to him and to the Coyotes. They forced us into a couple of turnovers and capitalized on them and we couldn't find a way to put enough goals in the back of the net even though we had chances."