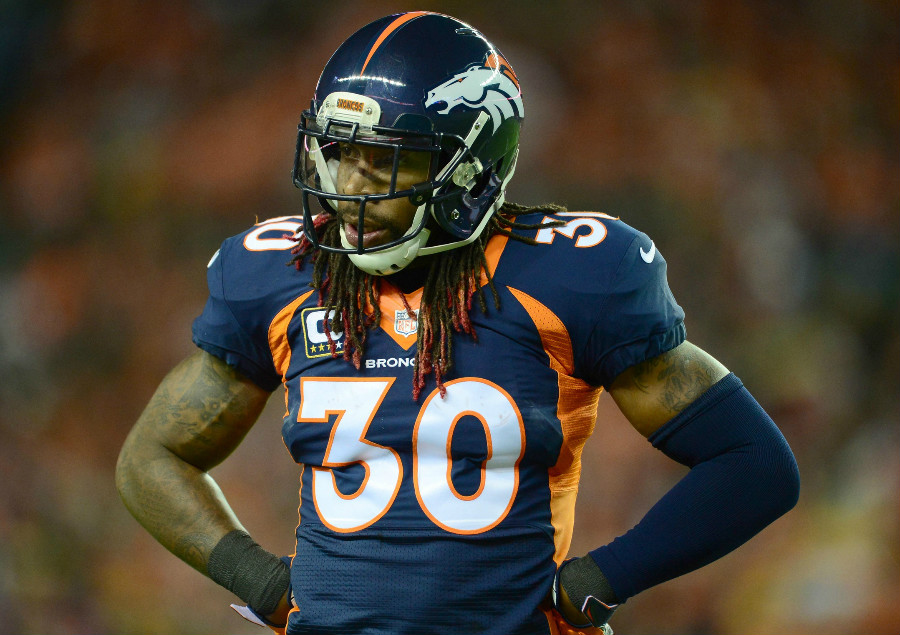 David Bruton isn't the most recognizable name in football. Even within Denver, some people may wonder who that No. 30 is wearing the "C" on his chest, especially in years past. But there is absolutely no question that the seven-year Bronco out of Notre Dame is one of the most important members of the franchise on the field, inside Dove Valley and out in the community.
And that makes his selection as the Denver Broncos 2015 Walter Payton Man of the Year all the more important.
DAVID BRUTON JR. NAMED 2015 DENVER BRONCOS WALTER PAYTON NFL MAN OF THE YEAR #gamer @D_Brut30 pic.twitter.com/NqOPLgnQUE

— Arran Andersen (@arranandersen) December 2, 2015
The David Bruton Jr. Foundation, specifically it's main program Bruton's Books, helps provide young, low-income readers with books and tutoring to help expand their reading ability. Bruton is also the Broncos' Western Dairy Fuel Up to Play 60 spokesperson, a role in which he helps motivate and teach kids how to lead a healthier life.
Against the Oakland Raiders on Sunday, December 13, the Denver Broncos and the NFL will recognize Bruton's efforts, and Nationwide will make a $10,000 donation to the charity of his choice.
A few weeks later, the NFL will announce the national award winner for the Walter Payton NFL Man of the Year at Super Bowl 50. Since the award's creation in 1970, only one Bronco has ever taken home the national award, John Elway in 1992.
And this weekend, Bruton will get another shot to shine, as he'll be starting in place of an injured T.J. Ward at safety. I think all of Broncos Country will be excited to see what their special team's captain can get done in a full-time role.