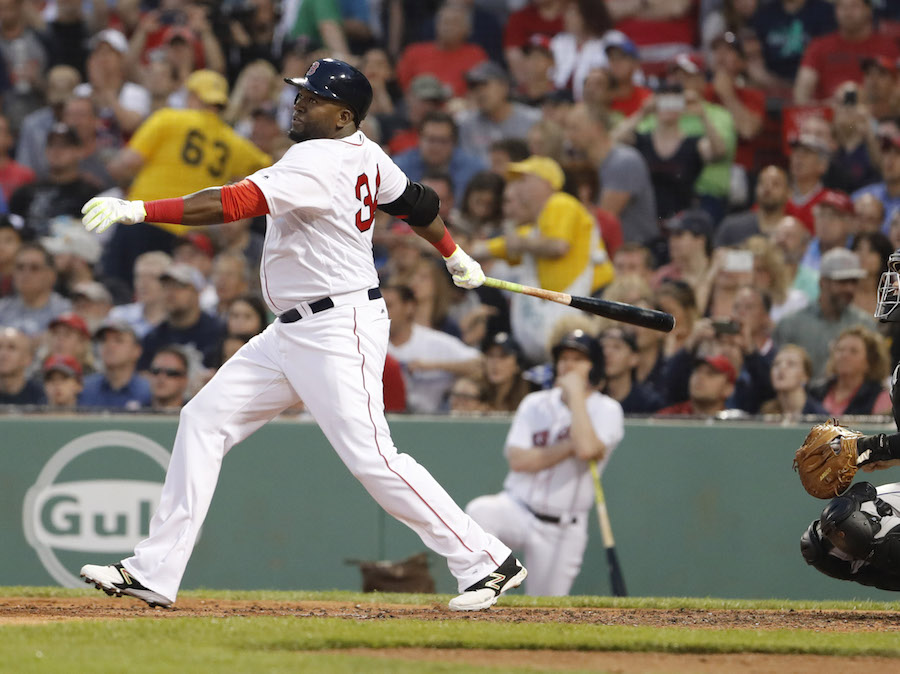 As David Ortiz launched his 22nd double of the season against Jon Gray and the Rockies Thursday night, the TV announcers continued to heap on unanimous praise: "No doubt first ballot Hall of Famer," they all said. That's big stuff. (All Ortiz did against the Rox was go 5-for-11 with a homer and eight RBI. Decent series.)
And "Big Papi" as he is nicknamed, deserves it. He's most certainly had a Hall of Fame career, which will come to end this October if his Boston Red Sox continue on the course they've charted thus far in the 2016 season. Ortiz has already announced this is his final season.
Ortiz has been an All-Star nine times, which isn't that easy when your primary position is Designated Hitter. More importantly, he's been a part of three World Series-winning teams, was a World Series MVP and an American League Championship Series MVP. He's blasted more than 500 homers in his 15-year career.
He's also been identified as a player who tested positive for Performance Enhancing Drugs during MLB's first "testing survey" in 2003. When the report surfaced in 2009, Ortiz denied the allegations, but could not offer any explanation, saying only that he took supplements and vitamins during that time.
MLB experts backed him up, noting that the survey – which was supposed to be anonymous and was not to be released to the public – was not 100 percent accurate. Baseball acknowledged that certain legal supplements that were available over the counter could have resulted in a positive test. (Once again, I'll ask out loud why everyday people can go to the supplement store and purchase HgH and other performance enhancing substances without a prescription and use them as they wish, but college and professional athletes, whom we pay to watch perform, can't do the same. I still don't understand that.)
The point here is not to impugn or disparage David Ortiz – who will be enshrined in Cooperstown where he belongs. It's to point out the double standard that exists within the entire world of the PED controversy. Let's be honest: If Ortiz had the same kind of cactus-like personality that Barry Bonds has, or the mouth than Roger Clemens has, or the slippery image that Alex Rodriguez has, the steroid allegations would get a lot more play, wouldn't they? Big Papi gives fans a warm and fuzzy, so any talk about steroids is pretty much dismissed. When was the last time anyone mentioned it?
So why can't we put aside – not forget, but put aside – the talk of PED use by other great players too, guys who with or without PED's would and should be in the Hall of Fame? I don't need stats – old school or the new sabermetic types – to tell me what a Hall of Famer looks like. I played with three and against a bunch more. If it walks like a duck, it's a duck.
For instance, it seems clear now that Clemens padded his career numbers and added some years to his pitching career by (allegedly) using HgH. Clemens won a staggering 354 games! Regardless of what he was taking, he still had to go out there and get out the very best hitters in the world, and trust me, that's never easy. Same goes for Bonds. Maybe he's not the legitimate home run king of baseball due to PED's helping him play at a high level for several extra seasons, thereby allowing him to catch Hank Aaron. I've got no love for the guy. He once went out of his way (I believe) to step on my foot when I beat him to first base on an infield ground out. Barry's not a good guy. But that does not change the fact that he's one of the greatest hitters ever – before, during and after his (alleged) 'roid use. He could have retired a half-dozen seasons before he did and been Hall of Fame worthy.
Neither career was an artificial product of steroids (like Jose Canseco, Lenny Dykstra and others were). Did some guys make more money and have longer careers because they used PED's? Probably. But no one is mentioning Bret Boone for the Hall of Fame, now or ever. Getting to Cooperstown is still about talent.
Regardless of whether or not Ortiz dabbled in PED's a dozen years ago, he has still gone out and competed and succeed against the best pitchers on the planet night in and night out for parts of 20 years and been able to reach the top of the mountain. If his success is a product of steroids, why didn't Canseco have the same kind of career?
PED's didn't make Big Papi a Hall of Fame player, talent did. And (alleged) PED use should not stop Bonds, Clemens and A-Rod from being ones, either.