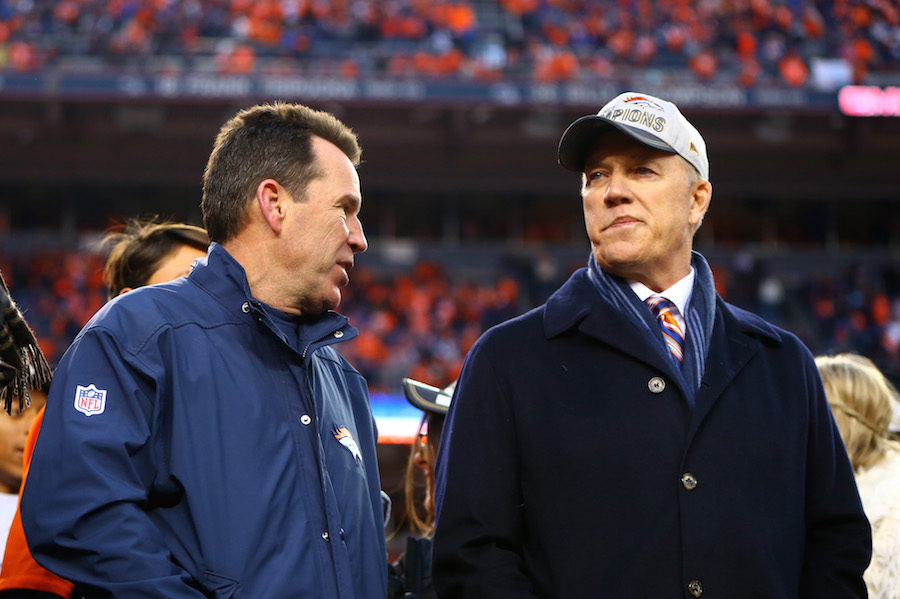 Take everything you know about Denver Broncos football and throw it out the window. It's the dawn of a new era in Broncos Country.
With the knowledge that Gary Kubiak intends to step down as head coach, this team now belongs to one man, and one man only: John Elway. And when Elway's running the ship, it takes whatever course he pleases, for better or worse.
If Kubiak remained head coach, he would have fought for his coaches' and coordinators' jobs; he would have fought for Trevor Siemian, too, quite possibly. With him out of the picture (not necessarily a good thing), Elway has no barriers; if he wants something or somebody, the only person he needs to consult is himself, and that could lead to full-scale changes.
Elway is the type of guy who chews out a Broncos locker room after a preseason loss. What do you think he's going to do after his team misses out on the playoffs for the first time under his leadership?
When he felt his team lacked a playoff-caliber starter, he brought Peyton Manning to the Mile High City. When he felt his offense lacked that final piece, he found a way to get Wes Welker in the orange and blue. When he saw his defense falter in the Super Bowl, he created one of the greatest defenses in NFL history through free agency. And when he felt that his team lacked the toughness and leadership to reach their fullest potential, he fired John Fox and brought in his old friend Gary Kubiak.
Following the team's embarrassing loss to the Kansas City Chiefs, Elway made it clear that there would be substantial changes to the franchise, both on the field and within the coaching staff. The Kubiak news only underscores that. And if the past is any indicator, No. 7 won't be looking to take any half measures.
Over the last two seasons, here's what we've come to know about this team:
— They rely on a dominant defense to win games
— Their offense is, well, very bad
— Every game they play comes down to one or two plays that could swing their season dramatically
Simple, but that's their DNA. And it could all change in the offseason.
Elway will be tasked with filling (arguably) the two most important positions on a football team — quarterback and head coach — and that's just the start. The Broncos are projected to have nearly $40 million in cap space this offseason, and with a few roster decisions, that number could jump up to $50 or $60 million.
That's enough to rebuild an offensive line, find a veteran quarterback and then some.
But can he do it?
Elway has faced a good deal of criticism over the last six months, and rightfully so: His drafting has been less than stellar, the "improvements" to his offensive line turned out to be massive disappointments and he failed to secure a legitimate Peyton Manning successor.
Once again, No. 7 has been gifted an opportunity to craft the team he wants — new coach, new quarterback, new coordinators, new linemen, whatever. Only time will tell what it will look like, and whether it works.