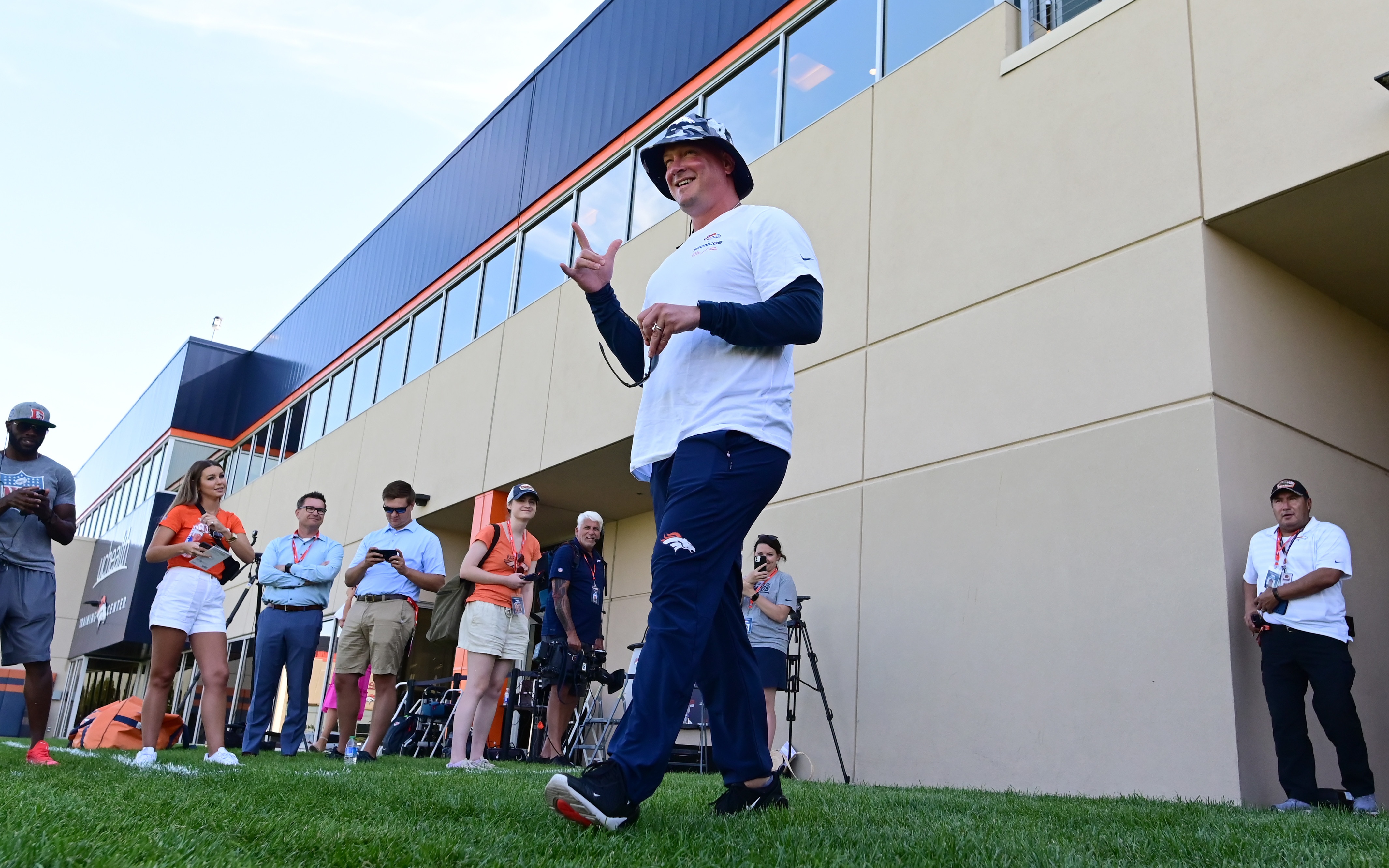 The pace on the third day of Denver Broncos Training Camp was much different than the first two days.
For Broncos Head Coach Nathaniel Hackett, it's a marathon, not a sprint.
Day 3 Observations at Denver Broncos Training Camp
The sun was back at the UCHealth Training Center as more than 3,000 Broncos fans sat on the hill in Dove Valley to watch Russell Wilson and the Broncos' offense.
Today's pace of action focused more on preserving the player's bodies after two days of non-padded intensity.
For the Broncos' offense, they spent time working on the timing of their routes and various concepts that they'll unveil against opposing defenses throughout the season.
Jerry Jeudy was the day's offensive star as Wilson looked in his direction often. The Broncos' third-year receiver continues to build ahead of this upcoming season.
"Me just being better than I was last year," Jeudy said on Friday. "Making all the plays that come to me, just winning, winning every game and just doing my part."
Jeudy believes that the Broncos' new additions and changes this offseason will be beneficial for the team as they work to restore the winning culture within the organization.
"We have all the pieces," Jeudy said on Friday following practice. "We just added 'Russ' and the new coaching staff, so I'm excited to see how the season goes this year. We just have to put all the pieces together."
Nathaniel Hackett emphasizes the importance of practicing smart
The energy on the practice field for the first two days of practice was electric and upbeat.
Today was a little different due to the pace, but it was positive in terms of preserving the players through the grind of training camp.
The Broncos will throw the pads on Tuesday of next week as they begin to ramp things up ahead of their first preseason matchup against the Dallas Cowboys on Aug. 13.
After Friday's practice, Broncos head coach Nathaniel Hackett shared why he changed the pace of today's practice.
"What was even better was that we did a jog-through today," Hackett said after Friday's practice. "That was kind of a test for me because to be able to get through this entire season you have to learn how to practice with that jog-through mentality. We want a little bit more than our typical walks at night, so this was truly a test. We've never done that before with helmets on and see that."
Another day of Broncos Training Camp is in the books! @CodyRoarkNFL has you covered with the big takeaways from Day 3! #BroncosCountry pic.twitter.com/PvC1thrlVc

— Mile High Sports (@MileHighSports) July 29, 2022
Throughout his tenure as a coach in the NFL, Hackett learned in Green Bay about the three-day rule when it comes to practice.
"My philosophy has always been—I learned this while I was with Green Bay, I thought it was awesome—it's always about those three days. Three days is when all kinds of bad stuff happens. I have acknowledged that after all my years then all of a sudden you see those things happen. So, you want to be sure you can get them fresh, so you can go back real hard on that fourth day. So that's what we will do continuing as we move forward. We'll just make sure that we go nice and hard a couple days and always have a little refresher to get their legs back."
It's a marathon, not a sprint and when it comes to player safety, that is a redeeming quality that Hackett has as a transformational coach.
Hackett and his staff want to preserve the bodies of the players in hopes of having them available all season long.
Broncos fan-favorite veteran retires
Outside of Friday's practice, veteran defensive lineman Derek Wolfe signed a one-day contract, retiring as a member of the team.
Wolfe attended Friday's practice at the UCHealth Training Center and made his rounds around the field talking to players, and coaches, celebrating with the crowd with his patented sack celebration one final time.
"It just reinstilled the reason I love the city so much, it's them," Wolfe said. "They're the greatest fans in the world. They stick by you no matter what.
Broncos Country will forever be grateful for Wolfe's impact in his eight seasons as a member of the Denver Broncos.
What to look forward to on Day 4 of Denver Broncos Training Camp
After a slower-paced day on Friday, Saturday's Day 4 practice will be sold out with a jam-packed crowd for the NFL's Back Together Saturday celebration.
Various position battles on the offensive line and at several backup positions will be under the microscope.
The emphasis on touchdowns versus takeaways with the Broncos' first-team offense led by Russell Wilson and defense led by Patrick Surtain and Justin Simmons continues.
Things are beginning to ramp up for the Broncos as they prepare for their regular season opener on the road against the Seattle Seahawks on Monday Night Football.