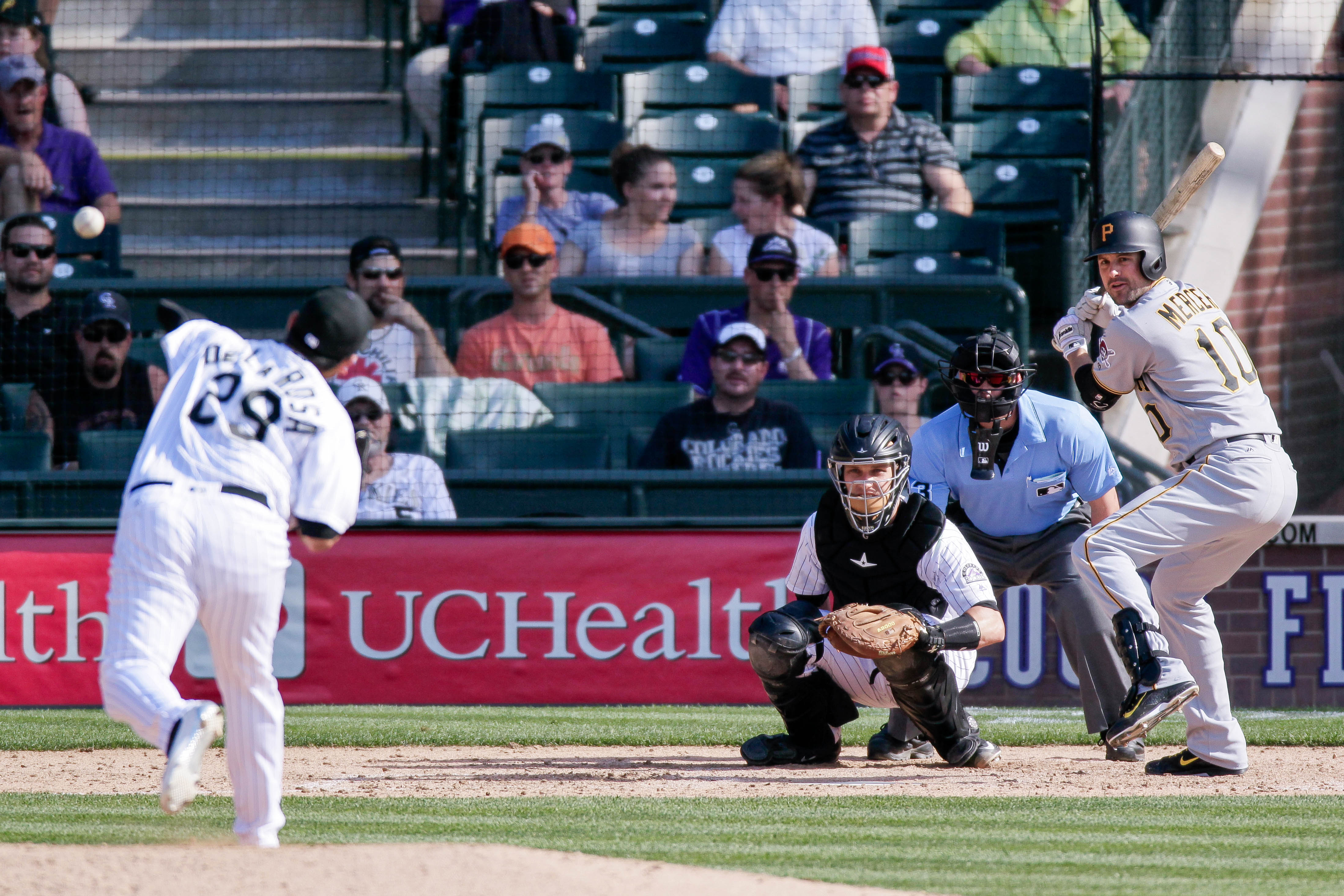 Before the rescheduled game against the Pirates in which the Rockies won 11-5, Nick Groke of the Denver Post joked with Walt Weiss that Chad Bettis was his hero. Weiss looked at Groke puzzled and questioned for a deeper explanation. Groke clarified that he was his deadline hero for how quickly Bettis works on the mound.
"I was going a lot of different ways with that but he's my hero too," Weiss said. "We love how quick he works but sometimes we have to get him to slow down a tick. Because sometimes he starts to work really quick and sometimes it will leak into the delivery."
That quick delivery didn't translate into the type of performance Rockies fans have been accustomed to seeing from Bettis this season. He gave up seven hits and four earned runs and when he left in the third the Rockies were leading 6-5 after sporting a five-run lead in the previous inning.
Bettis commented postgame on how much better his command was in his last start in San Diego, but overall in the past four starts it has been wavering.
"I don't think I had very good command of my slider today. My teammates picked me up and [Jorge] De La Rosa came in and did a great job. So hats off to him," Bettis said.
De La Rosa was the true star of this game that was originally scheduled for April 28. He looked like the best pitcher in franchise history again, going a career-high four innings out of the bullpen with no hits and five strikeouts.
Weiss said that it has always been the big picture plan to get De La Rosa back into the rotation if he has more appearances out of the bullpen like this one. Pitching coach Steve Foster and bullpen coach Darren Holmes have given Weiss good reports of how well De La Rosa has been operating out of the pen commenting on how he has more confidence in his curveball. The split-finger fastball he used against the Pirates was especially devastating.
"These are the things we talked to him about when we took him out of the rotation and he's embraced it," Weiss said. "He looks like himself again. It's a tough pill to swallow for a guy who has been the best pitcher in franchise history. He's handled it well. He went back to the drawing board and he's in a good place."
De La Rosa was not available to the media but his battery mate Dustin Garneau attributed his exceptional bullpen appearance on the lefty's demeanor.
"He was on today. He seemed confident. The big breaking ball man. He worked a little quicker. He had a plan for each guy. The biggest thing today was that he was attacking the zone with all of his pitches. He wasn't shying away from anybody," Garneau said.
After most of the team got to bed around 4:30 a.m. coming back from a road trip in L.A., Nolan Arenado was extremely appreciative of De La Rosa's performance.
"It makes us feel great [De La Rosa] pitched well because we had the lead and then it got close there. I was like this can't be happening on a day like this. We needed to win this game. For him to come out this way he gave us the confidence to score more runs. We're still dead tired but it doesn't change the job we have to do."
Since a week ago when Arenado had a public outburst in the dugout in San Diego, he reiterated that if he was going to do that, he would have to back it up. He has been batting .357 since.
"Listen, it is unacceptable to lose the way we had there for awhile before I blew up," Arenado said. "I want the fans to know I care. People may think I'm not in this for the long haul but I want to win. I want to win with these guys. Guys like DJ and Charlie who I've played with for so long."
Arenado said that he didn't express his emotions to get his team fired up. They were spontaneous and the emotions were building up. He said that sooner or later they were going to come out but he wishes that happened in a meeting rather than out in the open.
"I put pressure on myself all the time. I expect myself to help this team win. I have a job to do. I know how hard this game is and I know there are days that I'm not going to have success. I've just got to make sure that I am there mentally always. As long as I'm committed that's the best I can do."
Nobody is complaining about Arenado's passion for his team and it just might be changing the Rockies' fortune.