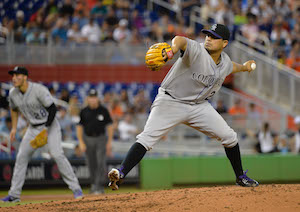 The Colorado Rockies made the one win matter in their weekend series against Miami. Colorado had dropped three of the first four games of the series, scoring just two runs over 27 innings before rebounding Sunday with a 4-1 victory that delivered Jorge De La Rosa's 73rd victory as a Rockie – a franchise record.
De La Rosa, who had previously been tied with Aaron Cook, held the Marlins to just one run on four hits over seven innings. Charlie Blackmon and Nolan Arenado each homered in the first inning, providing all the support De La Rosa and the bullpen would need to deliver the record-setting win.
Cook congratulated his former teammate following the game.
@Rockies congrats to JDLR happy for my former teammate

— Aaron cook (@Acook2828) June 14, 2015
After giving up leadoff hits in the first and second innings, De La Rosa cruised, allowing just those two hits into the seventh when he allowed a leadoff walk, two two-out singles and the Marlins' only run of the game. De La Rosa did not surrender a hit to Giancarlo Stanton in three plate appearances (he singled later off Tommy Kahnle), a key to the victory.
Stanton was 6-11 with two home runs and eight RBI in the first three games of the series.
Boone Logan and Kahnle combined for a scoreless eighth and John Axford earned his 12th save, remaining perfect in save opportunities on the year.
For De La Rosa, who spend his first five seasons with Brewers and Royals, the win was the 88th of his career. He is 73-47 in a Rockies uniform over eight seasons.
The lefty is now 4-2 in 2015 and moved his ERA below 5.00 on the season with the win.
Colorado heads to Houston on Monday for the first two games of a four-game home-and-home series with the Astros.