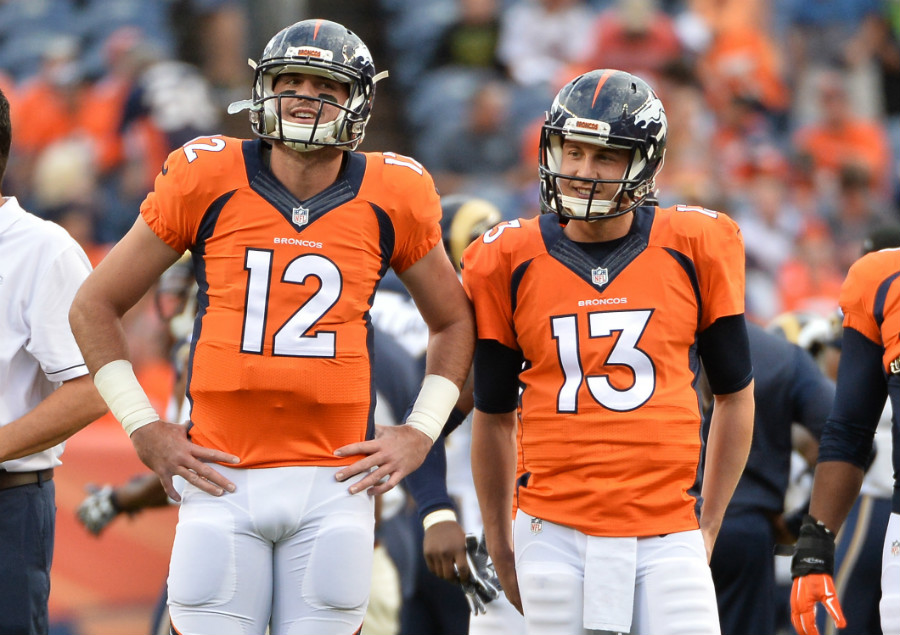 Debate is great, but some folks have turned this thing flat-out nasty.
Some Trevor Siemian fans treat Paxton Lynch fans like they're wearing Raiders black and silver.
Some Paxton Lynch fans treat Trevor Siemian fans like they're decked out in Chiefs red and white.
The insults are flying. The level of decorum is low. And this is the furthest thing from a healthy conversation. Siemian vs. Lynch has officially divided some of Broncos Country.
It's not going to get better anytime soon.
If Vance Joseph, John Elway and the coaching staff pick Siemian, fans of Lynch are going to be outraged. He's a first-round pick who has to, needs to, play in year two. At some point the Broncos have to figure out what they have in the kid out of Memphis.
Meanwhile, if Lynch is the choice, Siemian fans are going to be floored that a guy who went 8-6 last year lost his job to an unproven commodity who's having a mediocre camp. The Broncos can win now with this defense, dammit, and Siemian gives them the best chance to do just that.
Look, if you want a hot Siemian / Lynch take on who should win the job, just open Twitter, any Broncos blog, the newspaper or turn up your radio. This isn't going to be that.
This is about how utterly absurd it is that the 'situation' has reached this point.
Some Broncos' fans are ready for war – with each other – and it's become beyond silly.
Can it be Thursday night already?
Denver desperately needs to play a football game against another team. The training camp fatigue, from players, fans and media is in full swing. Forget the dog days of summer in baseball. They might be worse in football.
Both Lynch and Siemian had relatively short media sessions on Tuesday, and it wasn't the fault of either guy. Reporters are out of questions to ask. The QBs are out of answers to give.
Until each guy gets something on film against our old bumbling enemy John Fox and the lousy Bears, there's nothing left to say.
It's a dead heat right now – and the games against Chicago and San Francisco are going to determine who gets the job.
If folks want to debate the QB situation each day, that's great. It is, after all, why we watch sports – because we're passionate about our favorite teams and who plays for them.
But when it gets personal – full of vitriol and downright ugly – that's when a line has been crossed. And it's gotten to that level multiple times on platforms like Twitter.
I don't get it.
A quarterback competition shouldn't be grounds to tell someone to go kill themselves if they disagree. Get a friggin' grip.
While many believe (myself included) a decision should have been made before training camp, clearly Elway and Joseph felt like they needed more time to pick the man for the job.
So while they're not totally blameless, No. 7 and VJ aren't responsible for select Broncos' fans embarrassing themselves with barbaric and childish insults hurled around on the Internet.
Like anything in life, the overwhelming majority of folks are carrying themselves as adults, engaging in healthy debates about Siemian and Lynch. But there's also a group of keyboard tough guys, ready to threaten and pounce on anyone with a different viewpoint.
It's time for the nastiness to go and a little bit of decency and respect to return. Debate all day, but remember, you're arguing with a fellow fan of the Mile High City's most popular team. Everyone's in this together.
Grow up and Go Broncos.